Being effective means being able to manage our time in a productive manner and achieving productive activities. Going by that understanding, social media is usually considered as a time waster.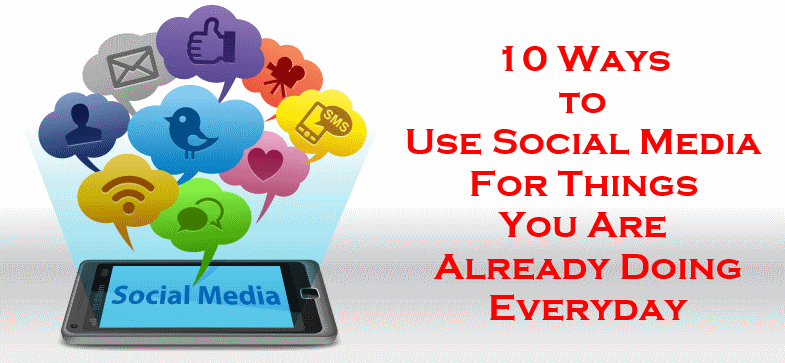 One of the biggest challenges for small business owners is to quantify the return on investment, this includes social media activities.
It is even harder for those with decent success in their business without using social media to even comprehend any productive use of social media.
Social Media Is Overwhelming Without A Strategy
The amount of information you have available today on social media is simply overwhelming. So much has already been written about things you should do to build your brand and grow your business by leveraging the power of social media marketing and what not that it is impossible to read it all.
There is so much is information readily available explaining why you should get on Twitter, about having your own blog, having a content strategy, having a Facebook fan page, getting active on Google+ and so forth.
While the information available on social media is extremely helpful, it is also extremely intimidating when you don't have an effective plan to use it.
When you already have your hands full with things to do just to take care of existing business, social media seems to be extra layer of activity to be added to your already heavy schedule.
Using Social Media For Things You Already Do
Considering all the implications, I thought I would suggest a number of ways you can use social media to do a better, more efficient job of accomplishing things you already do on a day-to-day basis.
Technology is supposed to reduce your overhead and give you more freedom – not the opposite.
There are at least 10 things you already do (or try to do) without using social media that I think you can be more effective doing when you begin to use social media:
1. Follow Up With Prospects
This is one of my favorite features of social media. When you go to a Chamber of Commerce or a networking event, you meet people, exchange contact information and at times, engage in a good conversation, right?
When you come back home, you know that you need to follow-up with a few of those people. But, that is old school and not very effective.
Instead, you can connect with them on Facebook or LinkedIn right away and following up becomes so much easier and instantaneous! You can also go old school. However, if you don't get a proper response, the social media method definitely works much better!
2. Announcement Of A New Product/Service
When you launch a new business or add a new product/service to an existing one, you know how very resource intensive it can be just to let people know about it. You have to call people in your list, send letters to others and advertise on TV/Radio for rest of the world.
With social media, you can achieve some of these tasks in a less intimidating way. For example, you can get all your connections introduced to your product or service with just a few online posts. Now you have made it easier for them to help you reach out to even more people.
Plus, you can use social media advertising which is much more cost effective and way more targeted when compared with TV and Radio.
3. Invite People To Your Events
Just as discussed above, the process is the same. You can invite all your friends, family and others to an event with so much ease.
To invite people using traditional methods such as calling or sending letters, you would have to spend countless hours calling and money to print advertisements and pay for delivery. Today, you can short-cut the process and make sure everybody not only got the invitation but also responded in time.
4. Stay Engaged With Your Target Market
For small business owners, this is a big one. Staying in front of your customers and engaging with them and reminding them why they do business with you is a key ingredient to building marketing momentum.
Your blog may be a great place to put out a steady stream of useful information and success stories. Offering online discount programs, useful information, educational material relevant to your customers and prospects can create engagement and drive more business your way.
5. Keep An Eye On Your Competitors
As an entrepreneur, we all want to know who our competitors are and if they are doing better than us. We want to know how they are doing it.
In a traditional world, it is very difficult to spy on your competition because there are so many barriers.
However, whether or not you are leveraging the power of social media, chances are, your competitors are doing pretty well there.
Now social media also give you the opportunity to learn about their marketing secrets and their online strategies. You can spy on their customers and learn more about your own business through that experience.
Such an exceptional opportunity is only available online and social media gives you a tremendous opportunity to benefit from it.
6. Keep Up With Your Industry
The risk of being outdated and irrelevant is greater today than ever. Technology is changing every day; methods of doing business are changing so quickly. Chances are your industry is changing rapidly as well.
Keeping up with what's happening in your industry is a task that is absolutely critical for every entrepreneur.
With social media powered monitoring services and the smart tools available in the marketplace, you can keep up with your industry and your competition almost in real time. All you need is a computer and an internet connection!
7. Provide A Better Customer Experience
As long as you have customers there is a need to keep them happy. They don't just want a product or a service these days. Your customers are looking for a better experience.
Social media gives you an opportunity to reach out to your customers. Provide them an opportunity to ask you questions on Twitter, Facebook or Google+ and you will be amazed at how happy they feel when they find you responding them on social media platforms. Now, that is called giving your customers an experience!
It also saves a lot of time for you in not digging through emails for small things. Social media is instant and effective!
8. Connect With 'Hard To Reach' People
There was a time when reaching out to people with a lot of influence was very difficult. It was almost impossible to get your message across to a famous book author, a politician or any celebrity for that matter.
Not anymore! Now you have social media. It levels the playing field and you can reach out to anybody and communicate with them.
9. Find Joint Ventures
When you are looking to scale-up your business and you are looking for venture partners, social media gives you a larger reach. You know that one of the surest ways to attract potential partners is to build relationships through networking.
Using traditional methods, it is very hard to get this done unless you really invest a lot of time and energy in the search process.
However, in the social media dominated world, you have websites dedicated to help you find joint venture partners. You have more chances today of getting in touch with potential investors/partners because it is easy for you to reach out to anybody as discussed above.
10. Raise Funds For A Charity
Raising funds for charity is one of the easiest things to do when you are operating online. People want to help. People want to donate to good causes and all they are looking for is – you credibility as a non-profit organization.
As long as you have a genuine story and verifiable facts to show for your cause, you will be amazed at how easily you can raise funds with much less efforts as compared with the offline world.
Numerous funding sources such as GoFundMe.com have created great platforms for your fundraising needs. All you have to do is to be genuine, have a proper plan and ask online. People will fund your cause!
Conclusion
You do not have to be a social media guru to start using social media. You just have to start thinking. What are some of the things you are already doing in day-to-day life and how many of those things can get a boost through your activities on social media.
Once you have figured out these basic needs, social media becomes another tool in your arsenal to empower you to a greater degree of success in your venture.
Over To You – Share Your Thoughts
Are there any additional day-to-day activities of professionals which could benefit from online social media? Please add value by sharing your thoughts in the comments section below.
If you have any questions, please feel free to ask them either in the comments section below or through my Contact Me page. Thank you kindly!