We all know the importance of fast loading website pages. In addition, website security is another concern for most website owners because a hack can be devastating especially to small business owners.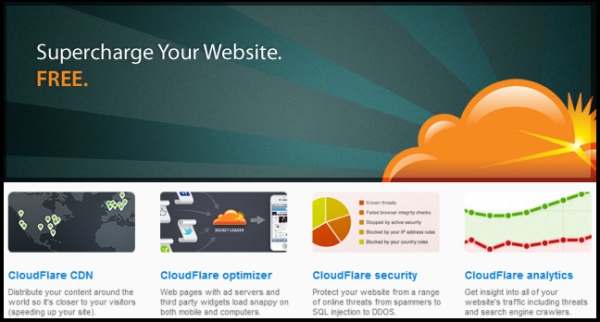 These were my two main concerns since I have several of my own websites plus client websites to support.
Whether you have a personal website, company site, blog, website security definitely is your biggest challenge and then, a fast loading website brings so many additional benefits.
CloudFlare offers both the benefits to you at once. Faster loading times, more security, happier visitors, better SEO and thus, more business!
CloudFlare protects and accelerates any website online. CloudFlare is a technology very close to the Content Delivery Network (CDN) aimed at improving a website performance and speed at the same time providing security against various types of internet threats.
[media url="http://vimeo.com/14700285″]
Once your website joins the CloudFlare community, its web traffic is routed through their global network. They automatically optimize the page delivery for the best performance. They also block threats and limit abusive bots and crawlers.
What Are The Benefits Of Using CloudFlare?
What I am going to share with you now are the benefits I have received by implementing CloudFlare on my websites. Among many advantages, here are the top five reasons you should consider using CloudFlare:
1. CloudFlare Makes Your Site Load Faster
CloudFlare's global CDN (Content Delivery Network) automatically caches your static files to various servers so your visitors get faster content delivery while still delivering the dynamic content directly from your web server. As a result, sites that use CloudFlare load twice as fast for visitors, regardless of location. In addition, CloudFlare helps reduce the bandwidth usage by reducing the number of server requests significantly.
2. CloudFlare Strengthens Your Website Security
Once implemented, the CloudFlare system offers a range of security levels and automatically tunes the best level of protection for your site based upon your needs. CloudFlare protects against such evils as cross-site scripting, SQL database injections, comment spammers and email harvesters.
I just love the fact that your actual IP address is protected by CloudFlare and therefore, direct access to your web server becomes much difficult for an intruder.
3. CloudFlare Helps Improve Your SEO
According to Google's Webmaster Tools, one of the main factors influencing your website's search engine (SEO) ranking, is the speed by which your website loads for a visitor.
Generally, sites that use CloudFlare load twice as fast. I have experienced that and I know for sure, my website started to load at least 4 times faster than it used to load before implementing CloudFlare. If your website loads slow, this is the first thing you should consider trying.
4. CloudFlare Gives Your Website 100% Uptime
The best thing about CloudFlare is that it caches every part of your website (HTML, CSS, JavaScript) for optimized and fast delivery. Therefore, if your server ever goes offline, CloudFlare will still serve a limited copy of your cached website to keep it online for your visitors. That gave me the peace of mind so I don't have to worry about my visitors if my web server went down for any reason.
5. How Much Does CloudFlare Cost?
How about FREE? Yes, all these benefits are available for FREE though they also have Pro, Business and Enterprise versions of their premium offerings as well. For most bloggers and small business owners, the free version of CloudFlare is good enough and it does a great job.
Setting up CloudFlare wasn't any complicated at all. It takes less than 10 minutes to create your FREE account with them, adding your websites to their network, changing the Nameservers for your domain and configuring CloudFlare for high performance.
However, as a reference, here are two guides I recommend you to visit to learn the 'KNOW HOW' of setting up CloudFlare for your WordPress Websites:
How to setup CloudFlare in WordPress to speed up your website by Pedro Da Silva
CloudFlare performance settings for maximum performance by Esha Upadhyay

(This link no more exists)
If you have any additional questions, please feel free to ask in the comments section. I will be glad to provide any inputs that may be of additional help.
My Conclusion
There is a lot of positive news about CloudFlare and then there are some negative ones out there. However, from my personal experience with CloudFlare, I am extremely satisfied with their technology and I plan to continue to use them.
I believe that bloggers and small business owners with shared hosting plans suffer a lot with the performance problems and CloudFlare is just an incredible blessing if you are on a shared hosting plans and need to speed up your website.
Share Your Thoughts
How do you manage the security of your website and how do you tune your website for faster load times? What is your experience with CloudFlare technology?
Please share your thoughts in the comments section below now. Thank you kindly!