Nothing annoys on social media sites, especially Twitter and Facebook, more than receiving an unsolicited message from somebody you don't even know. Interestingly, many people send an "auto" direct message right at the moment they get a new follower.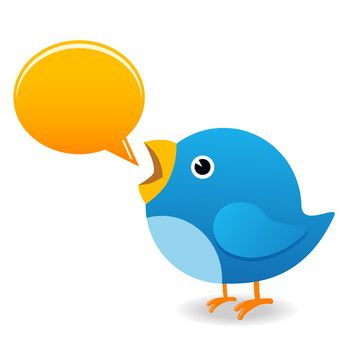 On top of that, knowing that you can't even delete your unwanted Direct Messages (DM) in Twitter in bulk, only adds to the pain. No wonder sending automatic DMs on Twitter to your new followers is mostly considered as SPAM.
Why is that so?
Well, if you followed me just today and we have not even interacted once, what is so private and important that I should straightaway try to get your attention through your mailbox?
I can't find one such valid scenario. Can you?
A Cute Conversation On Twitter Direct Messages
Not long ago, a good friend of mine, who also happens to be an authority in relationship based marketing, mentioned that somebody sent him a direct message on Twitter asking for guidance on building relationships on social media.
Well, the reason my friend received that message is, he is an expert at relationship based selling, he is a business coach who teaches how to build strong relationships through good communication. So, obviously he is an authority on this subject.
However, when he received that DM asking for a quick tip on building strong relationships with people on social media, his response was also in a DM that said, "A good starting point will be not to DM anybody without their permission."
Talk about people getting annoyed with direct messaging…
Twitter Has Placed Limitations
To keep things in control, Twitter doesn't allow you to send direct messages to those who don't follow you. That is a great feature in the direction of controlling web spam. However, that doesn't mean you can't possibly get spammed.
[note background="#F0F0F0″]"That is not true anymore. About 2 weeks ago Twitter has changed this policy. Now it's up to each user if she or he allows strangers to send DMs. This is a feature intended for brands but it's valid for any user. Go to your Twitter settings and you'll find the check box "Receive direct messages from any follower" – Adrian Jock @IMTipsNews[/note]
One way to avoid spammers is to identify them and then unfollow them at the first sign of trouble. That way, you can keep them at bay.
But, how do you make sure that you don't annoy people you follow? That is in your hands and that requires a bit of thinking before deciding to send that DM to somebody who follows you.
How To Effectively Use Direct Messaging Feature
Direct messaging is supposed to be used to discuss private matters. Something which you can't share in public, you can discuss through direct messages.
That means, it absolutely doesn't make sense to send somebody a welcome message through a direct message. You shouldn't also send a free gift or a coupon through direct messages. You will not be appreciated by the recipient.
On the other hand, if you can communicate with people you follow and those who follow you through tweets, it will help you much better on Twitter. People appreciate that behavior, especially on Twitter.
People you already communicate regularly don't mind your direct message depending upon your relationships.
But when it comes to people you don't know very well or those who don't know you well, they will only appreciate it if your direct message genuinely needs their attention in private, such as the one shown in the example above. If you need to discuss something in private with someone you don't really have a personal connection with, you may send a direct message on topics such as:
Hi @kgauraw I need to discuss about the managed WordPress hosting your company offers. How can I get in touch with you?
Deleting Unwanted Direct Messages From Your Twitter Inbox
This is a common problem because Twitter won't let you do it directly. However, using a third party application you can manage to get the job one.
One of the free tools I use and highly recommend you to use for deleting direct message from your Twitter inbox is – Social Oomph. It is a social media management service with free and premium features similar to HootSuite and Buffer. However, they do have a lot of great features which others don't. Clearing off your direct messages from your Twitter inbox is one those free features which you will find very beneficial.
Here are the steps you will follow to delete direct messages from your Twitter inbox using Social Oomph service:
As a first step, sign up for a free account on the Social Oomph website. Although their professional package has much more in the way of premium features, a free account is good enough for clearing off your Twitter inbox.
Once you have logged into your account, from the "Posting" menu, you will find the menu item called "Purge DMs On Twitter" as shown in the image below: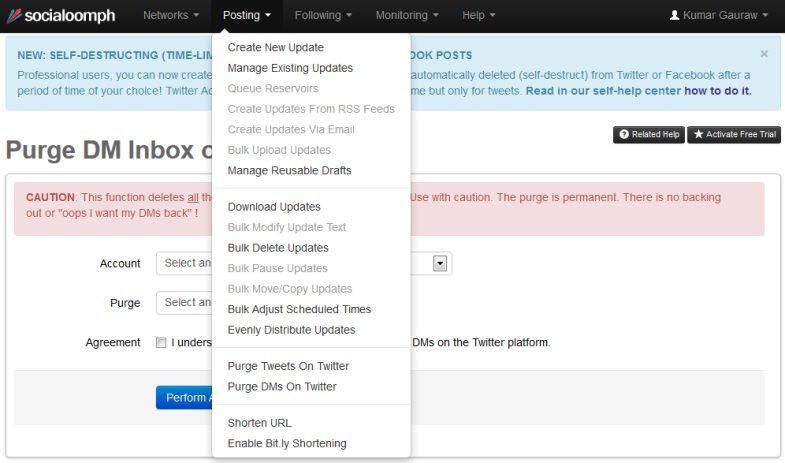 Click on that option and then choose whether you want to delete all messages which are older than 7 days or 30 days. You have only two choices at the moment.

It will ask for your confirmation on the purge operation. Confirm it and you will be shown a message that informs you that you will receive an email when the operation is successful.

Now, wait for a few minutes and you will receive an email from Social Oomph confirming the deletion; if it was successful, or explaining the problem if purging didn't go through.
That's it. It is that simple. This is a very handy tool for me because I keep deleting all the junk direct messages from my Twitter inbox frequently. I haven't found any better way of getting the job done yet for free. If you have any other tool that you use for this purpose, would you mind sharing in your comments?
Over To You – Share Your Thoughts
What role does Twitter play in your overall social media strategy? How do you use direct messaging? Which social media management software do you use for your business?
Please share your thoughts through your comments. Thank you kindly!