Do you think you don't know much about SEO? You think SEO and search engine traffic is only for the pros? Well, I am going to show you how you can do it.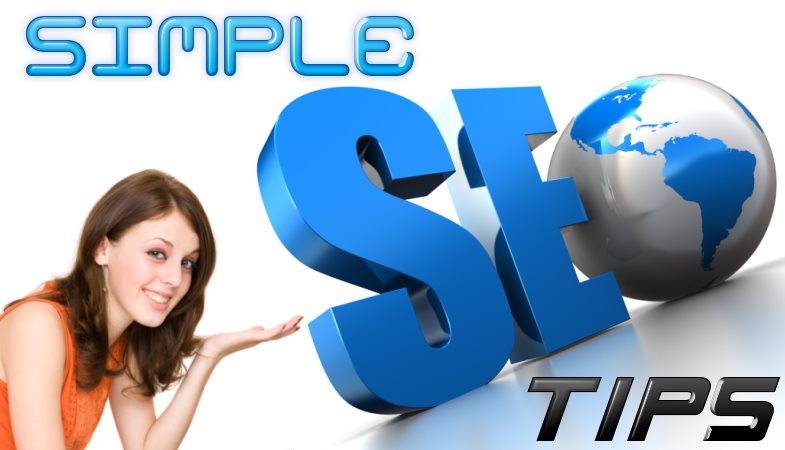 I decided to share a few basic things, the important ones that every website owner, every blogger should know, irrespective of their level of interest in the term "SEO".
I chose this topic based on the number of comments and emails I received against my earlier post when I shared about SEO experts who I follow, from so many people indicating that they do not have any insights into the subject yet.
Now, running a website and not paying attention to SEO is just like having garage sale and not putting a sign on the roadside so passersby can see it. I mean, why would you create one great content after another if people couldn't get to it?
And, as I see it, SEO is not just about Google, it is about your readers, your every visitor as well. If your visitors like what you do, search engines will as well sooner or later. As Moz suggests, this is what SEO really means:
Search Engine Optimization isn't just about "engines." It's about making your site better for people too. [Tweet This]
So, let's get started with some basics.
A Decent Website Layout Plays An Important Role In SEO
You don't need to have a spectacular layout that will dazzle your readers right off the bat. But, you do need to have a decent, clean design that will not make people run away from your site as fast as possible.
So, what are a few basic components of a decent design?
The color combination used on your website plays an important role. It has to be pleasant to your visitor's eyes.
A left or right sidebar with less advertisements and more helpful information is very helpful so people can explore more on your site.
You need at least a decent opt-in form in your sidebar so people may subscribe to your newsletter (or your blog updates). This gives you a professional presentation.
Do not confuse people with a cluttered design with a lot of information scattered across multiple sidebars.
Last but not least, make sure the size of text on your pages is pleasant to the eyes. Too small or too big font size can hurt your SEO. To me, a decent size is 16, not too big, not too small.
Good SEO Practices While Publishing Posts/Pages
Most bloggers without SEO focus are not only losing search engine traffic, they are also losing the loyalty of their casual readers because of ignoring these simple best practices.
Yes, these things are helpful for search engine rankings. But these are even more important for your readers.
Let's see what are some of these things:
1. Write Small Paragraphs
I prefer to have a maximum or 2 to 3 sentences in one paragraph. When a paragraph gets longer than that, people feel like skipping it unless this is really something they want to know.
Longer paragraphs tend to make the posts uninteresting and probably, painful for eyes of your readers.
2. Use White spaces To Your Advantage
White spaces (also known as negative spaces) are proven to add value to your overall presentation of the layout and your text. Make sure you have enough space between your lines and paragraphs.
Do not try to use every space on the page to show something. Leave blank spaces wherever appropriate.
Eye tracking studies have found that whitespaces tend to increase the overall value of your page and people are able to better consume your content with it.
3. Make Use Of H2, H3… H6 For Sub-Headings Within Posts/Pages
Can you imagine how difficult it would have been for you to go through this post if I did not highlight the bullet points to emphasize each point in this post?
Right now, even if you aren't reading every single word on this post, you are able to skim through my page and know what I am talking about. Isn't that right?
Doesn't it make sense that your readers should also have the same experience? And when you do this for your readers, even Google and Bing love to rank your pages higher.
Yes, it is very important to highlight main points and sub-points of your every post/page using H2, H3, H4 etc. tags. Make these sub-headings slightly larger than rest of your text and let them stand out.
This helps your SEO tremendously and your readers begin to see you as a better blogger, better writer and a better content marketer.
4. Use Images On Every Post/Page
Whether or not you know or like it, images are way more valuable than a thousand words. A blog post with an appropriate image is 100 times more attractive than a post with a great value but no image.
There is ample evidence of this on Facebook. Just look at your newsfeed. Do your eyes pay attention to the posts with images more than just text?
Absolutely!
So, your readers will also love to see a good sized, well-done image (related to the subject of the post). People love to share more blog posts with images on social media than those without any image.
Besides, when you have an image, Google/Bing will index your images separately and that means a lot of good traffic can come to your website through image searches. Double bonanza!
5. Share Your Posts On Social Media
Many bloggers have a website but no have no presence (or active presence) on social media platforms.
If that is you, you aren't getting many visitors from Facebook, Google+ or Twitter like channels. And on top of that, if you do not have traffic coming from Google (search engines) because you don't focus on SEO, I wonder… who will read your post?
Search engines take cues from social media about what you publish and when you don't share your own posts on your social media platforms, it is obvious than others won't share it either.
Also, if you think about it, Google is moving towards becoming as natural about ranking websites as possible. And if the author of a blog post isn't sharing his/her own content, should Google give any value to that post? I wouldn't think so.
A lot of experts think that Google is moving towards that kind of evaluation using the Authorships mechanism.
Page Load Speed Of Your Website Affects SEO
Yes, Google does take your website's page load speed into consideration while ranking your pages. There is no question about it.
But again, is it really about search engines alone? Don't you get frustrated when you visit a website and it takes 30 seconds or more to load?
Ideally, your webpage should load in about 2-3 seconds or less. I just tested my website's performance using Pingdom Tools and here is a screenshot of the results from all their three test locations: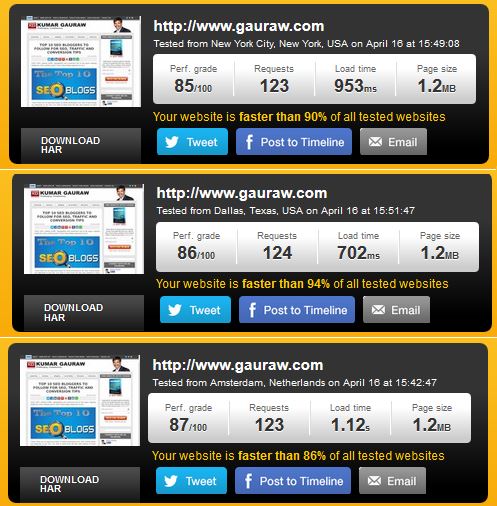 There are other webpage speed testing tools like GTMetrix.com and WebPageTest.org you can use to evaluate your website. You can find more about these on my earlier post about website speed. Check this one out:
Now, before you begin to think I have done some spectacular work to get my website's page loading time down to under 1 second in most cases, let me clarify – I have not done any major work.
I've used the same techniques I outlined in the above post. Plus, I am no longer in a shared hosting environment.
My websites are hosted by Krishna World Wide where my team is ready to implement the next cutting edge technology every day. I checked a few of my clients website's as well and they all load in less than 2 seconds. So, yes, when you are on a premium hosting plan, it does make a difference.
Steps You Can Take Do To Speed Up Your Pages
There is nothing more than those 12 action points I have shared with you at this point that I will recommend. If you take action now, you will see a definite improvement in your website page load timing.
Other than that, there is one thing I would like to talk about in particular which is very tempting and at the same time not very rewarding for new bloggers. That is the topic of advertisements.
What About Advertisements?
Unless you are really making money from advertising (I mean more than about $20 a month), stay away from running advertisement banners. It's not worth it. I would rather recommend you to promote affiliate products if you are in it for making some quick bucks.
Google doesn't like pages with too much advertisements anyway. And I don't think your readers love clicking on your advertisements either.
So, if you aren't making a killing and it is hurting your SEO, why would you keep advertisements up and running? Get rid of those Java scripts and build your audience first.
Integrate Your Social Media Profiles With Your Website
You do want others to share your posts on social media. In fact, we all want that to happen as much as possible.
But, have you also given a way for your visitors to connect with you on social media?
First of all, make sure your social profiles are complete and in line with your website's main theme. At least, get yourself a good profile on Facebook, Twitter, Google+ and LinkedIn. These are the most popular ones as of today.
The next step is to make sure you have provided social connection icons on your website prominently. This will allow people to interact with you on social networks, improving your engagement levels in social media space.
What is good for your visitors, is also good for Google and other search engines as well. Make sure you are keeping your visitors happy and you will be pleased to know that search engines will be happy with you as well.
Conclusion
Yes, there are more advance SEO topics such as link building, nofollow, dofollow and guest blogging and strategies around these. I understand that those things may not be of interest to you at this time.
But, these things which we discussed in this post, are very basic things which are just simple, good practices to make your visitors more comfortable with you and your website.
However, interestingly enough, these simple things are also very important aspects of your website's overall SEO and every SEO expert pays attention to these fundamentals first. So, if you are taking care of these things, I am confident that you are already doing good SEO work on your website!
Over To You – Share Your Thoughts
How many of these things you have taken care of for your website? How many of these things have you been ignoring so far?
However, if you already are doing all these, would you like to suggest a couple more things which people with no SEO background can do to ensure better SEO for their sites?
I look forward to your thoughts in the comments below. Thank you kindly!