Knowing what not to do while using social media for business is at least as important as knowing what we must do to leverage social media for busness. Earlier, I shared how to leverage social media for business where we discussed some of the basic steps for the entrepreneurs to take control of their personal brand and online reputation for business success.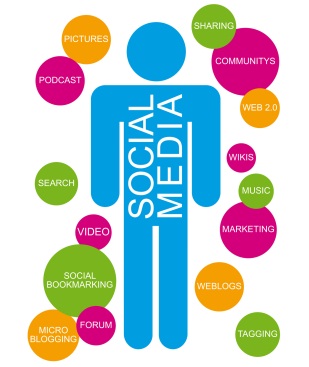 Social media is the most powerful tool in hands of an entrepreneur who can leverage its power for business growth. If done right, the benefits of using social media platform are tremendous.
However, it is equally important to know and remember the cardinal rules of using social media for business. If used inappropriately, social media is powerful enough to only increase the pain.
A general rule of thumb for using social media is – what is bad offline, is also bad online. It's just common sense. [tweet this]
However, here are the six most important cardinal rules for using social media as an entrepreneur:
1. Don't Use Social Media Without A Plan
If you don't know where you are going, any road will get you there. ~Lewis Carrol [tweet this]
Many entrepreneurs get all excited about social media and jump on the bandwagon to promote their businesses with no plan of action. But having no plan is not a good plan. It is important to have a well-planned personal and business strategy to leverage the social media – the right way.
2. Don't SPAM Your Network
Nobody likes to be spammed including you. Yet, if you keep tweeting and advertising your product or service on social networking profiles day-in and day-out, you are engaging in social spamming and essentially you are spamming the people who are connected with you.
If you are posting unsolicited self-promotional content on other people's walls on Facebook, you will see your marketing campaign die an extremely quick death. Not only you lose your credibility, but also you lose all your connections.
Social spamming isn't limited to offering unsolicited irrelevant links on social sites; posting promotional comments (with or without links), even sending automated self-promotional Direct Messages on twitter are considered spam. You better don't do it.
3. Don't Share Irrelevant Things
This is a big mistake that many entrepreneurs seem to be making. On the other hand, those who are careful about it, are able to create huge following. Some of the example s of irrelevant content are:
Sharing a youtube video that may not add any value to your network.

Sharing political news, blog posts that has no relevance to your business or your business network.

Putting a Like on post/picture/video that is disrespectful to anybody or any community in particular.
Everybody has personal interests, hobbies and passions about different things. But if your posts, likes, tweets etc. are about your personal interests and do not have any connection with your business, your network gets mixed messages.
There are some great examples of people who practice discipline on the social platforms and they have garnered tremendous amount of influence. People such as John Maxwell, Brian Tracy, or Bill Gates do not engage in irrelevant conversations or share things that is completely irrelavant to their mission. No wonder they have huge and loyal following.
4. Don't Post Too Much
There is a very thin line between sharing to add value and sharing too much. Too much of anything is bad and therefore, you should practice caution when sharing content on social media as well.
As a general rule of thumb, when you are tempted to share something, think if you would share the same thing with your most important client. If not, then do not share and if you would, share by all means.
5. Don't Slander Your Competition
It is well known business principle and holds good even online. Battling it out with a competition can do more harm than good to your business. Be respectful of others and use your social media creativity to drive traffic to your website and build your online brand.
6. Don't Self-Promote All The Time
Personal Branding is essentially about promoting yourself to the world. Having said that, it is important to note that social media is social. You brand yourself by adding value to others. You promote yourself by helping others, promoting others. You gain respect when you respect others.
As an entrepreneur, it is important to understand that self-promotion doesn't work in real life social settings and therefore, it will not work in online social media world as well.
Keep in mind that there are a lot of different ways to use social media depending on your goals. There are only common sense based rules that have been created as the best practices that you may follow if you want to create thriving and engaged communities on social media sites.
Your Turn To Share
Have you expereinced anybody making these mistakes? What additional things would you like to add to this list of social media cardinal rules to make effective use of social media? Please share your experiences and recommendations in the comments section now.