When building a website, there are endless options to choose from a number of great website development platforms. You can choose any of them and they all work great in their own right.
The decision to choose the platform that you want to use for your website design and development is very important. In fact, you need to make that decision well before you choose your web hosting service.
That is the reason why I want to get through this topic even before we start discussing web hosting options for your website.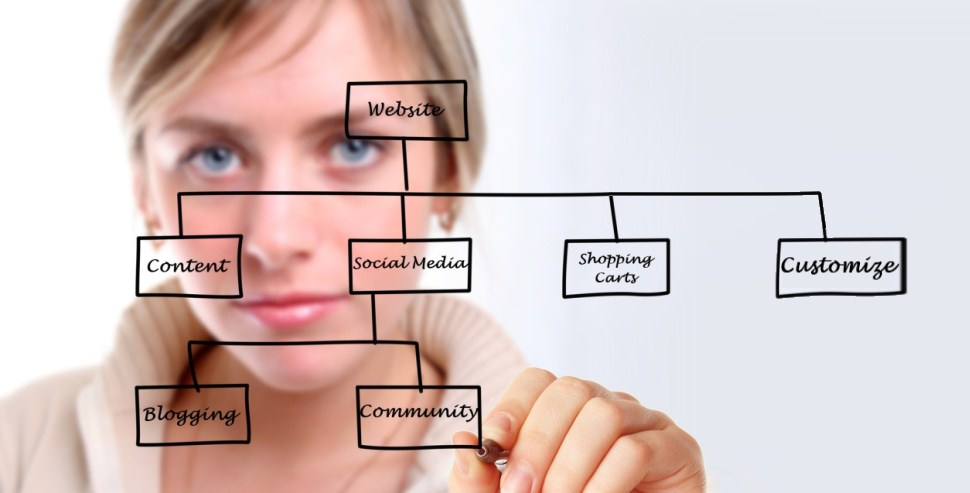 Speaking of designing and developing your website, platform is critical.
If you choose the wrong Content Management System (CMS) for your website, you could add hours of development time to the project without much gain. On the other hand, if you have the right CMS installed, you can really have fun focusing on your goals while the CMS will take care of a lot of tasks to manage your website for you.
What is Content Management System (CMS)?
A Content Management System (CMS) is a bundled or stand-alone computer application to create, manage, store and deploy content on Web pages from one central location. Web content includes text and embedded graphics, photos, video, audio, etc. CMS platforms are often used as blogging software.
Whether you're setting up a business website, a standard blog or just want to have a single webpage with your resume on the web, the age of hand-coding HTML pages and CSS is long behind us. These days all it takes is to install a content management system (CMS) in your hosting account and within minutes you can have a website that looks professionally designed and managed.
How To Decide The Best CMS For Your Website
When choosing the perfect CMS for you, it is important to know what features you need in order to be able to create and manage your website. For example, here are a few basic questions to ask:
How many pages my website will need to have?

Will my website have a blog?

Who is going to manage my website?

Does the CMS have an adequate text editor to create pages and posts?

What different types of media I will be adding to my website (such as text, images, audio, video etc.)?

How easy are the customizations with the CMS in question?

How flexible is the CMS in adding new features such as implementation of e-commerce or shopping carts etc.?

How are the features to integrate third party tools with the CMS in question?

How strong are the security features of the CMS in question?

Do I need user level security?
Usually, the answer to these questions will drive your decision process. Even so, there are plenty of choices available in the marketplace.
However, my favorite CMS is WordPress and many of our Krishna World Wide clients love WordPress simply because of all the awesome benefits that come with WordPress. Also, for the remainder of this online course, we will stay with WordPress and discuss how to use this CMS for your website setup and management.
Here are some of the features of WordPress that make it the most popular Content Management System on the planet:
Easy To Install, Easy To Use
With 1-click installation, easy setup and configuration options and an excellent administrator dashboard area, WordPress makes it to the top of the list when we talk about ease of use.
WordPress admin dashboard GUI (Graphic User Interface) makes it very easy for you to create new pages, new blog posts, administer users, security options, the look and feel of the website etc. You don't need to know a lot about HTML, PHP or any other scripting language to operate a WordPress powered website.
Great SEO Friendly Features
This is one of the main reasons why WordPress is the most popular CMS among webmasters and entrepreneurs around the world.
It is hard to imagine online success without having a good reputation with the search engines, to have consistent organic traffic through them to your website. This is one of the toughest tasks that webmasters struggle with.
But WordPress makes it easy for you to have a search engine friendly website with a lot of great features to make your website build a good SEO reputation with all the search engines. Here are a few highlights of the WordPress features why Google and other search engines love WordPress powered websites:
SEO friendly permalink structures

SEO friendly website themes (FREE and Premium – both)

Optimal coding to ensure fast loading web pages

Category and Tags features to help reduce your bounce rates and providing increased SEO

Features to optimize images (Comes with options to add ALT tags, Title tags and descriptions for each image)

Features to comment on other blogs and get additional visibility

Features to ping search engines, directory services etc. whenever something new happens on your website (e.g. whenever a new blog post or a new page is created.)
In addition to these built-in features, there are additional plugins such as 'All In One SEO Pack' and 'WordPress SEO' that provide additional features to really make your website's SEO – world class!
Ease Of Integration Of Blog With Your Fully Featured Website
Just to clarify… a blog is basically a type of website. It can be a website altogether or just a section of your main website. A blog is not different from a normal website from the perspective of the content published. It differs from normal websites from the technical standpoint.
Some of the features that make blogs different from other websites are:
A blog's content is published in a chronological fashion

A blog is generally updated with new content on a regular basis.

A blog allows you to interact with other blogs via trackbacks and pingbacks
You can choose if you want to create a separate website as your blog and keep your static business pages as a separate website, or if you wish to integrate them at one place as one website.
WordPress gives you the option to keep them together if you so choose. You can have a section on your website for your blog posts along with other static pages and other features of your website. I think that is an awesome feature!
Central Support Forum With Highly Active Community
WordPress is an open-source Content Management System and one thing is for sure: without a thorough user base, the support system and community is destined for failure.
The great news is, WordPress has a very active support community centrally managed at WordPress Support website.
Highly Customizable
Many WordPress website themes come with a very high flexibility for customizations. As a website owner, it is obviously a benefit to you because your needs, your preferences may be slightly different than me and you would like to have your website look exactly the way you want.
WordPress makes it easy for you to customize your website's design, look and feel and all that comes to you with minimal effort. This is another great awesome benefit of using WordPress.
Ease Of Integration With Social Media
With the features and plugins dedicated to integrate your WordPress website with your social media profiles, you are literally empowered to make your website a hub for your social media presence.
You can have your website connect with your profiles on all major social media websites so people are able to find you and connect with you, even though they land on your website with a Google search.
Also, you can integrate social sharing buttons on your posts and pages to enable your visitors to share your content with their social network thus giving you higher visibility in social media space.
Ease Of Integration With Third Party Services
How about integrating an Autoresponder service with your website to capture leads and build your list?
How about adding PayPal or other payment gateways to accept online payments for the goods you may want to sell online?
WordPress makes it easy to integrate many 3rd party services with your website with the least headache.
Plethora Of Add-on Features Available Through Plugins
The real power of WordPress is in its plugins. With plugins numbering over 22,000 for various possible tasks, it is almost impossible to not find a plugin that does exactly do what you need to have as a new feature on your website.
Plugins take the pressure of coding off from your mind, where you can just plug-in and play with the features while keeping your focus on your business or branding goals.
Thousands Of Pre-Built Free & Premium Website Templates
Although I touched a bit on this while talking about customizations, this is worth talking about once more.
You may want to design a website for your personal branding, for your corporate website or for your profession. You may be a journalist, a doctor, a book author or a grocery store owner. WordPress has thousands of website themes to choose from to exactly find a look and feel for your website that meets your desire.
There are hundreds of free website themes you can choose from. If you aren't satisfied with the features that come for free, you can choose from thousands of premium themes with a lot more complex features. You have plenty of choices!
WordPress is FREE

!
All these features and many more are brought to you for FREE by WordPress. The CMS costs you absolutely nothing. As long as you have a web hosting account, you can install WordPress for free and start building and your website.
Have YOU Subscribed To Receive This FREE Website Setup CourseYet?
Next Step: In the next post in this series, we are going to discuss how to choose the best suited web hosting service to host your website.
We will discuss about the most popular and reputed web hosting companies and compare their features to help you decide which one is the best for your situation.