Website setup is one of the major challenges that most people face. For some people it's too difficult a task and others perceive it as a thing that costs too much money and time to manage. What I found through experience is, it's lack of information that makes things difficult for us.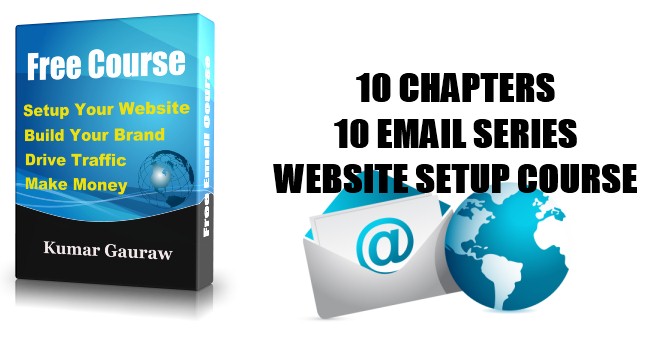 My Personal Branding Story
Website setup was one my major challenges as well when I started to think of building my online brand identity. I knew I needed to do it. I was therefore looking for expert help. During those days, a friend of mine introduced me to a web developer in Bangalore, India who agreed to help. I was excited!
I just wanted a website with a homepage, an 'About' page and a couple of pages where I wanted to put a few details that I thought were necessary at the time. When I told him what I wanted, he gave me a price which seemed unfair to me.
He asked me to invest over 600 dollars to begin with. Then he was going to charge some maintenance each month. He was also going to charge me a fixed dollar value (I don't remember the amount anymore) each time I wanted a new page to be added to my website.
I was very upset with myself after I received that quote. Not because the quote was high, but the realization that my complacency had put me in that position. I was upset with myself because I did not know how to create a website for myself. It was something I should have learnt a long time ago but I didn't. I knew it couldn't be more difficult than the technologies I was working on.
I made a decision that day, to draw a line in the sand and to start fresh. I started on a new journey to learn to create websites starting with my own.
I made Google searches, read blogs, bought books and started doing some work. First I started with Blogger.com and learnt a few things about website designing. Meanwhile, through research, I found out that WordPress was the most popular website building platform. Therefore, I decided to give them a shot as well. I opened my account on WordPress.com and wrote a few blog posts. It was a good experience.
However, soon I hit the limitations on the free WordPress.com account. I couldn't run advertisements or use any JavaScript. I couldn't do many little things that I wished I had. So, I decided to look for a better option. I started to continue to do my research and finally, I found that having a self-hosted website was the way to go.
That was the beginning of opening up a whole new world of opportunities in front of me. It was a lot of learning, a lot of trial-and-error, but it was all worth it and that was the beginning of my journey on the road to personal branding.
Over the years, I have worked with clients, business associates and other professionals on creating their brand identities online. But one common challenge that I always encountered was, everybody was apprehensive about starting their websites initially. Some were skeptical because they thought it is too much of work while others thought it was a heavy investment.
There have been instances where I had to hard sell the idea to some of my friends to start their websites. They didn't know how important that was, even though I knew they needed it. Well, they are now glad they listened to me, and that's awesome!
The Common Website Setup Challenge
When it comes to setting up a website, either for your personal branding or to create your business brand identity, it is a challenge and here are some reasons:
There is a lot of information available on the internet, but you need a comprehensive guide where all that you need to know is there at one place.

There are a lot of experts out there, but you may not be ready to invest money in their service charges especially if you are capable of taking care of technical stuff.

Yes, there are books on the subject, but they contain a lot more information than you need. So, they create confusion.
These were my challenges as well, and I know how many trial and errors I had to go through to get through.
Therefore, I decided to launch a very comprehensive, step-by-step guide that anybody can follow to start from scratch and build a professional quality world-class website and drive massive traffic without hiring an expert.
The Most Comprehensive Course On Website Setup
Today, I am excited to share with you, the most comprehensive course on website setup process that I've put together after several weeks of effort. This amazing guide is designed to walk you through the entire process from domain selection to setting up your website, to driving traffic and, to monetizing it to make money online.
This course is designed to deliver you 10 distinct steps packed in 10 distinct emails to be delivered straight to your inbox when you subscribe to my blog and confirm your subscription. You will receive the first chapter (first email) instantly. A couple of days later the second chapter will arrive and so on. The idea is to give you a chapter and then give you some time to do practical work on what you have learned and then move onto the next chapter.
Just to give an idea, here are the problems this guide is going to solve for you:
All that you need to know about domains, how to choose your domain names, and then register them for you.

How to decide the best content management system for you to design and develop your website.

How to choose the best web hosting company to host your website. What are the things to look for when making that decision.

How to install your content management system and how to take your website live.

How to decide your website look and feel. How to decide your design theme and how to configure it for your website.

How to add additional features to your website to make it world-class.

How to do SEO work on your website. How to make sure search engines take your website seriously.

How to write blog posts, how to decide your content strategy and how to stay consistent with blogging.

How to drive traffic to your website through multiple channels and how to leverage social media for this purpose.

How to engage your readers, generate leads and grow your business using your website.

How to make money online by monetizing your website and blog.
…and much more! All this comes to you in 10 chapters and a few other bonus materials!
The amount of thinking and the work that has gone into the design of each chapter, is way more valuable than $297. However, I am offering this course to you at absolutely no cost at the moment.
All you have to do is to subscribe to my blog updates. You can do it right now using this subscription form:
Subscribe To Get Free Email Course
[column size="1-3″]
It's Your Turn Now – Questions/Suggestions/Feedback?
I believe this email series is very comprehensive and it is capable of helping anybody take charge and succeed in building their brand value through their own branded self-hosted website. However, I also know that your inputs and your suggestions can help me improve this program even further.
Therefore, I look forward to your review of this program. I will be grateful if you will provide your feedback and suggestions that will help me measure the success of this program. Please do let me know your thoughts as you go through this Email course – Click here to share your comments. Thank you kindly!