If you have been debating whether you should enable DISQUS or CommentLuv as the commenting system on your blog, probably you will find this helpful.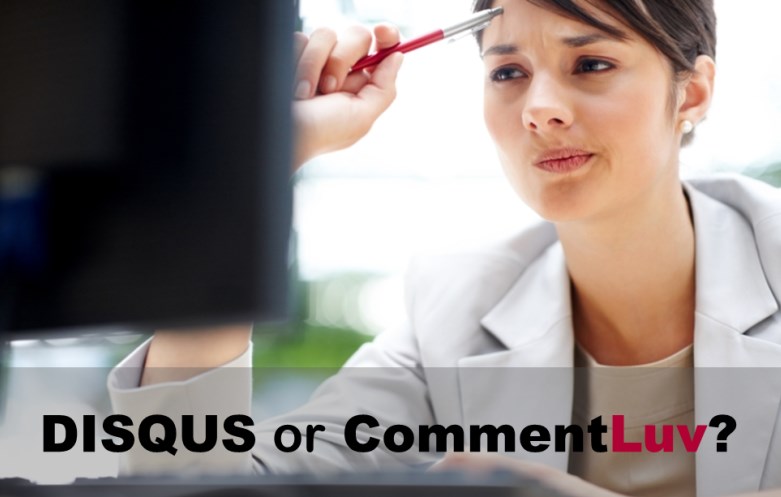 I also plan to briefly cover (due to requests from many of my readers) how you can enjoy most of the premium CommentLuv features without losing an arm and a leg.
My Story With Commenting Systems
Those who know this blog since its inception, know that I was highly motivated by Michael Hyatt (by the way, he continues to inspires me to this day).
Since he loves Evernote, I started using it as well and I continue to explore and enjoy this amazing tool. He recommended (and used) Standard WordPress Theme, I jumped onto the bandwagon (and by the way, that proved to be the best thing I did ever!). And so on…
Well, Michael also spoke highly of the DISQUS blog commenting system which he continues to use even today. It looked like a no brainer. So, I installed DISQUS and honestly, it is an awesome commenting system with powerful features.
DISQUS sure has the elegance in look and feel when compared with any other third-party commenting system of that nature.
Benefits Of Using DISQUS
You definitely want to know why DISQUS is popular and why some of the top bloggers use this commenting system, don't you?
So, here are some of the top benefits of DISQUS commenting system:
Once you log into DISQUS from one website, you don't have to fill your name, email or any other information on any other website in the world that uses DISQUS. You are ON!

Every commenter's reputation (like Author Rank) can be checked from anywhere. It allows you to easily know who is a genuine commenter and who is not by looking at where all they have commented before and what kind of comments they leave.

You automatically get notified when your comment on any website (that uses DISQUS) gets a reply.

All your comments get indexed by search engines since it is stored separately inside of the DISQUS system as well. Just a little extra for as a comment author. A good thing for genuine commenters.

Last but not the least, DISQUS does allow you the lazy loading which you can setup to occur when the user scrolls down. This helps reduce page loading time for your blog posts without negatively impacting your visitor's experience.
Drawbacks Of Using DISQUS
Having mentioned about all the good stuff, now is the time to talk about some of the things that kept me nervous and I want to list them here:
I hardly got any traffic from my comments on DISQUS enabled blogs. Not even from Michael Hyatt's website which has thousands and thousands of people visiting daily and commenting actively.The reason for that is, people have to click twice before they could see my website's link and most people, won't do that. DISQUS wants people to visit DISQUS before visiting the commenter's website which seems unnecessary.

It is a large plugin to install filled with functionality and so it took longer to load and that is why 'lazy loading' is almost a need when you use DISQUS. Not a very exciting thing.

This was a bummer. I needed to update the plugin's PHP code ( every time I upgraded as well) to make sure CloudFlare worked fine with my website. DISQUS had JavaScript which needed manual changes to be made to be compatible with CloudFlare.
CommentLuv Was A Natural Fit
The default commenting system of WordPress is great and some of the top marketers online use them for simplicity and out of box solution. People like Derek Halpern, Neil Patel and even Darren Rowse do not have any special commenting system.
However, I am not one of them and therefore, I need to be a little more sophisticated than these large brands are so that I can, one day, have a shot at becoming them.
CommentLuv seemed to be a great alternative to DISQUS considering that it has a large community of bloggers who love using the system. In addition, it looked very organic, giving a look and feel similar to WordPress's default commenting feature.
When I started to evaluate, here are some of the distinct benefits of CommentLuv which gave me the final push to switch:
People don't need to login anywhere. You enter your name and email address (and if you have a website, that too) and add your comment. No complications!

Just like DISQUS, I could setup my CommentLuv installation to send emails to my commenters when I replied to their comments.

When I left comments on CommentLuv enabled blogs, not only do I get a link back to my home page, I also receive a link ("nofollow" is fine) to my latest blog post as well. That is a great way to build deep linking profile. It came naturally through CommentLuv.
So, I decided to give that benefit to my commenters as well. Why not give back what you receive? This just makes common sense!

CommentLuv gave me an opportunity to create a policy, so certain type of my commenters could also receive "dofollow" links while others remained "nofollow". It's a great way to build loyal community.

CommentLuv works great alongside of CloudFlare without any issues. I never have concerns about my site breaking because of CommentLuv so far (and it has been over a year at least since I changed).

Last one from my list, but not the least, is the vibrant and alive CommentLuv community that is so welcoming and supportive. I have been able to build a few great relationships in the blogosphere through blog commenting in this community.
Can You Afford CommentLuv Premium?
CommentLuv is a combination of 8 or 9 small plugins (I don't want to go back counting at this time. I am sure you can figure this out if you get serious!).
When you buy the premium version, you get them all bundled up under one umbrella. However, if you don't want or can't afford to pay the premium price, you can still get them one by one and install them for your WordPress website.
What You Can Get With Free Version Of CommentLuv
If your goal is to participate in the community and enjoy the benefits of CommentLuv's main attractions, you can get them without spending money using the free version of CommentLuv.
Just follow these steps:
Step 1 : Install CommentLuv free plugin from WordPress Plugins directory.
Step 2 : Install GASP plugin (Growmap Anti Spambot Plugin) from WordPress Plugins directory.
Step 3 : Install Twitter Link Comments from WordPress Plugins directory.
Step 4 : Install Subscribe to Comment Reloaded (Instead of Reply Me) from WordPress Plugins directory.
Step 5 : Install KeywordLuv plugin (Instead of Keyword Name) from WordPress Plugins directory.
With these 5 plugins in place, you have pretty much gained the awesome look, feel and functionality of CommentLuv and you are ready to enjoy the benefits!
Much More With Premium Version Of CommentLuv
Obviously all of the above come packaged under the premium installation package. But wait, there is more to CommentLuv than just the plugins listed above. For example:
You get the premium support (which is priceless). I do not want to struggle on my own when a technical issue shows up at my door. Premium brings that peace of mind!

The Anti-Backlinker plugin, which is one of the hottest add-ons to the CommentLuv plugin is available to only Premium members.

And then comes the goodies in terms of the ability to create commenting policies to have a better control on who gets a "dofollow", "nofollow" and how. Such flexibility is not available to you when you are using the free version.
Conclusion
Even with the limitations with the free version of CommentLuv, it is worth giving it a shot especially if you are about building communities and increasing engagement on your website.
The philosophy is simple – you reward your commenters and they will come back to you and bring some more!
Your Turn To Share Your Thoughts
If you aren't using CommentLuv on your website yet, what is your reason? I think I am interested in learning your perspective. Please share your thoughts in the comments.
If you are already using it, I know I have not shared everything in detail. Would you like to add your two cents about your experience with CommentLuv?
Please click here to go to comments section and share your thoughts. Thank you kindly.