What time do you get up on Saturdays and Sundays? Why your weekends? Well, that is because I wanted you to know what time you get up on your own when you have a choice to sleep more.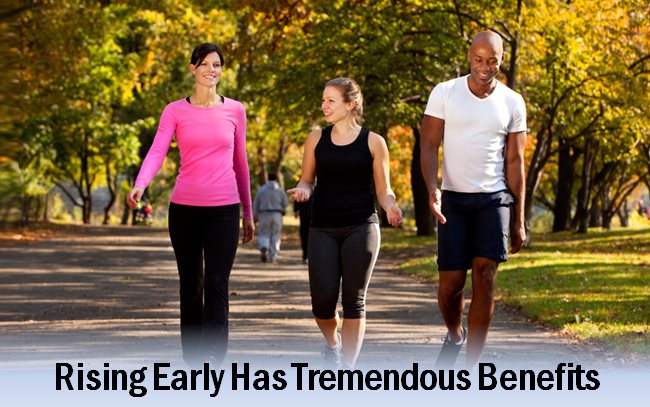 Those who know me know that I am an early riser (if not super early.) I go to bed after midnight and I am up around 6 AM (working to notch it up to 5 AM,) every single day. Not because I hate sleeping, but because I believe I can do better than that.
An Early Childhood Practice
Early in my childhood, I saw my dad getting up at 4 AM every day without exception. In fact, he was the alarm clock for my family. He would work for the government from 9 to 5, take care of our farm (yes, we did have cattle and we did not buy milk,) at night and in early morning, and then he would sit down with us to make sure we did our homework before he left for his duty.
We did not appreciate being woken at 6 o'clock every day, making us upset . But, I have come to appreciate his discipline and determination now that I understand the value of time more than I did back then.
Should You Be An Early Riser?
I have heard people (even the successful ones,) making fun of the old adage that says:
An early bird gets all the worms.
They say, "I am not a bird and I don't want to eat worms."
Well, I understand the context. They make fun of people who get up early Monday to Friday because they have to catch up to their jobs.
However, getting up early is a choice that each one of us needs to make based on our priorities in life.
For me, staying ahead of the game, staying fit, being on the cutting edge and not being average is a driving force.
I extract the time I get because I get up early, in preparing myself for the day while the rest of the world is still sleeping. It just gives me extra motivation and confidence I have done things today that most people did not because they were sleeping.
That reminds me of the famous quote:
Somewhere, right now, someone is training while you are not. When you race him, he will win.
-Ed Macauley (The basketball player)
So I get up early because I believe it's worth the pain of losing some extra sleep. I get up to exercise, to train myself physically and mentally to face the world before the world wakes up. I get up to plan my day.
Do I ever miss out on doing this? Yes I do. Situations happen and I do miss my schedule sometimes. I don't even dare to say that I have become a guru or something of that sort. I'm just sharing with you, my testimonial of the benefits of rising early.
Here's some of the benefits you can get from doing it, and as a bonus, here's how to actually do it!
5 Top Reasons For You To Get Up Early
There are so many reasons for getting up early. However, I am going to share with you just five good reasons to motivate you to consider (if you never have before,) getting up early and giving yourself an early boost every day.
1. You Can Learn Something New Using That Extra Time
Morning is the best time to learn something new. Your mind is fresh, your focus is the highest, and the atmosphere is just right for learning/reading.
I use this time to read my favorite book for 20-30 minutes. Imagine, if you can read 20 minutes every day, you can read one book a month. That means, you can finish twelve other books a year and that means you can read hundreds of books in a few years.
Now, just tell me how many people do you know who read even 10 books (not novels,) after they get out of school? Do you have an edge over all these people?
2. You Can Exercise
We all know that brisk walking or running for at least half an hour is highly recommended for good health. There is no exception, everybody knows that.
But, in today's dynamic and busy environment, it has become almost impossible for anybody to have a routine of exercise ingrained. If your plate is already full, exercising is usually the last thing on the priority list to squeeze in.
So, I use my morning time to exercise even before I start reading. In fact, after I heard Robin Sharma talk about it, exercising is the first thing I do after I get up. And it is such a wonderful thing to do early in the morning.
Same as the last point. Most people do not exercise. If you can exercise 30 minutes a day regularly because you wake up 30 minutes early, do you realize what an enormous edge you will have over most people in the world?
Can you imagine the boost it gives to your self-image?
3. You Can Plan Your Day
This is another thing that most of us either do not like doing or don't have time for. But, getting up early gives me an opportunity to plan my top five priorities of the day. Before everybody else gets up, I know what I am going to do with my day.
It doesn't take more than 15 minutes to plan a day. But, it increases my self-image, it helps me go about my day in a much more organized way. Yes, emergencies show up,  and sometimes you have to do what you have to do. But, a planned today is way better than an unplanned one.
4. You Can Leave To Work Early
We all know about the rush hour. And if you don't know, get in your car and be on the road between 8 AM and 9 AM. The traffic will tell you everything you need to know about it.  🙂
Well, if you have the habit of getting up early, you can go to work early before most people get on the road. Also, you can plan to come back early the same way.
5. You Can Do Things You Never Have Time For
How about things you are passionate about and you never find time to get to them? Maybe, you want to start a blog. Perhaps you want to finish that book. It could be you want to create that product.
Getting up early gives you that extra time which you can completely dedicate to whatever task you like. No distractions, to disturbance, no emails or phone calls. Just plain focus on the task. Can you imagine?
A Last Motivation Booster For Rising Early
A higher self-image is obvious from these five things I just shared with you. However, as I am not a personal development guru, I want to share with you something that motivates me to notch up my habit even further.
I would have shared this review with you in the beginning of this post. But, then you would have probably ignored all my text. I know that because I know that you will get fired up after you watch this video.
And, if you already have watched this, then you know what I'm talking about. So, here is an incredible 14-minute talk from Robin Sharma who shares some scientifically proven and practical tips on the benefits of getting up early.
Please take time to watch this video and then share your thoughts through your comments because I know you will be moved if you watch this video talk.
Share Your Thoughts Now
I have shared my story with you already. Now, please share about your morning habits. What are some of your top activities when you wake up? Are you a member of an early risers club? Please share your thoughts as I am curious to know what you think.
Thank you kindly.