Do you use your blog as a tool for building your credibility, authority and influence?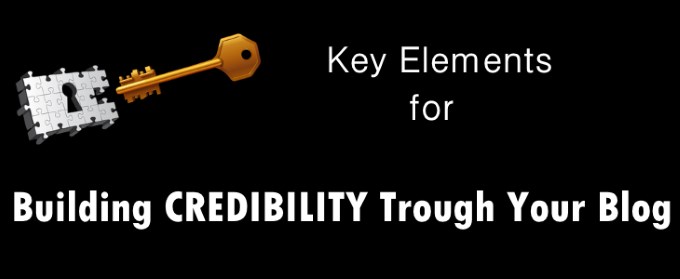 If you haven't thought in that direction so far, you need to start clearing your blogging misconceptions quickly and start thinking of your blog as a tool to do so.
A lot of bloggers come to blogging to make quick bucks and very soon, they fade away once they begin to realize that there is no shortcut to success. Making legitimate money has never been and will never be so easy.
Some people blog only for the purpose of link building as their core objective. Well, that aspect of blogging should be dying now since the recent crackdown by Google.
Using Your Blog To Establish Your Brand Credibility
In this post, let's take a look at a few things you need to keep in mind in relation to blogging.
Yes, blogging, content marketing is a great way to start sharing your knowledge, your thought processes and to reach out to the masses. Blogging is a great way to establish your credibility as a marketer, as a thought leader in your industry.
However, how do you improve your brand's credibility through your blog?
Here are a few quick tips that can help you establish your brand's credibility in the marketplace. These steps have proven their worth time and again for many top business leaders.
So, let's get started.
1. Make Your Blog Reflect Your Core Values
You cannot have credibility through your blog if your blog doesn't reflect your core principles and values.
For your blog to add credibility to your brand identity, your blog must be in sync with your brand's vision, mission and core values.
If your business is teaching, make sure your blog content is instructive in nature and that you always teach something of value through your blog.
You can't share jokes and politics if those are not related subject areas for your business.
2. Make Your Value Proposition Clear & Simple
This was one of my major challenges in the beginning. I had good traffic, a good following and good subscribers. But, nobody knew what problems I could solve for my visitors. Nobody knew I can do for others.
At the end of the day, people want to know what problems can you solve for them, what benefits can you provide them, and what solutions can they get from you.
However, do not make your blog – a sales page. It is important to tell people what you can do for them. But, that doesn't mean that every page on your blog is all about how great you are.
Keep your value proposition simple, concise and sweet. Keep it interesting and displayed prominently as a menu item.
3. Ensure That Your Blog Shows You Care
"People don't care how much you know until they know how much you care." – John C. Maxwell
People are going to read your content and visit your blog over and over again if they know that you care about them.
I know many top bloggers who have a huge fan base and a huge engagement. The only reason they have such a tremendously powerful tribe is that they care about their readers. They love to contribute their best to their readers and their community loves them in return.
If your audience knows that you care for them, that you listen to them and value them, this will tremendously improve your credibility.
4. Never Let Credibility Gap Happen
According to Wikipedia, credibility gap is defined as follows:
Credibility gap is a political term that came into wide use during the 1960s and 1970s. At the time, it was most frequently used to describe public skepticism about the Lyndon B. Johnson administration's statements and policies on the Vietnam War. Today, it is used more generally to describe almost any "gap" between the reality of a situation and what politicians and government agencies say about it.
However, this is also very practical in business world. It is very important that you always underpromise and overdeliver. If you reverse the order, you create a credibility gap that hurts your brand identity online and/or off-line.
Credibility gap gets created and you write a blog post with a promising title that brings people in. However, when your content doesn't deliver what the headline promised, people begin to doubt your ability to deliver on your promises.
Therefore, avoid promising things you can't deliver. Do not sensationalize your blog posts if there is nothing sensational about it.
5. Build relationships With Influential People
I had shared about this in a recent guest blog post I did at Adrienne's blog. In that post, I recommended having connections with influential bloggers. This is important to the credibility of your websites.
However, I want to expand on that a little in this post.
In the words of one of the top bloggers, Jon Morrow,
In every niche, there are a group of influencers who will decide exactly how popular your blog becomes. If they like you, your blog gets traffic. If they don't like you, you get ignored by everybody.
Well, I am not saying that you have to believe every word of this quoted text. However, Jon does make a point worth thinking about.
If you have a leadership blog, don't you think that your popularity and credibility and shoot up through the roof if people like Robin Sharma, John Maxwell and Brian Tracy start to share your content through their social media channels?
It is very important that you understand the value of real relationships with influencers in your own niche. I am not sure if not having such relationships is hurtful for your credibility. However, I am sure that such relationships can put your popularity and credibility both on steroids.
Share Your Thoughts Now
Do you think that these five steps can add some value to any brand's credibility through their blog? How many of these steps have you found to be useful in establishing a brand identity in your experience?
Please share your thoughts and comments and add value. Thank you kindly!