As an entrepreneur, managing your brand reputation is very important. In today's marketplace where social media is such a dominant marketing tool, you simply need to be on top of things on social media.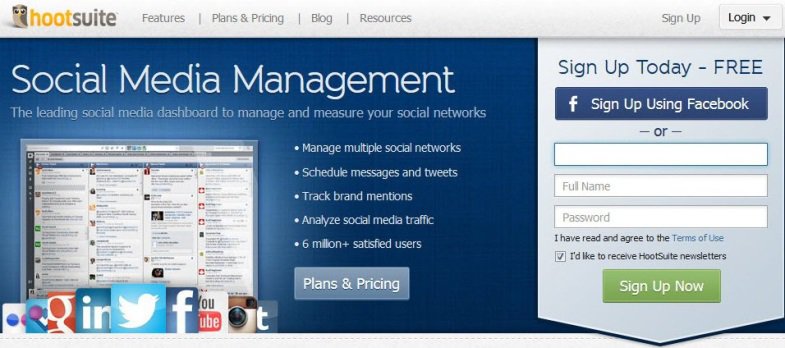 Do you really have to be on top of social media?
Well, not if you don't want to grow your business by leveraging the power social media and internet marketing has to offer. You can simply ignore it and build your business slowly using traditional ways and it may still work the way it always has.
But if you want to be on the cutting edge and build your brand identity online to take your business on fast track, you can't afford to ignore social media marketing. And that is when reputation management becomes an important aspect of your overall campaign.
An important aspect of brand reputation management is monitoring what is being said about your brand name on different social media channels. You can use Google Alerts and other alerting services to be notified when your brand name or keywords you are interested in, are mentioned on the web.
But what I am here to discuss here with you today, is about real time monitoring of social media channels such as Twitter, Google+, Facebook and LinkedIn for your brand's name and certain keywords that interest you. You want to use these features to not just monitor your brand reputation in real time but also find opportunities to grow your business.
Using HootSuite Social Monitoring Feature
My favorite social media management tool, HootSuite comes with some incredible features for this job. Although HootSuite Pro comes with many premium features and analytics, you only need a free account for social media monitoring using HootSuite.
Understanding Tabs and Streams In HootSuite
If you don't take time to understand the power HootSuite brings to the table, you may feel it is too complex a tool for you. However, when you realize how organized HootSuite helps you get, you will be amazed.
When you login, you will see the HootSuite dashboard with tabs representing each social network you've connected. Within each tab, you will see multiple streams as shown in the image below: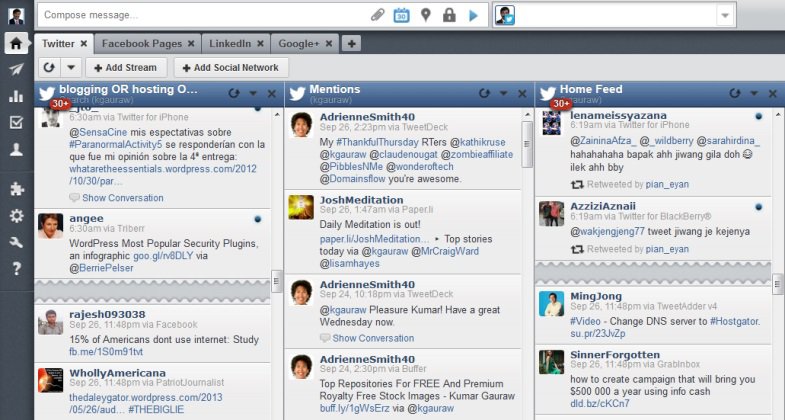 The streams within each social network tab can be used to monitor different activities. For example, when you look in the image above, you can see that I have setup my Twitter tab to show streams for my Home feed, Mentions and a search stream for a few keywords of my interest.
You can have multiple streams created to monitor for keywords, mentions of your brand name etc. for each social network. This allows you to not only monitor in a real time manner but also to respond or join the conversation in real time.
Using HootSuite Tabs And Streams For Monitoring
When you sign up for HootSuite, you get the default tabs for each network and typical monitoring streams within each. Those are great news, especially since it allows you to monitor all your social networks from one place.
However, you begin to appreciate the power that HootSuite brings to the table when you begin to use the option to create saved searches as streams within your tabs. This is where social media monitoring begins, where you can include one or more search based streams within each network tab, and start monitoring what people are talking about surrounding your keywords or phrases.
To create new streams based on certain phrases or keywords, the process is very simple. Here is what you do:
Go to the social network tab you want to monitor and then click on "Add Stream" button as shown below: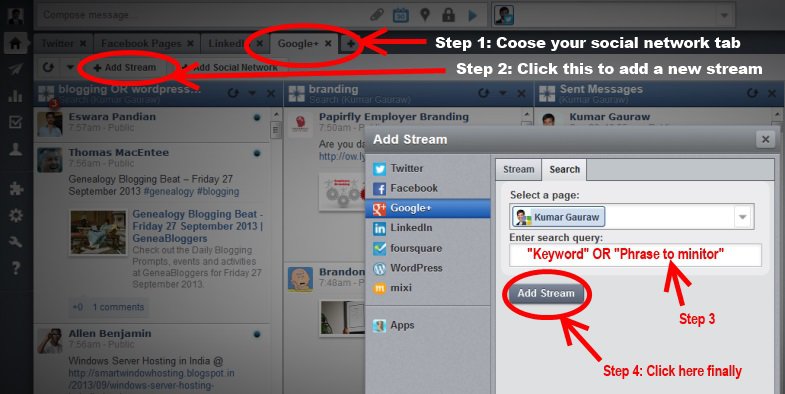 When you click on "Add Stream" button, a new popup will come as shown in the image above where you will choose your network from the left hand side and then enter the keyword or phrase you are interested in monitoring.
After you've entered the keyword, as a final step, click on the "Add Stream" button to add the stream to the tab and close the dialogue box.
Now, you will see that a new stream would have added to your social network tab. With that you are now monitoring all conversations around your keyword or phrase on that social network.
How You May Benefit From This Social Media Monitoring
Now, let's discuss some of the cool benefits of setting up these search based streams using HootSuite and how you can not only monitor your brand reputation but also grow your business and create better engagement online.
1. Respond To Questions/Concerns/Complains In Real Time
When you are monitoring your name and your keywords on your social media channels of focus, you will get alerts in real time. When you do get a notification about a mention of your brand name, you have the opportunity to promptly respond.
Responding in a timely manner to customer queries, complaints of dissatisfied customers or questions from prospective customers etc. has its own benefits. Your credibility increases because you respond in a timely manner and that instills belief in the marketplace that you stand behind your brand.
2. Reduce Clutter From Your Social Streams
Have you seen how much of irrelevant stuff flows through your home feed every day? Especially on Twitter and Google+ we face this challenge. The more people you follow, the more cluttered your home feed becomes.
Now, some experts will tell you to only follow people who really matter to your business/niche. Well, that may seem like viable advice, but I know how I feel about the social credibility of somebody when somebody is extremely active on Twitter and had 27 followers.
So, instead of unfollowing people, I find using custom streams using HootSuite much more fruitful.
All I have to do is, setup streams based on a few keywords and phrases of my interest and only keep those streams in front of me. It's clean, focused and a very efficient way to manage your social media engagement.
3. Participate In Conversation Related To Your Niche
As an entrepreneur, you should be monitoring your keywords on social networks. This gives you an opportunity to participate in conversations going on about your topic. May be, you can answer some questions and begin to build some relationships.
For example, I have a saved search stream on the term "Blogging for Branding". Whenever I find somebody mention about this term, I pay attention to it. I have been able to build a few good friends by just watching for this term. It also helps me get new clients.
4. Engage With Thought Leaders In Real Time
This applies more to Twitter and Google+ than Facebook and LinkedIn simply because of the public nature of these services.
About Twitter, it is said that it is a conversation which is always happening – with or without you.
It also means that everybody is saying something on Twitter. The problem is, hardly anybody is listening. And those who are willing to listen, mostly don't know how to listen.
HootSuite's search based stream creation is a great way to start your social listening.
How about building some relationships on social networks with some influential people in your niche? How about getting into conversation with some of your prospective clients and leaders in your industry?
5. Watch Your Competition On Social Media
In business, you know how important it is to pay attention to what your competition is up to. Well, if you understand what you've got your hands on with this awesome feature in HootSuite, you can just setup some streams for your competitors and find out what they are doing on Social Media.
This knowledge can prepare you to fine tune your own campaigns or come up with new strategies for growing your business. If you want to grow your business, watch how your growing competition is doing, learn from it and then act accordingly. Isn't this free feature so awesome for such a thing?
Over To You – Share Your Excitement And Ideas
Have you benefited from social monitoring feature of HootSuite? What are some of the things you love about HootSuite? What other benefits do you think HootSuite offers that makes it such an awesome social media management tool?
Please share your thoughts or questions in the comments section. Thank you kindly!