August 28, 2013, is the 50th anniversary of Dr. Martin Luther King, Jr.'s watershed "I Have A Dream" address delivered from the steps of the Lincoln Memorial located on the National Mall in Washington, D.C.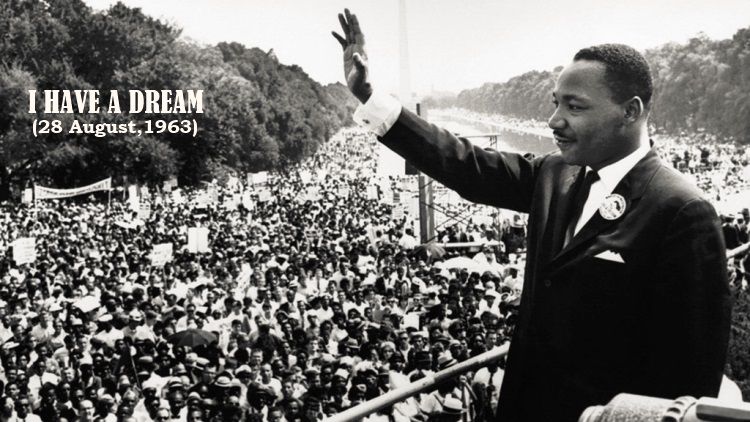 Dr. King delivered this speech in front of an audience of over 250,000 people coming from all over the country during the March on Washington. According to Wikipedia, this speech became a defining moment of the American Civil Rights Movement, looking from a historical point of view.
According to some other sources, this address named "I Have a Dream", delivered on August 28, 1963 is considered one of the most important cultural and historical moments of the 20th Century.
From a Toastmasters public speaking point of view, it is a dream for any public speaker to deliver a speech like the 'I Have A Dream' speech. People have done several researches, there have been TED talks about this speech and why it became such a powerful talk.
An article at The New York Times about 'I Have A Dream' Speech said,
Dr. King's speech was not only the heart and emotional cornerstone of the March on Washington, but also a testament to the transformative powers of one man and the magic of his words. Fifty years later, it is a speech that can still move people to tears. Fifty years later, its most famous lines are recited by schoolchildren and sampled by musicians. Fifty years later, the four words "I have a dream" have become shorthand for Dr. King's commitment to freedom, social justice and nonviolence, inspiring activists from Tiananmen Square to Soweto, Eastern Europe to the West Bank.
If you haven't heard 'I Have A Dream' speech, here is a YouTube video of the speech for you. If you have already heard Dr. King's magnificent talk, it is your opportunity to listen to him one more time and appreciate the beauty of 'I Have A Dream'.
The speech Dr. Martin Luther King gave that day, not just made a profound impact on the legislation, it caused Dr. King to be named Man of the Year by TIME magazine for 1963, and in 1964, he was the youngest person ever awarded the Nobel Peace Prize for combating racial inequality through nonviolence.
Some Of My Favorite Quotes From Dr. Martin Luther King Jr.
There are so many lessons to learn from Dr. Martin Luther King's life and his philosophy. But today, as we remember him and his 'I Have A Dream' speech, I would like to share some of the best quotes from him. As you enjoy his speech and these quotes, I encourage you to share with others and inspire somebody.
The ultimate measure of a man is not where he stands in moments of comfort and convenience, but where he stands at times of challenge and controversy. [tweet this]
Faith is taking the first step, even when you don't see the whole staircase. [tweet this]
Nothing in the world is more dangerous than sincere ignorance and conscientious stupidity. [tweet this]
Our lives begin to end the day we become silent about things that matter. [tweet this]
The time is always right to do what is right. [tweet this]
If a man hasn't discovered something that he will die for, he isn't fit to live. [tweet this]
He who passively accepts evil is as much involved in it as he who helps to perpetrate it. He who accepts evil without protesting against it is really cooperating with it.
Every man must decide whether he will walk in the light of creative altruism, or in the darkness of destructive selfishness. [tweet this]
'I Have A Dream' Becomes Toastmasters Club Contest Theme
As the world celebrates the 50th Anniversary of this monumental address, my Toastmasters club, St. Andrews Speakers, is organizing fall club contest on August 29th. As a tribute to Dr. King, our Contest Master, Mr. Alan Balthrop, decided to make 'I Have A Dream' as the theme of the meeting.
With 5 contestants in each section, the meeting is going to be power packed and I am so looking forward to witness the contest and vote for the winner who will represent St. Andrews Speakers club in the area contest and beyond. It is going to be a phenomenal event.
Question: What do you like the most about the 'I HAVE A DREAM' speech? What is the one thing about this speech that makes it so incredible? Please share your thoughts in the comments. Thank you kindly!