Holi, also known as the festival of colors, is one of the biggest and the most colorfully celebrated festivals by Indian families around the world and preparations for Holi this year, has already begun as well.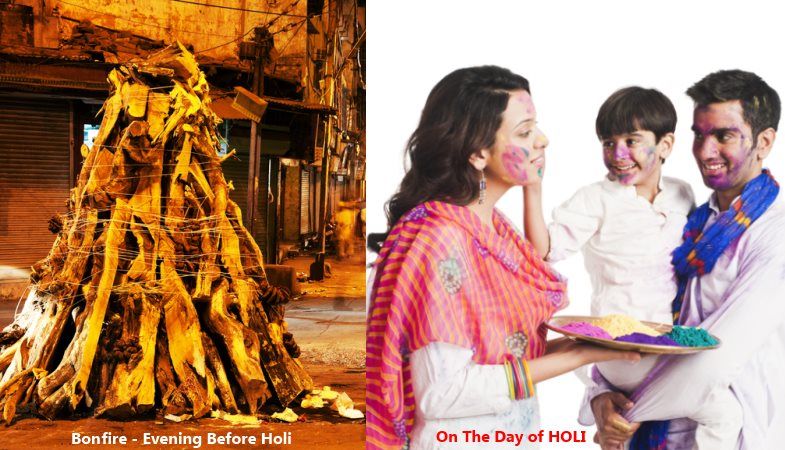 It is one of those unique occasions when the bright colors of Holi demolish all the social barriers of caste and creed in society. A festival that is all about colors also brings along with it the spirit of joy, love, peace and enthusiasm in our hearts.
A Little About Holi
Holi is a Sanskrit word which is also known as Spring Festival  and sometimes, also referred to as the Festival of Love.
Holi is an ancient Hindu religious festival which become more and more popular with time even in people of other communities around the world. According to Wikipedia, as the festival has, in recent times, spread in parts of Europe and North America as a spring celebration of love, frolic and colors.
Holi historically symbolizes celebration of the victory of good over evil and it emphasizes on the message that you submit yourself to God and He will protect you just like a father protects his children with all his might.
The Legend Of Holi
According to the legend, there was once an all-powerful demon king by the name of Hiranyakashyap, who almost became immortal with a boon that made his death almost impossible. He declared himself as God and commanded everybody to worship only him.
Things were going great until he discovered that his own son named Prahlad devoted himself to Lord Vishnu (the supreme personality of Godhead). It was a bit of a disappointment for the father when he couldn't convince Prahlad to stop worshiping Lord Vishnu.
So, Hiranyakashyap sentenced his son to death and tried several ways to kill Prahlad in which he continued to fail because with grace of Lord Vishnu, Prahlad was saved every time.
Hiranyakashyap's sister, Holika had a boon that she could enter fire unscathed anytime she wanted. So, he asked Holika to enter a blazing fire with his son Prahlad in her lap. Holika enticed young Prahlad to sit in her lap before she took her seat in a blazing fire in front of Hiranyakashyap.
The legend has it that Holika had to pay the price of this heinous attempted crime with her life. Holika forgot that the boon was given to her only for her own safety as long as she didn't use this to harm others.
Holika turned to ashes while Prahlad, who was kept chanting the name of Lord Vishnu with deep devotion came out unharmed from that fire. The legend has it that people celebrated the victory of Prahlad and defeat of Holika the next day.
Since then, every year, effigies of Holika are burnt in huge bonfires that are lit every year on the evening just before the day of Holi. As the fire is lit, people sing and dance around the bonfire and celebrate.
The Holi Celebration
Holi celebrations begin the morning after Holika bonfire. The day is all about enjoyment and enthusiasm. Children and youth alike armed with different colors, target each other with their colored solutions. They attack others with their colorful solutions with their water guns and let others do the same.
People play together, laugh together and celebrate one another's company irrespective of their creed, color or religion. Later during the day, they visit one another's homes, offer sweets, eat together, play music, sing and dance.
It was a lot of fun in childhood playing Holi back then. But nevertheless, we still celebrate with friends and families here every year. We are looking forward to Holi celebration this year as our children have grown up a bit more to be able to enjoy the fun of Holi.
Here is a shot from the last year's Holi celebrations in Dallas with some of our friends. Hope you can recognize me somewhere here 🙂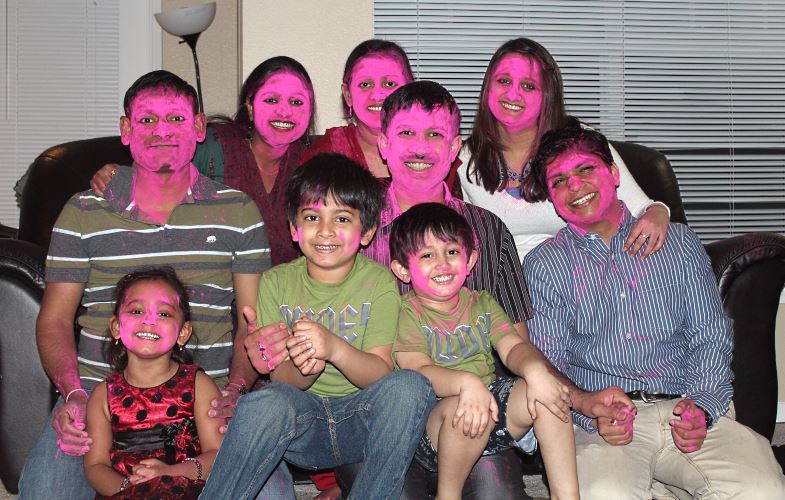 Messages Of Love, Celebration And Harmony
Just as we approach Holi this year, I think of these 5 simple life lessons Holi brings with it. I share with you these lessons as this is a great time to remind ourselves that life is what we make out of it. It is a great way to celebrate all the blessings in our lives.
1. Evil May Seem Powerful But It Loses In The End
This isn't a new thing. Every religion, every culture has countless such examples where evil has always lost in the end.
But, the idea is, it is yet another reminder that comes to us each year so we do not get distracted while life keeps luring us with glittering temptations to violate integrity for small temporary gains. Holi reminds us that, although the path of truth and honesty might look difficult, its rewards are worth it.
We must not forget that with God, everything is possible and so we must remain truthful.
2. Appreciate, Rejuvenate And Celebrate Those  Relationships
Holi is a time of the year when people come together to clean their houses, streets, collect dry wood for Holika bonfire and then play together with colors leaving all their worries behind.
It is also a time of the year when people don't care about cast and creed, religion when celebrations begin. Families come together, friends gather and they renew those dusted relationships.
3. Love All – Forgive All
Holi gives us to forgive even our enemies and play with them, celebrate with them and make friends with them. It isn't easy, but that is why Holi is such an special occasion. There are numerous examples and stories of enemies who became friends after they celebrated one Holi together.
Can you imagine how beautiful life will be if we can take this message to our hearts and begin each day with the same love and feeling of enthusiasm towards others?
4. Clear The Evil – Inside Out
Holika bonfire symbolizes an opportunity to burn all that is evil in us. People collect all the junk and put that into the bonfire that evening symbolizing that they are burning all that is evil in their lives.
Isn't that a great way to start fresh? Imagine the beauty of our souls when we can do a fresh start leaving all that was bad, all that was dark in us behind and moving forward fresh like a clean slate.
Just love the thought of it makes me feel fresh right now as I write this.
5. Live In Peace, Harmony And Happiness
Finally – and the most important of all – is to live by the golden rule. We put colors on others and enjoy when others put colors on us. The real enjoyment comes when we see happiness in other people's eyes when they put colors on us. This is such an amazing experience!
Small or big, rich or poor, everybody treats the other person with love and respect that day. Holi teaches us the lesson of caring for others, making others happy and sharing our joys with them for that one day at the very minimum.
Can you imagine the beauty if we all could spend our everyday with the same love for others, the same sense of responsibility and respect for others? Our lives will be enriched with harmony making our societies peaceful with happiness all around us.
Conclusion
As we celebrate Holi on March 18th this year, let's not just make it just another day to party and have fun. Let's take some of the life lessons Holi teaches us and enrich our lives with love, harmony and peace.
Over To You – Share Your Thoughts
If this is your first introduction to the festival of Holi, what is the one thing you find the most interesting from your perspective? What makes this such a special festival that its popularity keeps increasing year after year around the world?
If you are like me who has seen and celebrated Holi every year, what makes this festival of colors special to you?
Share your thoughts through your comments. Thank you kindly!