Decades after his death, the mere mention of the name Vinayak Damodar Savarkar riles people up even today. From being an optimistic advocate of Hindu-Muslim unity in his famous book, "The Indian War of Independence 1857", what transformed him into a proponent of 'Hindutva'? Why was Savarkar a severe critic of Gandhi and the Congress? What happened after Gandhi's assassination?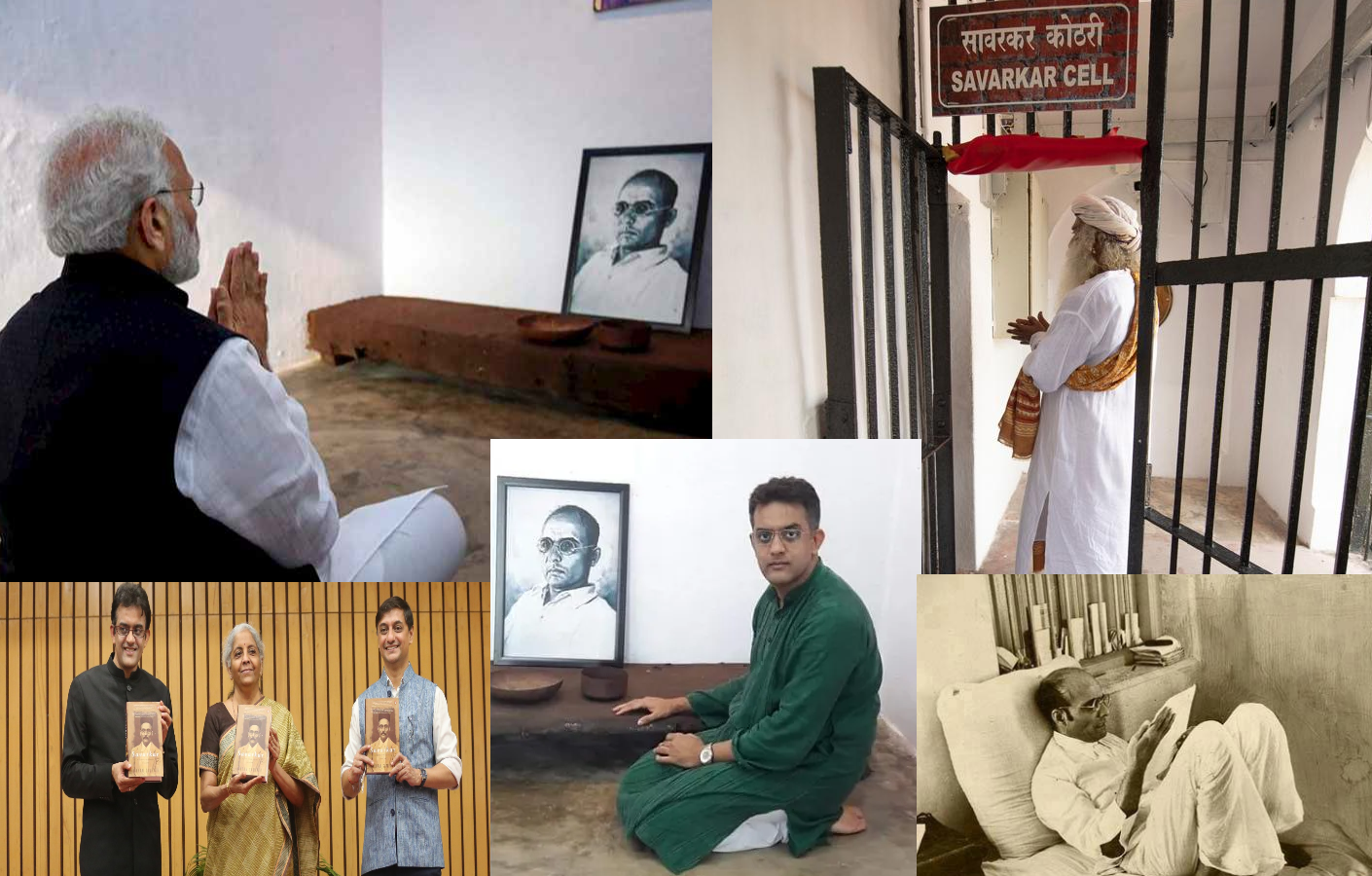 These are the questions that the readers of Vikram Sampath's first book about Savarkar have. The answer to all those questions and many more historical facts are documented in the second and concluding volume of this two-part biography of Veer Savarkar. Having read the first volume, the expectations were high, and Vikram Sampath did not disappoint. This book is even more detailed, so engaging that I read the entire volume in just three days! I couldn't put the book down!
Before we get going with my insights from this book, if you haven't seen my review of the first book in this series, you can click here to read it:
BOOK REVIEW-SAVARKAR: ECHOES FROM A FORGOTTEN PAST BY VIKRAM SAMPATH
As I had shared in my last post, these books by Vikram Sampath are my first introduction to Vinayak Damodar Savarkar, having read nothing about him in textbooks. Therefore, everything I shared is what I discovered about his life reading through the book. I was eager to get my hands on this second volume because I wanted to know what happened after Savarkar was transported from Andaman to Ratnagiri jail around 1924.
Let's jump right into some of the important incidents worth discussing from the magnificent life of the brave son of India, Veer Savarkar.
The fascinating thing about the eventful life of Veer Savarkar is that, indeed, his life is worth studying. He first spent over two decades in 'Saja-E-Kala Pani' in Port Blair's Cellular Jail, and he had gone through severe inhuman treatment for his desire to set his motherland free. After that, he spent another three years in prison cells of Ratnagiri and Yerawada, and then he was kept captive within the boundaries of Ratnagiri for another 13-14 years, where he was not allowed to participate in any political activity either.  Despite 27 years of captivity, the sheer amount of literature, books, poems he wrote, and the social activities he introduced to Indian society itself speaks volumes about his unwavering commitment to the nation.
Before going ahead with my learnings about Veer Savarkar's life from this fantastic biography, here is the link to the book on Amazon. I highly recommend everyone to get a copy. This book is a treasure!: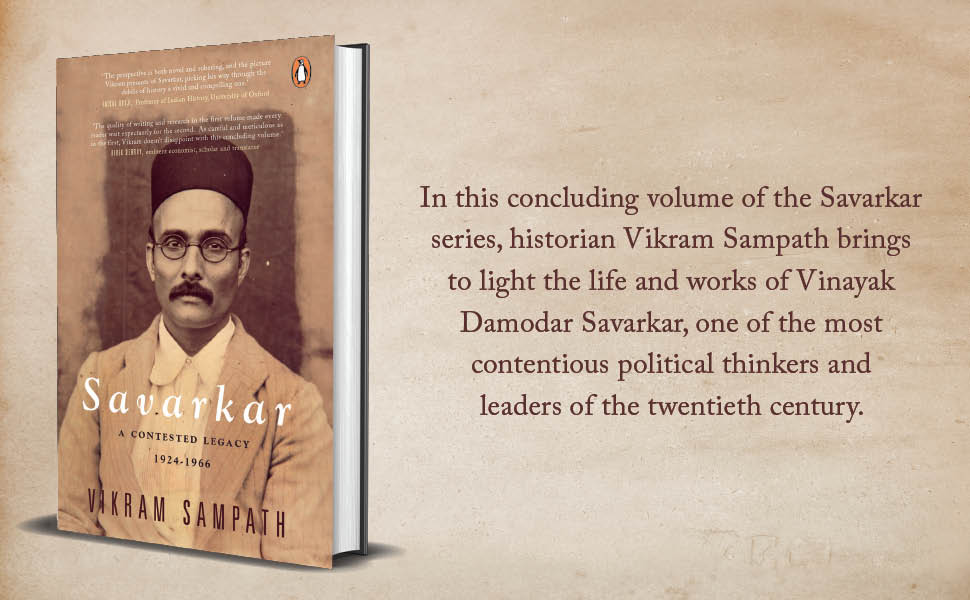 Why Veer Savarkar Joined Hindu Mahasabha, not the Congress
At the time of his release in 1937, he was already a leader and an inspiration to many revolutionaries. Some of the people he inspired are the late Sardar Bhagat Singh, Chandrashekhar Azad, and countless others. His influence had spread so far, had he consented to join the Congress; he would have easily attained a position of prominence in the Congress. But no, Savarkar had chosen to lead the Hindu Mahasabha because he firmly believed that the Hindu community needed a strong political voice. He felt this since the Congress had grievously wronged the Hindus, having gone too far in its agenda of Muslim appeasement under the leadership of Gandhi.
There is an incident listed in the book where the press asked him if not joining Congress cost him his popularity, Savarkar replied:
For the sake of grand welcomes, I cannot sacrifice the welfare of the country and Hindus. If I had complied with the British, don't you think I would have earned grander receptions, positions, and perks? Yet, since my youth, it is only national interests that have guided my every action….
Journey From a Freedom Fighter to a Leading Social Reformer
During the time he had spent in the Cellular Jail, he had started working on the concept of 'Shuddhi' to welcome back forcibly converted people to the Hindu community. But as soon as he got a little freedom in 1924 to stay within the boundaries of Ratnagiri, he began working on his mission to eliminate the problem of 'untouchability'. He was the first person to take this arduous task in that atmosphere and turn that into a movement long before Dr. Ambedkar, who eventually worked for the exact cause later.
Speaking in Bhagur on Aug 14th, 1924, he said this:
Untouchability is an insult to humanity, but it is practiced by many castes. In Maharashtra, Mahars do not touch Mangs, while Mangs consider Dombs as untouchables. We must forget all these differences and remember that finally, we are all Hindus. That is the only common denominator….
As we go through the life of Savarkar, we realize that he didn't just talk; he followed what he preached. Everywhere he went, he emphasized abolition of untouchability and the need for 'Shuddhi' to reconvert those who had been coerced or lured into leaving the Hindu religion.
Another vital contribution of Savarkar is the 'Bhasha Suddhi' or language purification movement that he had begun while he was still held in the Cellular Jail itself. It was Veer Savarkar who urged the Hindu youth of Panjab back in 1925 to draw inspiration from the life of Swami Dayanand Saraswati and avoid the usage of the Arabic script. He appealed rather to use Devanagari of Gurumukhi. He argued that it was shameful that Hindu poets and writers were writing their poems in an alien script. He went to great lengths and consulted many scholars, writers, authors who had done work in reforming the Devanagari script in which the languages such as Hindi, Sanskrit, and Marathi are written to elevate Hindi to the status of a national language. Vikram has provided many details of Savarkar's efforts on language purification or the 'Bhasha Sudhhi' project.
Veer Savarkar knew that he was way ahead of his contemporaries in vision and how he thought and acted upon the issues that others would recognize after many years. He even spoke about that in 1937 after being released from jail when he addressed a group of young students who were passionately opposing Savarkar in his new avatar of fighting social issues. They wanted the old 'Revolutionary Savarkar' back! About that, he said:
You say you disagree with my views and that you want Savarkar of 1908 back. But how many of you know that even Savarkar of 1908 was not accepted by many? It has taken you many decades to accept those views now. If even five young brave hearts from among you can get the courage of a Madan Lal Dhingra or Anant Laxman Kanhere, then I could consider our country as being fortunate. Can any of you raise your hands to commit this kind of daredevilry? What then to talk about revolution?…..
Now, here is a list of some incidents, speeches, and writings of Veer Savarkar post his release in 1937 that widened the gap between him and the Congress party, including Gandhi's assassination and what transpired as a result.
Savarkar's Hostility with the Congress began in Miraj
There was an incident of kidnapping and molestation of four Hindu girls by Muslim men in NWFP (North West Frontier Province), which was also brought up in the Central Assembly by Bhai Parmanand of Hindu Mahasabha.
When Savarkar attended a meeting presided over by a Congressman at the Khare Mandir in Miraj, he attacked the Congress's spineless attitude where the press had reported that a prominent legislator Dr. Abdul Jaffar Khan, had blatantly dismissed this incident as being inconsequential and that those girls should have been handed over to their abductors.
Savarkar alleged that Congressmen had giggled away uncontrollably at this preposterous statement, and he likened this shameful act of the Congress to the Kauravas of Mahabharata when Dhshashana and Duryodhana had tried to disrobe Draupadi in the 'Kuru Shabha'. Quoting this act of the Congress, he thundered that this was an act of national-level eunuchs!
All hell broke after this speech of Savarkar; he was opposed, criticized, and even attacked by the Congress workers everywhere he went. A lot has been mentioned about the reaction of Savarkar's speech and what Congress did to him since. Interestingly, I couldn't find any mention anywhere that the incident he quoted was false. There is no mention that Congress denied Savarkar's allegations as false.
This was the first significant confrontation between Savarkar and Congress. The hostility between him and the Congress party was solidified and has continued forever since then!
Veer Savarkar and Netaji Subhas Chandra Bose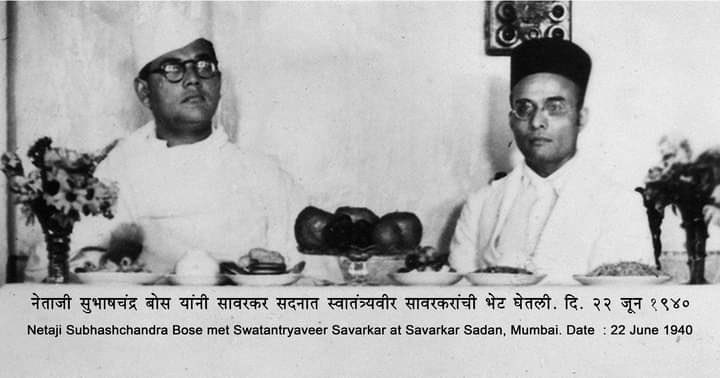 When Subhas Chandra Bose became the new Congress President in 1938, he expressed a desire that Savarkar would change his mind and join the Congress to strengthen his and the party's hands. In response, Savarkar sent him a detailed letter explaining his position to Bose. I am going to quote a few lines from that letter indicating the main points (when you read the book, you can read the detailed text presented in it):
The Constitution of the Congress and the Congress norms dictate that no member of the party can be [art of any 'communal organization'. When they say this, they speak only about Hindu Mahasabha, but there are people in the Congress who have declared themselves openly as supporters of members of the Muslim League and even gone on to occupy leadership positions in the party, despite this. People in positions of power have been notified not to take part or be associated with the Hindu Mahasabha and/or any movement organized by it…

Even when it's obvious that Indian interests are inevitably Hindu interests, the Congress actively forbids it; it concedes to every demand of the Muslims, sometimes even when they are against national interests or human morality. I feel it is impossible for me to work in such an organization until the mindset is changed…

One can contribute towards the national cause without being a member of the Congress, and hence we have decided not to yoke ourselves to the membership of the Congress and its ideals, but instead work towards the national cause with even more vigor and inspiration…
Baghnagar (Hyderabad) Agitation Against Nizam's Atrocities on Hindu Community
The Hindu community in Hyderabad, ruled by Nizam Sir Osman Ali Khan, reportedly faced an extremely suppressive policy based on communal lines. The Hindu population was nearly 85% in the state, while Hindus were not represented in his executive council. The Hindus were also disenfranchised from the civil services. The situation was so anti-Hindu in the state that vacant positions were kept vacant until a qualified Muslim candidate applied. Most of the positions were filled by Muslim immigrants coming from Aligarh Muslim University.
Bans on religious discourses and meetings of Hindus were carried out with impunity. Hindu religious festivals were to be strictly observed only in the confines of one's home, not in public. Music or processions were prohibited. The state often encouraged Ruffians to harass the Hindu community or molest its women, with no one being held accountable. There were large-scale riots in Hyderabad fanned by the state actors.
Hindu Mahasabha, along with Arya Samaj and other Hindu organizations, under the leadership of Veer Savarkar, launched the Civil Disobedience movement against Nizam's government on 23-September-1938. The movement was met with atrocities of Nizam's police force. Thousands of people gave arrests in multiple rounds of agitation, and the movement kept getting stronger and stronger with each passing day.
Finally, the Hyderabad State Congress decided not to be left behind and jumped into the movement as well. They started organizing Satyagraha camps. But even as the movement was reaching its peak, the Congress halted its participation in its characteristic fashion, assuming that Nizam was planning to rethink its repressive policy if the movement was suspended.
But Hindu Mahasabha, Arya Samaj, and other organizations carried forward, ignoring the Congress. The Hindu students of Osmania University were rusticated from the university for singing the national song, Vande Mataram, on the campus grounds. The people who sang the same song on the streets of Hyderabad. The state Congress sided with the Nizam's decision in both situations. But the stand of Nizam was opposed with a vengeance by the rising Hindu community, and ultimately Nizam caved in and rescinded the ban on the song.
The uprising continued, protests continued to be getting bigger, people began giving arrests in large numbers while Nizam's government kept putting people through inhuman conditions. Veer Savarkar was at the helm of this movement, strategizing and adjusting next moves for the agitation. He appealed:
Let Sanatanists, Aryasamajists, HinduSabhaits, Sikhs, Jains, and others who constitute Hindudom as a whole, rise up and march to the front, not only in hundreds as was done till now, but in thousands. . . Arise then, in your millions, and join ranks to press on this 'Dharma Yuddha'.
The agitation got international attention; the British government began putting pressure on Nizam. Finally, he capitulated to bring in the reforms demanded on 19-July-1939 and released all the prisoners within the next month. Veer Savarkar was not satisfied with all the provisions of the reform, but he still welcomed the change of Nizam's attitude, and the people's agitation had ended with this success.
Veer Savarkar and The Thorn of Pakistan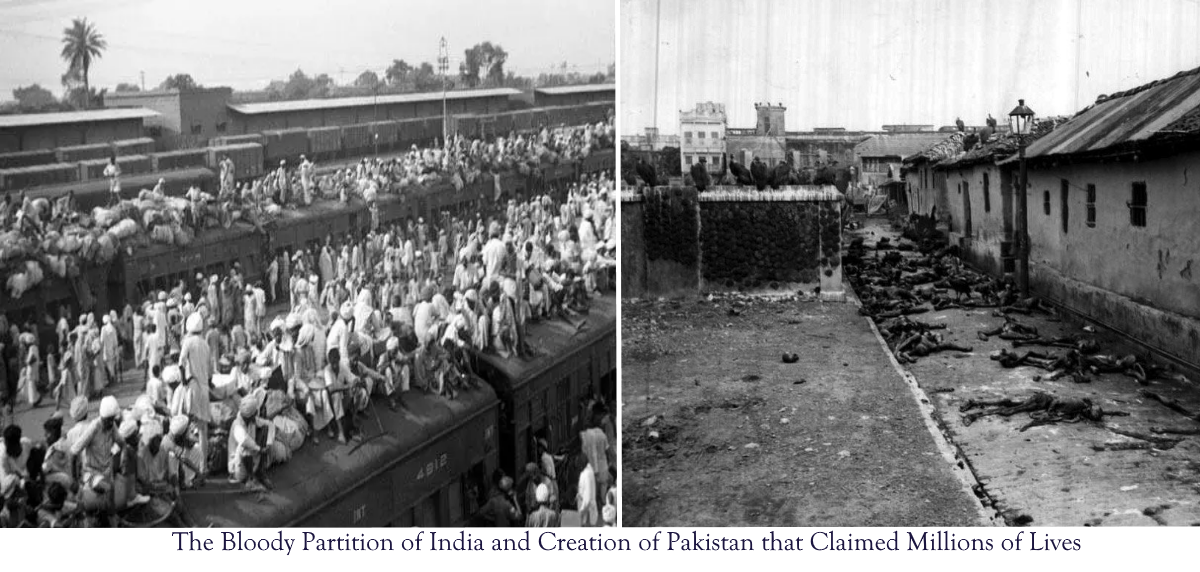 Hindu Mahasabha observed an 'Anti-Pakistan Day' on 10-May-1942, which was also the anniversary of the 1857 War of Independence. Savarkar delivered a stirring speech in front of over 25,000 people where he said this:
…From one end of Hindustan to the other, every Hindu will take a solemn oath today that he will fight and preserve India un-divided, whether may befall him. Today India is divided into several parts such as French Hindustan, Portuguese Hindustan, British Hindustan etc., and consequently, this war for Akhand Hindustan will be going on from generation to generation till the object has been achieved.
When the Congress Working Committee's resolution indicated that they were willing to support the demand of Pakistan, Savarkar reacted sharply, releasing a statement on 21-April-1942 (I quote only a few selected sentences here):
For the last three years or so, I have been publicly warning the Hindus that there was every likelihood that the Congress would servilely surrender to the Moslems on the issue of Pakistan. . .

The Congressite Hindus continued to challenge, and a large section of the non-Congress Hindus also used to doubt the accuracy of these assertions on my part. They wanted evidence to prove my assertions. Now, here comes the evidence with a vengeance. . .

The Congress, which calls itself 'Indian National Congress' has in these few lines stabbed at a stroke, the unity and integrity of the Indian Nation itself in the back.
After the partition of India and the creation of Pakistan were decided and accepted by the Congress,  Savarkar spoke in Alwar on 9th August 1947, he said:
Pandit Nehru says that they accepted Pakistan to avoid bloodshed. But this is wrong. This will not help to avoid bloodshed. On the contrary, they will again use threats of bloodshed in order to press their additional demands. If you do not stop them, there would come about 14 Pakistans. They will demand Mayostan near Alwar; in the South, they will demand Moplastan in Kerala, and in Hyderabad, they will demand Nizamistan. Their demands will have to be crushed by the policy of reciprocity. For that purpose, the Hindus, irrespective of political party, must unite and consolidate their strength.
Then 15th August came when India obtained her Dominion status. It was a freedom born amidst untold human sufferings, strife, anarchy, and cold-blooded murders, especially on the frontier provinces on the west and east bordering Pakistan. During the short period of transfer of power, the communal violence erupted in which over 600,000 people died, about 14,000,000 were driven from their homes, about 1000,000 young girls were kidnapped and either forcibly converted or sold on the auction block, according to the official report of the times then.
Veer Savarkar denounced the Nehru government on 25th September 1947 for its inability to protect the lives and property of Hindu and Sikh communities. He said that this was a civilizational and cultural war to alter the core of Hindustan by a determined and aggressive force. He warned of repeated and concerted attacks for which the new state of Pakistan was readying itself by militarily arming itself.
Just as Savarkar issued this statement, on the very day, Pakistani tribesmen began their invasion of Kashmir to merge the state into their country. The Indian government and its leaders (Nehru and Patel) decided to withhold the payment of Rs. 550 million to Pakistan was to be given to them as per the Partition agreement, as a condition for withdrawal from Kashmir and not using this money to buy arms against India. As soon as the news reached Gandhi, he began his 'fast unto death' weapon to coerce the Indian government to release that money to Pakistan immediately, and he succeeded.
Deliberate Framing of Savarkar as Co-Conspirator in Gandhi's Assassination
Everyone knows young Nathuram Godse brought down Gandhi on 30th January 1948, and his speech in the courtroom is documented as, Why I assassinated Mahatma Gandhi (English). The book, Gandhi Wadh Kyon (Hindi) by his brother, Gopal Godse, has a very detailed authentic explanation about the circumstances and reasons behind Nathuram's decision to eliminate Gandhi when he did. Therefore, I will not discuss those details in this post, keeping the topic strictly around Veer Savarkar.
As soon as the news of Gandhi's assassination happened, miraculously, his caste was also released with the news. Within the hours, the community of Chitpawan Brahmins all over Maharashtra and other parts of the country were attacked by a mob (similar to the 1984 outrage and killing of Sikhs in the aftermath of India Gandhi's assassination). The only reason the Brahmins were attacked, killed, and their properties were vandalized was because Nathuram belonged to that community, that's all!
Thousands of Brahmins were killed, Brahmin women were raped, shops and houses were set on fire, livelihoods were destroyed, and many Brahmins were forced to flee to save their lives and future generations. The properties of Veer Savarkar were also swindled and torched by the perpetrators. Dr. Narayana Rao Savarkar (Veer Savarkar's younger brother) was stoned to death.
You can read more about atrocities against the Brahmin community in the aftermath of Gandhi's assassination going through these two articles:
Maharashtra Brahmin Genocide – 8000 Killed published by Arti Agarwal and 1948 – Brahmin genocides of Maharashtra — The gruesome episode blotted out of Indian history in the aftermath of the untimely assassination of Gandhi by Sooraj Kumar Bhargav
Veer Savarkar had issued a statement on 31st January 1948 expressing deep shock at the tragic assassination of Gandhi and appealed to the people to stand by the Central government to maintain order in the country. While this was happening, he knew that the government would get him framed in this.
On the morning of February 5th, 1948, the police knocked at the door of 64-year-old Savarkar and arrested him under draconian colonial legislation, 'the Preventive Detention Act that allowed the government to detail anyone without trial, with no offense established or charges framed. The government did so because no evidence or a link was pointing to Savarkar's involvement in Gandhi's assassination, and they wanted to arrest him anyway.
There was no consideration for stature as a freedom fighter, his contribution to the nation till that point or even his health. It appears that the idea was to implicate him, no matter what! The plot by the government was probably to do a character assassination of the man so that people of India would always suspect his involvement in Gandhi's assassination even if he got acquitted by the courts.
Long story short, Vikram Sampath has narrated the entire ordeal of Savarkar in great detail in the book; they kept Savarkar detained for over a year until he was honorably acquitted of all charges against him by the court.
Veer Savarkar was legally acquitted, but the permanent damage was done to his legacy, as intended by the people in power at the time who succeeded in maligning Savarkar's image as a 'suspect' in Gandhi's assassination.
Situations Around Nehru-Liyaquat Pact, Indo-China 1962 War
When the Indian republic was heralded on January 26th, 1950, Veer Savarkar greeted the people of India with a message in which he stressed that Indians need to prepare for the challenges of the future. A few lines from that message were:
Let us sink our petty squabbles over provincialities, personalities, and party platforms on that day and presenting a trailed front on the only one and common platform-the platform of our motherland-proclaim our national victory to the world. . . But we must not forget that mere rejoicing on the Inauguration day would but amount to vain-gloriousness and frivolity if we fail to realize the corresponding responsibility as incur to protect the republic from all external aggression as well as from internal anarchy. That can only be done by building up a powerful army, navy, and air force. Consequently, I appeal to the youths, in particular, to make a grim resolve on this day to join these national forces in their hundreds of thousands and thus to discharge the first and the foremost patriotic duty they owe to their motherland.
Jawaharlal Nehru and Liaquat Ali Khan signed the 'Nehru-Liaquat' pact in Delhi on April 8th, 1950, aimed at the safe return of refugees and the protection of the rights of minorities in both countries. It's a wide known fact that Pakistan never followed up on that pact in the letter or spirit, but Nehru was eager to please Pakistan.
Nehru's government swooped down on all its political opponents within the country, especially the Hindu Mahasabha, and conducted nationwide arrests under the Preventive Detention Act of 1950. Savarkar was also arrested swiftly from his residence even though he had not made any anti-Nehru statements. The press and several others condemned the high-handed attitude of the Nehru government. For example, Free Press Journal, not known to be very sympathetic towards the Mahasabha, said:
The offensive against the Hindu Mahasabha and the R.S.S leaders and workers has only one implication. That is that, Primier Nehru has elected to appease Pakistan and imperil the integrity and the independence of India. The offensive against the Hindu Mahasabha and the R.S.S had two-fold purpose; one is to divert India's attention from the policy of appeasement; the other is to create a panic that there is a Hindu conspiracy and rally the progressive elements in support of the policy of appeasement of Pakistan.
It was an apparent attempt by Nehru to eliminate political opposition, especially in the wake of the upcoming first general elections that the country was to witness in 1951. The government insisted that Savarkar could only be released if he took retirement from politics. Veer Savarkar was already tired, old, and had seen enough. So, he complied and took retirement from public life completely.
Even then, Nehru repeatedly maligned the Mahasabha as the murderer of Gandhi even though courts had already closed the case and found no links to implicate the organization. But Nehru kept blaming Mahasabha in multiple election speeches at various locations around the country.
Veer Savarkar was particularly critical of Nehru's policy towards China. He had criticized Nehru for remaining silent when China invaded and occupied Tibet. He warned that China had completely overrun Tibet and destroyed the only buffer state to strengthen her vast borders. By that, China had come right to our borders by force and prepared the way for open aggression against India whenever she felt like it.
When Chinese prime minister Zhou Enlai came to New Delhi on June 26th, 1954, and Nehru coined his favorite phrase, "Hindi Chini Bhai Bhai", though Savarkar welcomed the bonhomie, he cautioned that it was time that the Central government must immediately take steps to increase the armed might and the military might and the military potential of India.
In 1961, during his birthday celebrations, Savarkar gave a speech in which he again called for modernizing and strengthening India's military might and called upon the youth to join NCC. Again he criticized the Nehru government for trusting China blindly.
But his warnings were not taken seriously by the Nehru administration and then came in 1962 when India was humiliated by China in the Indo-China war. Nehru died in 1964 as a dejected man after this fatal blow to his failed diplomacy and misplaced trust in China.
Veer Savarkar's Aatmarpan in 1966
Even with his failing health, Veer Savarkar continued to speak and write as long as he could true to his characteristics.  Then in 1966, he decided to go for what he called 'Aatmarpan' (self-sacrifice) by giving up food and medicines and finally left this world on February 26th, 1966. Swatantryaveer Savarkar lived for his motherland. Like Bhishma Pitamaha of Mahabharata, no matter how many attempts on his life were made, he only left this world when he decided willingly to do so. A true warrior, a true patriot!
Based on my study of Veer Savarkar's biography and the realization that his contribution to the Indian nation has been kept hidden so far intentionally by the vested interests, I can confidently conclude that great injustice has been committed against his legacy.
It's time India as a nation begins to recognize his sacrifices and respect him for his struggles and sacrifices. The first thing we should do is make sure this book series by Vikram Sampath reaches every home of India so that people of every village and city can get to know the enormous debt the country owes to Swatantryaveer Savarkar for his sacrifices and services to the motherland.