Ideally I need not be concerned about losing weight because of my lean and thin appearance. However, my love for sweets and delicious food requires that I keep burning some calories to avoid accumulating unnecessary extra fat.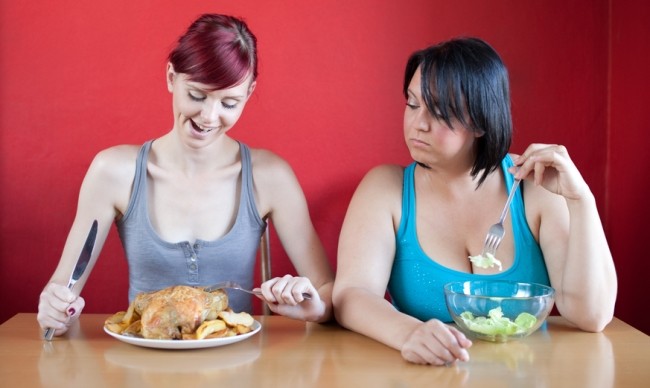 Health is wealth after all and therefore, losing weight is something that even I need to worry about at times.
Speaking of losing weight, did you know that the weight management industry is gigantic with millions of people trying thousands of programs in an effort to lose weight quickly?
Countless companies are offering everything from diet programs to magic pills that are supposed to help you lose weight. The weight-loss industry is big business today and getting bigger day after day. This industry wasn't even affected by the recession. The statistics are not very encouraging:
60 million Americans are obese, ages 20 years and older
9 million children and teens are overweight, ages 6-19
Losing weight is definitely an ongoing personal battle that we all need to fight on a daily basis. There is no magic formula to get rid of this problem once and for all.
But I am going to share with you two success stories that clearly indicate the importance of knowing your own body before you start to force it to lose or gain weight.
My First Exposure To This Concept
About two years ago, when I was in the Premier Presenters Toastmasters club, a fellow member gave a talk about losing weight. She introduced the concept of having a diet plan that is in accordance with your blood type and shared her personal success story.
Intrigued by the information, I later approached her to get more data about the subject. She gave me her copy of the book that had made the difference in her life, Eat Right 4 Your Type.
Being an avid reader, I immediately perused the book. That was my first introduction to the concept that knowing your body and blood type is an important weapon in fighting things like obesity with less stress.
I wasn't interested in losing weight, but some of my friends, Snigdha and some of her friends are always interested in losing weight. This new found knowledge was helping me gain some popularity and I was enjoying sharing this information with others.
The Breakthrough – DNA Test For Losing Weight
Around the beginning of year 2012, a friend of mine informed me about DNA testing for weight loss and heart health. This test report could tell us exactly what kind of food is right for our body based on our DNA structure.
He also shared his wife's weight loss success story that went something like this:
First Success Story About DNA Testing For Losing Weight
My friend's wife was on a mission to lose weight after they had their first child. She was working out everyday. She was avoiding food with high carbs such as rice (one of the toughest tasks for people from Hyderabad, India). At the same time, she was following a protein rich diet plan and taking supplements to make sure she could maintain her muscle mass while losing weight.
Things were going in the right direction for her but she was losing weight very slowly.
Meanwhile, she got introduced to the Inherent Health Genetic Testing Service by a common friend who is a nutrition specialist. She ordered the test kit online, took a cheek swab and sent the sample to the lab. Her test results arrived in a few days.
The results became the game changer in her pursuit of losing weight because her DNA structure revealed that she needed to just do the opposite of what she was doing if she wanted to lose weight at a more effective rate.
Results said that it was okay for her to consume carb rich food items. However, she needed to avoid extra protein intake as her body does not need it.
She was amazed and happy that now she could eat her favorite food – rice without worrying about weight gain. She followed the food advice and continued her exercises.
With that, she not only started losing weight 3 times faster and she began to feel more confident about it since she now knew exactly what her body needed.
This was a fascinating story and I didn't even need to verify the information because this was my family friend that I have known for several years.
Guess what I did after that?
Yes, I told this tale to everyone and I encouraged people around me to check this out.
Whether or not somebody else took it seriously, Snigdha got excited about it. She got her test results as quick as she could and she used the information to lose weight. Even now, whenever she thinks it's time to lose some weight, she refers back to her test results..
Second Success Story About DNA Testing For Losing Weight
Out of all the people I happened to share this information with, one of our Krishna World Wide leaders, Ron Williams, did his research, checked the background information, reviews and testimonials of this genetic test and decided to give it a shot.
Speaking of Ron, I think I should let you know that he is over 72 years old and going strong. Don't worry, I've his permission to reveal his age. Physicist by education, very energetic and strong enough to lift a 70 pound dog by its neck with one hand, Ron is an inspiration for many young folks I know.
Ron was already working towards losing weight. He was exercising; eating the diet that he thought was supposed to help him meet his goals and taking his vitamins. He wants to know everything about everything that he does and so he got excited about the opportunity of getting the tests done so he would know exactly what his body needed.
After Ron received his genetic test results for weight management, he knew what he needed to do to lose weight as per his body's specific needs. He started dieting in accordance with the test results and started working out more vigorously in accordance with the test results. You will be amazed with what he achieved.
While a person of his age would consider a loss of 5-10 pounds an achievement, Ron lost about 50 pounds over the last year and reduced about 3 inches around his waist. He feels better and more energized as he continues with his routine every day.
I am so proud to have him on the team because he exemplifies what is possible if we just commit to our goals.
Genetic Tests Do Make A Difference
Due to the buzz about losing weight, I wanted to share the results from my experience with genetic tests. The Inherent Health Genetic Tests are available for Heart Health, Bone Health as well as knowing your personalized nutritional needs.
We are living in the era where science has made it possible to now know exactly what we need to know to keep ourselves healthy. We can predict the risk of heart attack, risk of developing osteoporosis, and get the needed nutrition to protect ourselves against these deadly diseases.
Here is a video a friend shared with me that reminded me to write this post. In this video, CBS News channel features these genetic tests. Here you go:
Your Turn – Share Your Thoughts
Did you enjoy this information? Did you enjoy this video? Do you think it is a revolutionary idea? Do you think that more knowledge about your own body can empower you to make better health decisions?
Please share your thoughts in the comments now. Thank you kindly!