Setting up a blog, promoting it a bit on Facebook and Google+, garnering some website traffic and then adding Google Adsense to monetize – is all about making money online, isn't it?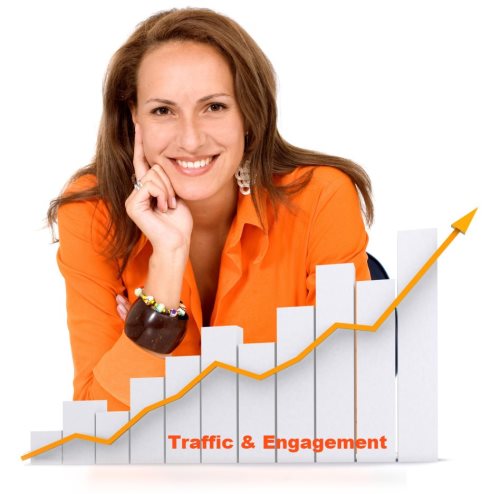 Well, several months ago, a couple approached me for some guidance about making money from home without jeopardizing their visa status in the US. They were students from India here to do their Masters.
Interestingly, they introduced themselves to me in a grocery store but had been my blog readers for a while.
I asked them if they had already thought about doing something. Among other things, they made mention of making money online through blogging. And the first line in the post which I wrote, I paraphrased what they had said.
Success is a planned event. When you don't know what to do, it's a good idea to get started somewhere. It does make sense to explore through your experience. Start, fall down, get up, try again, get up again, learn some more and try again.
It's all great as long as you are doing it to learn, to understand, to test your skills, your strengths and your weaknesses etc.
But, as soon as you get serious about blogging and you begin to desire success online, to make money and brand yourself to success, you need a plan.
What I have learned through experience is, you really need to have a system around the efforts involved.
You need a checklist of things you need to do. You need an itemized list of everything you need to know and act on — to track and measure your progress, to attract readers, to develop engagement and to grow your online footprint.
So, here you go! Putting A Strong Foundation
Foundation is the first and the foremost important thing for building your castle. Let's get started with the things that can and will help you build a strong foundation for your brand image online.
1. Identify Your Niche
Although you can just share about yourself, if that is what you want to build your brand image around, who you are — there is nothing wrong with it.
But, if you want to build a business, sell some products and/or services, you better identify a niche and commit yourself to building your brand identity around it.
2. Setup A Self-Hosted WordPress Website
Although you can build a popular blog on WordPress.com or Blogger.com, you may not want to do it because you don't have full control among other reasons.
Setting up your Self-Hosted WordPress powered website is not that difficult and you can follow this guide and set it up yourself in 15-20 minutes if you want. Or, you can get a professional help in setting it up for you.
[note background="#F4F4F4″]When you host your website with us, my team will take care of all the headaches around your website hosting and maintenance for you. Check out
Krishna World Wide Hosting
and ask me any questions in the comments section[/note]
3. Get A Decent Website Design
There are so many ready to use website templates (called 'themes' in the WordPress world) available to you. Select a good theme that suits your business branding goals and use it. Make sure your design is not broken and ugly.
If you can't get it setup by yourself, get some help. Let me know in the comment section if my team can help you get a good world-class theme configured for your website.
4. Display Your Headshot On Your Website
Although it's part of your website design, I wanted to talk about it separately because it is important and you may not realize it without explicit mention.
Your personal branding is very important as an entrepreneur. Putting your headshot on your website makes people connect with you and your website instantly. That is such a tremendously powerful idea that most top marketers do it very effectively.
5. Secure Your WordPress
No brainer, right? Why would you not pay attention to security of your home on the internet if you won't leave your house unlocked in real life?
There are hackers trying to get into your website from all sides. You want to make sure they can't access your important files or infect your website while you are thinking you are doing okay. Tighten your WordPress security!
6. Have SPAM Protection
Blackhat SEO and web spammers are ready to hit your website at the first window of opportunity they get. You want to protect your website.
Set up Akismet. It's a tremendously powerful and one of the most popular plugins that helps you eliminate comment spam.
Usually, you get this plugin installed along with your default WordPress installation, but you still need to activate it to put it into action.
7. Create A Good Tagline
Your tagline is a small little phrase that you say about yourself and/or your online venture. All top marketers have it and if you want to make a lasting impression on your visitor's mind, you should work towards having a good one for you.
8. Have A Good 'About Me' Page
This is the second most visited page on your website, as you know. Most visitors will come to this page after they land on your website for the first time and enjoy what they found.
If you haven't done it already and you want to make it impressive, it may be a good idea to look around and observe how other thought leaders in your industry have done it and mirror their approach. But the important thing is, you must pay good attention to this page on your website and get it done – right.
9. Schedule Regular Backups
Not just when your website gets hacked, there are many situations when a good backup can come in very handy. Situations arise when you are upgrading your WordPress and something goes wrong, a plugin you added corrupts your database or, you deleted a directory by mistake (well it happens.)
In such cases, if you have a backup, it becomes a life saver. Always take regular backups of your websites and if you are like me, you will rely on a premium service like ManageWP to auto-schedule a backup and have a good night's sleep.
10. Create And Maintain Your Editorial Calendar
It is very important that you have a publishing schedule. You and your visitors should know which days of the week you post and you shouldn't miss the schedule. It is a very important aspect of your branding.
So, one of the most important things you can do for your blogging is the know your schedule and know what are you going to post at least one or two weeks in advance. Maintaining an editorial calendar is very helpful in achieving this goal.
SEO, Usability And List Building
11. Setup Your Blog SEO Properly
WordPress plugins such as All In One SEO or WordPress SEO by Yoast are two awesome plugins to help your blog do well with SEO. All you have to do is, install them, activate them and configure their basic settings.
But it is very important that you do it. After all, you need search engines to send some people to your website, right? Why wouldn't you want that?
12. Add Your Website To Google And Bing Webmaster Tools
If you have a website, doesn't Google know that you own it? Does Bing know that you own that website? If not, it's time to visit Google Webmaster Tools and Bing Webmaster Tools and add your website and get it verified. These tools are very important to your experience with Search Engine Rankings now, and in the long run.
13. Submit Your Website Sitemap To Google And Bing
Sitemap files are especially very important to your website's performance on Google because it helps Google web crawlers to understand your website posts and pages and navigate through them. Bing has also started to ask for sitemap files and it is a good idea to submit your sitemap to Bing as well.
If you haven't submitted your sitemap files, go ahead and submit them using the webmaster tools of both these major search engines.
14. Display Your Social Media Profiles
Encourage visitors to connect with you on social media. This builds trust and deepens the connection with your target audience. It also increases your influence on social media and on the internet in general.
15. Establish Google Authorship
Google Authorship is becoming more and more important as Google is pressing towards Author Rank and Google+ is the way you establish your Authorship.
If you haven't already, go ahead today and setup your Google Authorship right away and make sure you verify that it is set up correctly.
16. Display Your Blog Category Archives
It is very important that you show your blog categories promptly using the widgets in the sidebar because that way your readers get to read some of your old posts. It is easy to setup and is a very powerful technique to showcase your work.
17. Display Your Most Popular Posts
When someone visits your blog, don't you want them to show them some of your best work yet? Having a widget in your sidebar to showcase your popular posts (all time hits and recent – both) to impress your first time visitors is a very important technique to engage them with you.
18. Sign Up For A Good Autoresponder Service
If you ever want to build a loyal reader base and have your website generate qualified leads for your growing business, you definitely want to build a list. You need an Autoresponder service to build and maintain a list.
I use and recommend Aweber as my favorite list building tool and I would encourage you to use them too.
19. Display Main Sign Up Form Prominently
Make sure you have a well-designed sign up form in your sidebar prominently displayed at the top. Many top marketers prefer to add the sign up form as the first thing on their website above the content and it works great for them.
You decide which is the best place on your site and make sure your sign up form for list building is at a prime location on your site and that it is converting.
20. Display One Sign Up Form In Your Post Footer
Sometimes, people are more inclined to sign up for your blog updates and email newsletters after they read a post or two and like your content.
You want to leverage that opportunity and make it easy for them to sign up. So, remind them to sign up and make it very easy for them to sign up right as soon as they are done reading your post. So, add a sign up form at the end of every post.
21. Create Your "Contact Me" Page
As soon as you start getting some traction in terms of traffic and engagement, some of your readers will want to get in touch with you. Create a clean contact page using some awesome WordPress plugins and give people a way to contact you. It is one of the most important pages to add credibility to you.
22. Make Your Blog Posts At Least 500 Words Long
From a SEO perspective, any post of 300 words or more is considered valuable. But, unless you are writing poems, you really can't teach much in less than 500 words.
Therefore, use at least 500 words in your blog posts. By the way, don't make 500 words just for the sake of doing it. Do it because you have something of value to say. Only when you add value to your reader will you have value for yourself.
23. Add Images To Your Blog Posts And Pages
Images not only make your blog posts look prettier but also please search engines. Not just that, when your posts get shared on social media, your images are picked up and displayed along with your blog post title which draws the attention of others.
Do not forget to add at least one image large enough to be easily visible easily and depending on your blog's layout, the larger, the better.
24. Link Out To Resourceful Websites
You can't know everything. Nobody does. So, when you are writing a blog post to teach your audience something, make sure you do your research and share references of a few good resourceful posts from thought leaders about the topic.
Your audience will appreciate you, the bloggers whose post you share, will appreciate you and also Google will like you because you are sharing resources with your audience thus increasing the quality of your posts.
25. Link Your Previously Written Posts
From a SEO perspective, you should use WordPress plugins like SEO Smart Links to automatically link your current post with related tags, categories etc.
Also, it is a good idea to reference to your previously written articles related to the same topic. That way, your posts from past come to the front and get some SEO benefits. It adds a lot of value to your blog in terms of SEO.
26. Make Use Of Headings And Sub-Headings
Do not make your blog posts look like a few big paragraphs. If you do that, most people will not read it. Plus, search engines do not consider your paragraphs for keywords or ranking purposes.
However, if you use Heading2, Heading3, Heading4 etc. type headlines and sub-headings within your posts, not only does it make your posts more readable to your visitors, search engines consider headlines as an important text on your pages. Thus, it will help in your SEO as well.
Social Media And Your Website
27. Add Social Sharing Buttons To Posts/Pages
Social Media dominates the internet. Social Media also influences search engine rankings today more than ever before. The more your content gets shared on Twitter, Facebook, Google+ etc., the greater your chances are to rank higher.
To enable your visitors to share your content when they like your posts, make sure you have provided them sharing options. You can use WordPress plugins like ShareThis, Digg Digg, JetPack etc. to provide those share buttons.
28. Ensure Your Social Media Profiles Represent You Correctly
This is very important for your branding. Make sure your social profiles descriptions, your profile images are inline with your website design, your tagline and your mission.
If your social profiles say something else about you and your website says something else, you confuse people. Make sure you keep it consistent and simple.
29. Identify Your Two Or Three Favorite Social Media Platforms
There are too many social networking sites. It is a very powerful thing but it can also get intimidating if you aren't careful.
So, instead of trying to be everywhere, identify a couple (or may be three) social networking sites that make sense for your business and become active only on those places. This is better than being everywhere and not being effective anywhere.
30. Stay Active On Your Favorite Social Media Platforms
Staying active means engaging with your connections. Share quotes, ask questions, answer questions, share images, comment on influencers and promote your blog posts. You should at least perform some activity every few hours. Use HootSuite or Buffer to manage your social platforms.
31. Promote Your Blog Posts On Social Media Platforms
Every time you write a blog post, make sure you consciously share your posts with your friends and followers. If you have good people connected to you and you are feeling comfortable sharing your content with them, that means you are writing good content. It is also your test of quality.
32. Be Approachable On Social Media Platforms
If you are too big to talk to, people will stay away from you. Make sure you are friendly and approachable by people in your network. If somebody asks a question which is genuine, make sure you respond in a reasonable amount of time.
33. Write SEO Friendly Content
When you are writing your blog posts, it's important to remember to write your content in such a way that Google/Bing can send people to your articles based on the words they search for.
What does that mean?
Write SEO friendly blog posts. Use those keywords in your post headlines, sub headings etc. and variations of the keyword within the body of the post. SEO optimization of your content is important.
34. Make Your Content Pleasant For Your Visitor's Eyes
If your content is too flashy, has too many color combinations, too many font variations, it becomes painful for your viewer's eyes. If people feel stressful while reading your posts, they will just walk away.
Do not use too much styling. Keep it simple, keep it easy to read. Use a friendly font such as Arial or Georgia and either size 14 or 16. You will do just great.
Content Creation And Syndication
35. Decide A Writing Frequency And Stick To It
Your regular readers need to know when is your next post coming out. Do stick to your blogging schedule as you work your editorial calendar. Whatever the posting frequency, stay the course!
36. Consistently Maintain A Blogging Ideas File
It is hard to come up with a new blogging idea everyday and every time. That is why it is important that you always be on the lookout for new ideas for getting inspired to write.
Have a place on the cloud where you can easily record your blogging ideas so you can refer back to them later when you need. I use Evernote as my online diary. Here is how to use get going with creating your blogging ideas.
37. Take Time To Promote Your Content Every Day
What's the point of having great content if it can't get readers? Make sure you promote your new blog posts on as many social networks and forums and bookmarking sites as possible.
However, you need to make sure you don't come across as a spammer (You will if you only promote your content). Promote other people's content more than you promote yours and you will be fine.
38. Observe Thought Leaders And Duplicate Their Strategy
Confused about what works and what doesn't? Watch out for leaders in your niche. See how are they writing, how are the promoting, how are they engaging and emulate them. You will find success pretty fast.
39. Create Great Headlines
You have one great opportunity to make your audience curious, that is your blog headline. You need to always make your readers understand the goal of the post through your headline. The better your headlines are, the better your chances of getting readers to actually read your content.
40. Hone Your First Paragraph Writing Skills
After your headline, the first paragraph is the one which makes people continue to read your post or walk away. If you want people to read your posts, make sure the first paragraph is as interesting as possible.
41. Write Short Sentences And Paragraphs
No brainer! You do not like to read big long paragraphs, do you? Then don't write it and put others through the pain of going through your big long paragraphs.
Also, the shorter your sentences, the better. I had to work on this a lot and actually, I am still working on this one.
42. Draw Your Readers Into Your Post With Stories
You should incorporate a story or two into your posts. Preferably, start with a story early on in your post to draw your readers into your post. Everyone loves stories, everyone loves drama. You can capitalize on that craving and build great posts!
43. Teach Something In Every Post
What do you want your reader to do? As a blogger, another way you build your authority is by teaching something to your readers. You want them to walk away with something to act on. So, if your post teaches them something, they will come back next time to learn something new.
44. Create Some Very Detailed Guides
This is a great way to establish authority of your blog in your niche. Create some really awesome, long and very detailed guides for a few topics in your niche. Make the guide as resourceful as possible.
This will get you incredible traffic, awesome backlinks and higher search engine rankings. Work on it.
45. Syndicate Your Content To Social Bookmarking Sites
Submit your content to various content syndication sites. This is important for SEO and also important to getting some targeted traffic. Here is a very comprehensive list of syndication services you may want to leverage.
Monetization – Offers, Products And Services
46. Offer Something Of Value For Signing Up Into Your Email List
People will be more inclined to sign up for your email list if you offer them something of value as a bonus for signing up. Create an awesome e-book or an online course or solve a problem for your email subscribers and offer it.
47. Create A 'Hire Me' OR 'Work With Me' Page
You're running a business online. So, start acting like one. Add a 'Hire Me/Work With Me" page for all your readers to see. If you don't have this page, people don't know how can you help them professionally or what to expect to pay you for your service. Help them. Let them know what you can serve them with.
48. Add Appropriate Advertisements
Get a Google Adsense or Media.net account to begin with and add a few non obstructing advertisements and monetize your blog. If you have 10000+ visitors a month or so, you can also apply for BuySellAds account to have even better control and good looking ads.
49. Recommend Some Affiliate Products
When you are blogging, living life, fixing your problems, using an Autoresponder service, some premium theme, you will have enough exposure to enough number of products and services others are looking for.
Make sure to check with the service provider if they have an affiliate program and if they do, make sure you use your affiliate links to promote those products. This is a great way to make some money while you blog.
50. Create Your Own Products/Services
You may not have it right away. But, if you have been blogging for some time, marketing some affiliate products already and doing well, you will have enough expertise that you can sell some of services to others in need.
Smart marketers work towards creating their own products and services while they are marketing other people's products and making money through advertisements etc.
51. Build Joint Ventures
Content marketing needs time and energy. It can be overwhelming at times if you try to do everything on your own. Therefore, get smart about it. Launch some products and services using joint ventures with other authorities in your niche. There are so many opportunities available to you. If you don't know where to get started, check out founder2be website.
Improving Engagement And Influence Online
52. Encourage Your Readers To Comment
One of the best things you can do on your blog is to create engagement where people who come to read your posts, also ask you questions, answer your questions and interact with you though comments. You should encourage them to do it using every opportunity you have.
Using a good commenting system like CommentLuv or DISQUS will help tremendously. Explore your options and focus on this aspect.
53. Ask Questions At The End Of The Post
Many times people love your posts but they don't know what to say. Plus, they don't want to say "Great Post" and run away because it looks like SPAM. So, in confusion, they don't say anything and leave.
You can help them by provoking their thinking brain through a question. Add a question at the end of the post so they can at least comment to answer your question. It helps a lot in getting more organized comments.
54. Respond To Genuine Commentators
When somebody leaves a comment, they took time to share their thoughts on your blog. You should show your appreciation to them by responding to their comment and preferably, have a configuration on your website so your commentators can get an email notification when you reply to their comments.
You don't have to do it to every single person. But have some criteria for responding to commenters and then respond as appropriate.
55. Comment On Other Related Blogs
What do bloggers love the most? Comments on their posts. You do too and so do I. So, how do you build great relationships with other bloggers? Start by regularly commenting on their blog. Eventually, you will get enough opportunity with them to engage and build relationships.
And yes, do not expect them to reciprocate right away. You do it with an intention of giving and sooner or later they will recognize you and start to value you too.
56. Share Other People's Content
Promoting your blog posts is great. But you can't promote your same content many times on the same social networking site, right?
But, your content can get shared by many people on the same network and thus creating buzz about your blog, buzz about you and increasing your impact on search engines. You can do that by this simple rule.
You share other people's content enough and some of them will begin to reciprocate. Eventually, you will start seeing your posts being shared on every social network by a large number of people.
57. Join Blogging Communities And Build Relationships
To have a system around your blog syndication, social sharing and relationship building, joining a few blogging communities is a great idea. Check out websites such as Triberr.com, Blogengage.com and SocialBuzzClub.com and start building a routing around your activities.
Visit these websites on a daily basis, share other people's contents, comment on their blogs and share your valuable content so others can do the same for you and it works great!
58. Guest Blog On Authority Blogs In Your Niche
One of the best ways to build authority around your brand image is to become a guest author on blogs with social authority. Not only does it help improve your credibility in the marketplace, but also it helps you get more exposure and increased traffic for your own website.
Make a list of influential bloggers in your niche, build relationships with them and once they start to recognize you, request them to publish you as a guest author on their blog. If a few of them do not allow guest posts, do not get discouraged. Move to the next one.
59. Follow Authority Bloggers On Social Media And Engage
So, you met some of the thought leaders from your niche through one of the blogging communities. You start commenting on their blogs, start sharing their content. That is all great. But, are you engaging with them on social media? If not, start doing it now.
It is very important because that adds to your social media influence which in turn feeds right into your main blogging objective.
60. Invite Authority Bloggers To Guest Blog
Similarly, after you have developed a meaningful connection with thought leaders in your niche, check with them if they would like to be a featured guest author on your blog (and may be suggest them an idea or two) and teach your audience something.
61. Link Out To Authority Bloggers Regularly
Do you realize how many authority blogs I have linked out to right from this post alone? Linking out to popular blogs in your niche is actually good for your SEO and besides, it gets you the attention of the author you are linking out to.
Your audience appreciates you because linking out is what makes your blog more resourceful. It shows you care and you want to provide the best content to your readers. Be generous and link out.
62. Conduct Interviews With Thought Leaders And Publish
Just as you feature guest blogs, sometimes, you may not be able to get famous bloggers to write for you. But, you can still feature them on your blog by interviewing them. If you check some of the top bloggers in the world, they take a lot of interviews and publish on a regular basis.
You can publish interviews as text or audio if you don't want to go live in a video. But, if you can, video interviews are the best! You can use Skype to record video interviews and publish. It's that easy!
Thought Process Development
63. Treat It Like A Career – Invest In It
Blogging truly can be a career you can be proud of. Take it seriously. Invest in your blog. Don't cut corners. If your blog need a good hosting, invest in it. If your blog needs a premium theme or plugin, invest in it. If you need to learn a new technique, a new marketing strategy to take your blog to the next level, do it. It will grow at the level you want it to and growth needs your commitment.
64. Stay Consistent – Do NOT Do Yo-Yo!
Do I need to even talk about it? You can't be a yo-yo and succeed in anything for that matter – blogging included. Consistency is the name of the game. Stay consistent no matter how you feel. It will pay big dividends in the long run.
65. Always Be Learning Something New
Do you read a good book every day for at least 15-20 minutes? Do you participate in educational workshops regularly? To lead yourself to success, you need to keep learning at least one new thing every day. To be a pro-blogger, you need to keep learning every day. Invest in your time, money and energy on your own personal development.
Some Final Thoughts About These Tips
Looking at the number of things in this list, you might be feeling overwhelmed at the moment. It might as well seem very complicated.
But the good news is, you don't have to do it all in day one. Instead, it's a checklist of items you need to keep checking off as you take care of them one by one.
As you start checking the items on the list off, your to-do list starts to shrink and you would have already started to see some awesome results already!
There are many items on this list which are just a one-time thing. Once you do them, you don't have to do them again, ever. How relieving is that?
Do not feel frustrated because anything is worth having is worth putting in an organized effort. Get to work and begin to put a strong foundation for your bright blogging career!
Over To You – Have Questions Or Suggestions?
How many of the items on this list are you already doing? And how many of these are in pipeline for you to accomplish this year?
Are there a few more tips that I have missed? Please suggest through your comments in that case. I would love to hear your thoughts!
Please click here to go to comment section or scroll down. Thank you kindly!