To setup a WordPress website for yourself, you need just the basic technical knowledge. If you can read instructions and follow them step by step, this is the last WordPress website setup guide you will ever need to setup your own self-hosted and professional quality WordPress website just in a few minutes – all by yourself.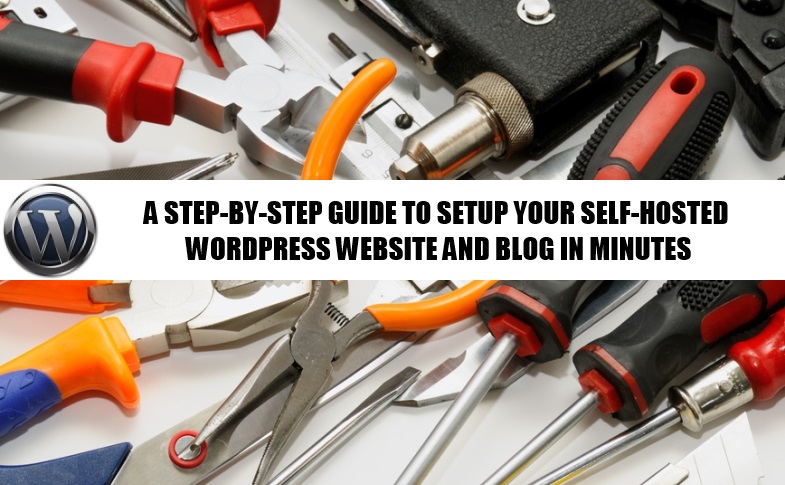 Photo courtesy of ©Depositphotos/serg64
Setting my first WordPress blog was one of my major challenges and that is why I know the struggle a new person goes through when it comes to setup a self-hosted website or a blog.
I didn't have any experience in setting up a WordPress website and I stumbled many times before I could finally get it right. And now it's my job to make sure I make your job as easy as possible.
Important: If you are reading this blog post, I assume that you are convinced that blogging is important for your personal branding. I assume that you are now ready to take the steps needed to build your online brand identity through your blog. Therefore, I am going to jump straight to the process of setting up your own self-hosted WordPress website.
Why A Self-Hosted WordPress Website?
There are two things I prefer to mention in response to this question. First of all, WordPress is the best blogging platform known to man today. There are numerous advantages of using the WordPress platform for blogging including simplicity, support forums, and a plethora of plugins for various purposes. I recommend WordPress as the best blogging platform because I've not personally found anything better than this so far. I recommend you try this for yourself and you will know why I recommend WordPress so highly.
Secondly, instead of borrowing someone else's space I prefer to have my own space on the internet where I can own my content. I want to own my blog entirely, have more control over my website and my webpage elements.
If you are still wondering why do self-hosted WordPress blogging when WordPress.com provides a free blogging platform already, then I recommend you check out this very well done infographic and I am sure you will get your answers.
Steps To Setup Your Self-Hosted WordPress Website
Setting up your WordPress website and blog from scratch is a straight forward process. All you have to do is, read these simple steps carefully and follow them in sequence. In less than an hour, you will have a world-class WordPress website ready at your disposal. Okay then, let's get started here.
1. Register Your Domain
Your website needs a domain name. What you choose as your website's domain name depends on your branding goals. If you want to set up your blog for your Personal Branding, then your domain name should be as close as possible to your name (preferably YourName.com or YourName.net).
While deciding your domain name, keep following points in mind:
Once you have decided on your domain name, you are ready to find the availability of your domain name.
If you don't have a domain yet and you just want to get one domain name to start your blog right away, you may jump to the next step now to buy your web hosting account because most of the web hosts give you one free domain registration with a new hosting account purchase. That way, you can save money on your first year's domain registration.
However, for bulk domain registrations, I recommend using GoDaddy simply because they are not only the largest domain registrar in the world, but also provide some great discounted prices (especially when you are buying more than one domain) on new domain registrations from time to time.
Visit GoDaddy for more details, search for your domain and, if available, go ahead and finish your domain registration.
2. Buy Your Web Hosting Account
Once you have your domain name, the second most important aspect of setting up your self-hosted website is a hosting space where your website content will reside.
To begin with, you should start hosting your website in a secured shared hosting environment because it is very cost effective and easily manageable task.
You will get an FTP access to your hosting space and login information through cPanel (which is all you need). You will use cPanel for installing WordPress, checking your account status and other account related tasks while you will use FTP for transferring files to your web server.
There are a number of shared web hosting service providers with excellent service to choose from.
[note background="#F0F0F0″] I do not host my websites on any of these companies. My company Krishna World Wide offers a premium Managed WordPress Hosting service which is a service you will probably need in future as your website and your business grows. Check out about our managed hosting service website for more details.[/note]
I give you my recommendations based on my knowledge and experience with some of the leading web hosting company and now, you are free to choose the hosting company you like.

BlueHost is one of the most popular web hosting companies. They are known for their quality service and customer support in the WordPress community. BlueHost has been the largest brand name in the WordPress hosting space for a while now and they take pride in their hosting capabilities.
By the way, BlueHost is also the official "#1 WordPress Recommended" hosting provider ranked by WordPress folks themselves!
They only offer shared hosting services. Although I do not host my websites with BlueHost, I have many friends who've hosted their websites with BlueHost and they are very happy about it. You may visit BlueHost now to explore their hosting offers.

You should consider InMotion hosting for business class hosting. They are a bit costly and do not run many discount offers. But, they are a great choice. I used to host all my websites on their servers and I was extremely satisfied with their uptime and server performance.
InMostion hosting is a well-respected web hosting brand name with very reliable performance for business class hosting.
Since my website is too big (and complex) for a shared hosting environment, I had to move out to my own hosting service. But if you have a website with less than 500 pageviews a day, it is a great hosting choice.
I recently wrote a blog post dedicated to my experience with InMotion hosting, and announcing that now my readers receive extra 20% discount on InMotion Business Hosting Plans. Check them out and you may like them!

HostGator is one of the largest web hosting companies that hosts over 8 million domains. They are one of the most reputable web host companies as well.
With their 1-click WordPress installation, 99.9% up time guarantee, and 24/7 support, Hostgator is a favorite choice for many bloggers and small business owners.
At this time, I encourage you to visit HostGator and check out HostGator's hosting packages. Personally, I have not hosted a website with them yet. However, I put them in my recommendation list because of their reputation.

iPage is another quality web hosting service provider with great web hosting features. Their web hosting plans come with reliable service and many useful website building tools, including easy WordPress installation and configuration, along with other useful resources for marketing your website. iPage offers some amazing web hosting features at very cheap web hosting prices.
Their quality technical support and very reasonable pricing makes them a great choice for premium web hosting. To check out the latest hosting prices and offers from iPage, you should visit their website.

Web Hosting Hub is the easiest way to get started and build your blog with their easy control panel just like InMotion Hosting. They have awesome website builders, and WordPress installation features combined with their amazing support.
They take pride in their shared hosting plans and it is hard to beat their prices and value they offer. Having earned numerous best value awards, Web Hosting Hub also offers special discounts for my readers. Check out Web Hosting Hub special discounted prices by visiting their website.
Important Tip On Hosting
No matter which hosting company you choose, when you go to your control panel, you will find an option to Install WordPress in your hosting account.
Your experience as a website admin will be similar. So, don't concern yourself about too many things and select the one which fits your budget and performance needs.
3. Install WordPress
Assuming that you have purchased your hosting account with one of the services providers listed above, here are the guidelines to install WordPress for your domain. Depending upon the service provider you chose for your website, follow the installation procedure of your host:
Once the installation of WordPress is done, if you did not do so already, REMEMBER to change the nameservers of your domain to your new web hosting company's name servers. Nameservers of your domain are the things that will translate your domain name to the actual location of your website. If your domain is registered with GoDaddy, here are the instructions for setting nameservers for your domain names.
4. View Your New Website In A Browser Window
You should have received the URL of your new WordPress website in email (usually that email comes from WordPress) as soon as the WordPress installation finished.
Open that email and then simply click on the blog URL address. Your new blog should load in a new browser tab with the default WordPress look and feel (we call it the theme).
If you don't have that email, open a new browser window (may be, you will have to wait for about 10-15 miniutes after the installation of WordPress and the nameserver changes just to make sure the web server starts to understand your URL).
In the address bar of your new window, enter your website URL such as www.YourDomainName.com and you should be able to view your new website live on the web.
Congratulations! You've done it!
5. Log Into WordPress Admin Dashboard
The email you would have received with the URL of your website from WordPress, also contains the URL of the WordPress Admin area of your website (many bloggers also call it as back-end of your website). It looks something like this:
http://www.YourDomainName.com/wp-admin
Simply click on that URL in that mail (or type the address in the same format as given above for your website in a new browser window). It will bring a web page that will ask you to provide your WordPress administration USER ID and PASSWORD as shown below: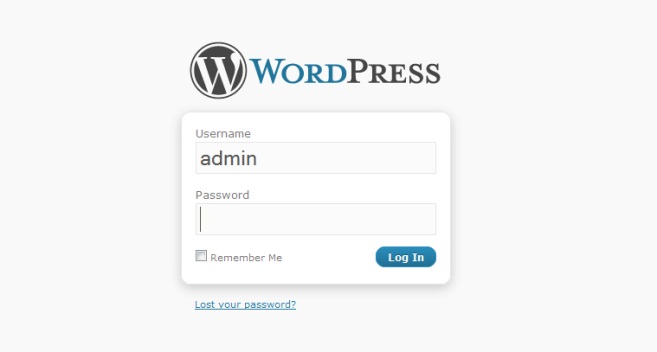 Now enter your administration username and password. You should have been prompted during the installation step to select your WordPress Administration password.
The password you chose in that step, will be needed here to login. Provide that information and click on "Log In" button.
You are now looking at the WordPress "Dashboard." Your blog readers see your website's front-end which is your normal website or blog web page.
However, using this back-end you control what appears on the front-end for public view. This is a very important area for your website. You will get used to it very soon!
The next steps will need you to be in this admin area to check and configure various options of your website. Let's continue with the next steps now.
6. Select Your Website Design And Theme
You now already have your self-hosted website up and running with the default WordPress theme. You already are logged in your admin dashboard as well.
If you are happy with the look and feel of the default look and feel your website has (with WordPress default theme), you are ready to go.
If, however, you want to explore better options or if you have a particular design in mind, there are plenty of WordPress themes available designed by some savvy professional designers and programmers.
I encourage you to choose the design of your website based on your branding goals. If you want to blog for Personal Branding, your design theme will be different (probably a magazine theme will be a good idea for blogging websites) than if you are blogging as a company where you want a theme that can best represent your company goals (where you may look for a corporate theme).
There are thousands of free WordPress themes available to choose from. A simple Google search on term "top wordpress themes," will give you more than enough free WordPress themes to explore.
In case you want to go premium to have fast loading themes with all the advance features, better SEO (Search Engine Optimization) and all that, then I will recommend you to look at the following places. I am sure you will find the best WordPress theme that fills your needs:
Once you purchase and/or download your theme, you can either install the theme by logging into your WordPress Admin area from the "Appearance" menu, or you can use this guide from Problogger.net that talks about how to install your first WordPress theme.
7. Install Important WordPress Plugins To Your Website
Now that you already have a website up and running, you need to install a handful of important WordPress plugins to enhance the visitor experience and security of your new WordPress website.
These plugins will help your website look more professional, control spam, have better SEO and enable your visitors to share your content on social media to make your blog more interactive. Here is a short list of my favorite WordPress plugins:
Helpful Posts About Installing WordPress Plugins
Installing a WordPress plugin on your website is not at all a complex task. All you need to do is, go through these two blog posts:
This post teaches you, as the title says, how you can search for a WordPress plugin, install the plugin you want into your website and then how to configure it in easy steps.
This blog post lists the plugins you will need in the beginning because more or less this list is sufficient for most bloggers. Go ahead to this post, get to know these plugins and decide which plugins you will need and then install them for your new website.
8. Create Your ABOUT ME And CONTACT ME Page
At this time, you really have done all the setup work. It's time to get busy creating some content for your brand new self-hosted WordPress website.
From strategic point of view, it is very important that your visitors know who you are and how to get in touch with you. So, I recommend you to go ahead and add a page for "ABOUT ME" and another page for "CONTACT ME". Go ahead and create those pages and add those pages to the menu bar of your website.
Once the pages are created, to add them to your menu bar, you will go to Appearance -> Menu option from your WordPress admin dashboard and include those pages as menu items. Save the updated menu and view your website in a new browser window. You should be able to view these pages from your website's main menu bar.
8. Publish Your First Blog Post – Start Blogging
While you are in your WordPress admin dashboard, click on the Posts -> Add New option in the left-hand side menu. You should now see the New Post screen as shown below: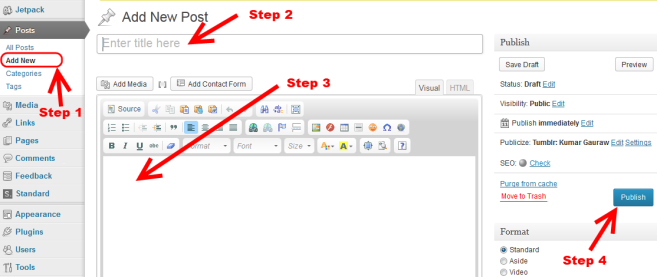 Enter the title of your first blog post. You have come all the way to have your own website. I assume that you have something to say in your mind already. Choose a title for your first blog post and enter in the title area.
Now write your first post in the field immediately below the title as shown in the image below.
Once you are happy with the content, formatting of your content (font, color, justification etc.), go ahead and click the Publish button as shown in the image above. This literally publishes your post for the world to see. You can click on the Preview Changes button to see it.
Congratulations! You have just published your first post on your very own self-hosted WordPress blog.
The next step for you is to stay consistent. I recommend that you at least publish 5 blog posts before starting to promote your blog on social networks to garner some traffic. That way, when visitors come to your website, they will have something to look around and to get to know your website and content a bit.
With that, you are now all set to launch your blogging career and build your online brand! Happy blogging!
Help Someone Who Needs This Guide
If you know someone who could benefit from this information, please share a link to this post and help them. They will appreciate your help and I will appreciate you too.
Regarding Technical Support
Although the steps I have shared with you in this blog post are very comprehensive, I do not provide a technical support for this process.
However, if you purchase your shared web hosting account using one of the links I shared in this post, I will be glad to help you resolve setup issues while you are setting up your website.
In such cases, please use the "Contact Me" page to send me a message with the details of your problem and your website details so I could verify that you used my links to make your purchase and then help you resolve the issue.
Further Reading On Blogging For Branding
For further reading about building your personal brand by leveraging the power of your WordPress blog, I highly recommend you to go ahead and refer to following blog posts:
Questions: Do you have any questions about the setting up your domain, WordPress or your blog? Or, would you like to suggest any addition step that should be also included to enhance this post?
Please leave your questions or thoughts in the comments section by clicking here. Thank you kindly!