[note background="#F0F0F0″]
This is a guest post by my friend Adrienne Smith. She is a blogging coach admired by many and an expert at building relationships and blog commenting. Please feel free to connect with Adrienne on Facebook, Twitter or Google+
Don't forget to enter the lucky draw at the end of this post, you might win a FREE Premium License![/note]
CommentLuv Premium
 is the brain child of Andy Bailey and I am sure most of you either use this plugin or at least have heard of it.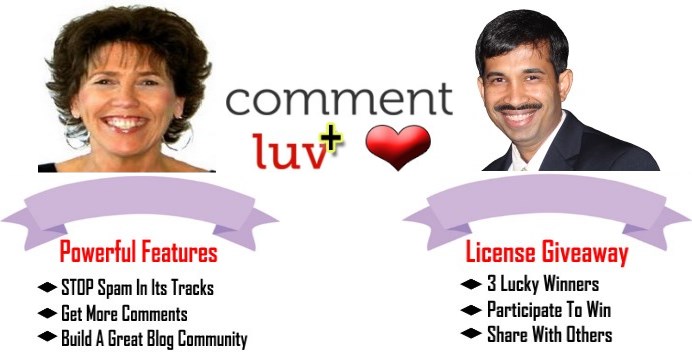 Andy knew he could improve upon the free version but would need some beta testers to try out this new plugin before he released it to the public.  I immediately signed up since I loved the free one and I was eager to take it for a test drive.
Because I have been using this plugin for all these years and I still love it to death, Kumar asked me if I wouldn't mind sharing with his readers why I think this is absolutely the best plugin around and what you might not know about what it can do.
Why Some People Don't Like CommentLuv
If you have a WordPress blog and are using CommentLuv then people want to comment on your blog to get a dofollow link.
One of Google's 200 requirements for ranking your site are building backlinks.
Way back in the good old days any backlink would do but Google wised up and those rules changed years ago.  It's really sad that so many people obviously didn't get the memo.
Google will quickly slap you if you link to low quality sites, too many outside your niche or have too many of those linking to you.
CommentLuv is like a magnet drawing people to us.  Most of us are so eager though for people to find us in this way so that we can get more comments, build up more social proof and make great connections with some awesome people.
Unfortunately though, those blogs that use this awesome plugin are quickly put on the CommentLuv bloggers list so people can easily find our blogs including the spammers.
Because of this Andy decided it was time to roll out a premium version to make our lives easier and to continue to fight the dreaded spam.
Why Is CommentLuv Premium So Awesome
WordPress is the best blogging platform and plugins were created to make our lives easier.  Unfortunately when you have too many it can slow down the load time and hurt our blogs in the long run.
With the premium version Andy included several plugins all in this one to help benefit us because of this.  As of today, this is what CommentLuv Premium includes:
1. CommentLuv
By leaving the links to your latest posts when you comment it encourages your readers to come back and comment again.  You get a choice from the last 10 posts plus five more of your choosing.  You also can set up your profile so that others can read more about you by hovering over the heart by your link.  It's just a great way for your visitors to find other awesome content and connect with other bloggers in your niche.
2. GASP
An abbreviation for GrowMap Anti-Spambot Plug-in.  It stops spam bots from commenting on your posts because you have to check a box letting us know you are human.
3. Twitter Link Comments
Gives commenters a link to their Twitter account right next to the comment they left on your blog.
4. KeywordName
This is Andy's updated version of KeywordLuv but Google really frowns upon using keywords in the name field now.  Back when he created it though this was a huge benefit.  The good news is that you can turn this feature off.
5. DoFollow
You have the choice of making any links in the comment field dofollow or nofollow.
6. TrackBack Validation
With this feature turned on you will be notified of all trackbacks to your blog.
7. Top Comment Widget
By adding this widget in your sidebar you can show off your top commenters.  It encourages more comments.
8. No Self-Ping
This prevents your blog from self-pinging each time you update your post so Google won't penalize you.
9. ReplyMe
This gem was actually added upon my recommendation.  When you leave a comment here and Kumar or I reply you are sent an email with your comment and our reply.  You know that we responded and you can come back to chat more if you like.  It's best used to ask more questions and keep the conversations going.
That's a total of nine features and if you wanted all of these without purchasing CommentLuv Premium then you could download a plugin for each of these separately.  CommentLuv still has their free version but you only have the choice of the last 10 posts and nothing else.
But wait, Andy has created two more additional plugins to help us in a few other areas.
10. CommentLuv Link Cleaner
This plugin will help you clean up any broken links that were left from the posts that were pulled when they left their comment.  You have to run it each time and it can take a while.  It's not always accurate but he's continuing to improve it.
11. Anti Backlinker
This is the most recent addition but in the future will include it with the main plugin.  This is the most powerful spam protector to date and I'll explain how this works.
Anti Backlinker Stops Spam In Its Tracks
We all hate spam…
The official definition of spam is irrelevant or inappropriate messages sent on the Internet to a large number of recipients, or unwanted or intrusive advertising.
GASP has taken care of the automated spam bots but what about the human spammers.  Were you aware that people are making money by blog commenting?  I know two bloggers that advertise this service on their blog and they've told me it's great money.  Well I can imagine that it is.
Of course Kumar and I would hope you are serious about building relationships with other bloggers which would mean you are definitely here for the right reason.
To help cut down on human spammers Andy created the Anti Backlinker plugin.  The reason I love this addition is because you can configure it however you want to benefit your needs.
Let me share with you what this baby will do:
I have totally stopped all spam by using the setting of not allowing any comments from people who do not have their gravatar's set up.  That is really 99.9% of the spammers out there today.  If someone without a gravatar wants to comment on your blog then they will immediately be hit with a message that informs them that unless they get that set up their comments won't be accepted.  You can moderate it though to warn people that until they do set it up they'll get no links but their comments will be accepted upon your approval of course.
You also have the option of only allowing so many comments per person because we all know spammers like to come in, comment like crazy on three, four, five different posts at a time and then move on to their next target.  You can set that number to whatever you want but mine is set at three.  They're not getting a backlink anyway so they usually don't come back.
You can set the criteria you want so that they will not get any dofollow links nor will they even show up on your blog until those have been met.  My settings are that you cannot leave any type of link other than your root domain and you have to have 10 approved comments before your links will show.  This way I know that they are commenting for the right reasons and not just for the backlinks.
If someone leaves a comment that you don't particularly like you can email them directly from the comment itself and let them know that they have not met the required criteria you have set so their comment will not be accepted at this time.  They are more than welcome to come back only if they comment per your rules.
You can blacklist people directly from the comment which will put them on a list never to be able to comment on your blog again.
You can whitelist them which means they won't go into moderation if you know they are legitimate commenters.
You can set their comments to go into moderation for those you still aren't sure about.
You can either show or hide all their links.  For instance if you have a great commenter but you don't like their site you can make sure none of their links ever show.
You can find all comments by a user by just clicking on that option without copying their email address or URL and doing a search.
Your Opportunity To Win FREE Premium License
If you are using the WordPress commenting system then I believe you cannot go wrong using CommentLuv Premium if you are eager to get more comments, show more social proof and build up a great blog community.  Oh and let's not forget about having total control over your comments.
The good news is that if you don't currently own this fabulous plugin then Andy has worked up a great deal with Kumar and will be giving away three free licenses for this awesome plugin.
To enter the draw, all you need to do is this:
Sign up for the draw using the form below.
Leave a thoughtful comment below in the comment section.
Share this blog post on two of your favorite social networking sites.
That's all and you will be registered to win a free premium license of CommenLuv. There will be three winners randomly selected in a draw from the qualified participants.
Kumar will notify you if you're a winner via email and then we'll let you know in a future email just in case you'd like to grab this fabulous plugin if you didn't get a free license.
[note background="#F0F0F0″]
This Contest Is Over. The Lucky Winners have already been Announced! Click Here to see names of The Winners!
[/note]
If you are already so excited that you can't wait until the draw and want to purchase it now, then click this link and grab yours to get a $20 OFF when you purchase a unlimited sites license.
P.S.  Please know that Kumar and I are affiliates of CommentLuv Premium and we will make a commission should you choose to purchase this fabulous plugin through these links.
I love this plugin, I support what Andy is doing for the blogging community and I firmly believe that if you would like to build more of a solid foundation for your blog and treat your readers to some link love, you can't go wrong with this plugin.
Your Turn To Share Your Thoughts Now
So what do you think?  Are you already using CommentLuv Premium?  Have you been sitting on the fence still not sure if this is right for you?
We would to hear from you and if you have any questions please feel free to ask and Kumar and I will do our best to answer those for you.
Be sure to share this post with your friends too unless you want to keep this a secret from them.  Just think what that would mean if they won a free license because you recommended it to them.  Oh wow, they'd be forever grateful I'm sure.
I LOVE CommentLuv Premium and I know you will too!