All kids have tremendous talents and we squander them pretty ruthlessly. ~ Sir Ken Robinson [tweet this]
Going through my old bookmarks, I found this brilliant 2006 TED talk by Sir Ken Robinson. In this incredible TED Talk, he argues that the public education system across our planet is designed to kill creativity.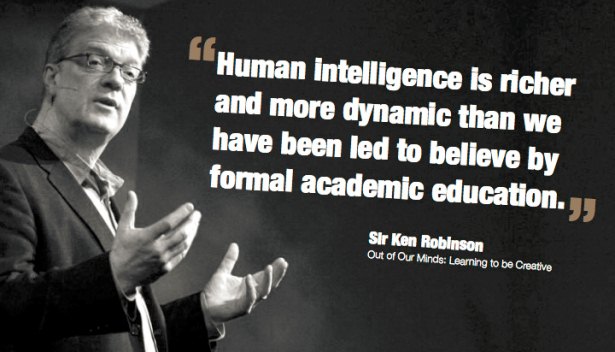 In his 10.29 minutes of funny, engaging, and powerful TED talk, Sir Ken Robinson argues that we've been educated to become good workers, rather than creative thinkers.
He says that students with restless minds and bodies, far from being cultivated for their energy and curiosity – are ignored or even stigmatized, with terrible consequences. He says,
I believe this passionately: that we don't grow into creativity, we grow out of it. Or rather, we get educated out if it. [tweet this]
We are educating people out of their creative capacities. [tweet this]
He then demonstrates how children aren't afraid of being wrong to begin with. However, as we start to grow up and continue to educate ourselves, we continue to get fearful of being wrong, failing at anything. To this, he says:
If you're not prepared to be wrong, you'll never come up with anything original. [tweet this]
Creativity now is as important in education as literacy, and we should treat it with the same status. [tweet this]
What caught my attention is the part where he challenges us saying, "There isn't an education system on the planet that teaches dance everyday to children the way we teach them mathematics. Why? Why not? I think it's rather important."
Isn't it amazing how our education system, everywhere on the planet earth is focused only on the neck-up as we start growing up? Here is the video:
Sir Ken Robinson is a creativity expert and in this TED Talk, he challenges the way we're educating our children. He champions a radical rethink of our school systems, to cultivate creativity and acknowledge multiple types of intelligence.
He has written multiple books and received much appreciation from all around the world for his creative work. His books, Out of Our Minds: Learning to Be Creative and The Element: How Finding Your Passion Changes Everything have received much appreciation and great reviews. I have not read these books yet, but I have marked them for my reading list.
This TED Talk has been distributed widely around the Web since its release and many bloggers have shared this incredible talk with their readers in many ways. It is possible that you have viewed this talk already and most probably you were amazed. However, I think this video is worth watching one more time.
However, if this is your first encounter with this TED Talk by Sir Ken Robinson, you are in for a treat. You are going to say, "Wow!" at the end. These 19 minutes are going to make you laugh and challenge you to think. You are going to enjoy this very much.
If you enjoyed this TED Talk, please share this video with your friends, spread the love. It's an important topic and I belive everybody deserves to see thie video. Don't you think?
Share Your Thoughts Now!
Please do share your views, your thoughts in the comments. I would love to know what you enjoyed the most in this TED Talk and what was the part you most related to.
You can click here to leave your comments. Thank you kindly!