[note background="#F0F0F0″]
This is a guest post by Dr. Steve McSwain, an author,speaker and an incredible leadership coach. Please feel free to connect with Dr. Steve on Facebook, Twitter or Google+
[/note] When you think "hamburger: what comes to your mind?
McDonalds? Perhaps.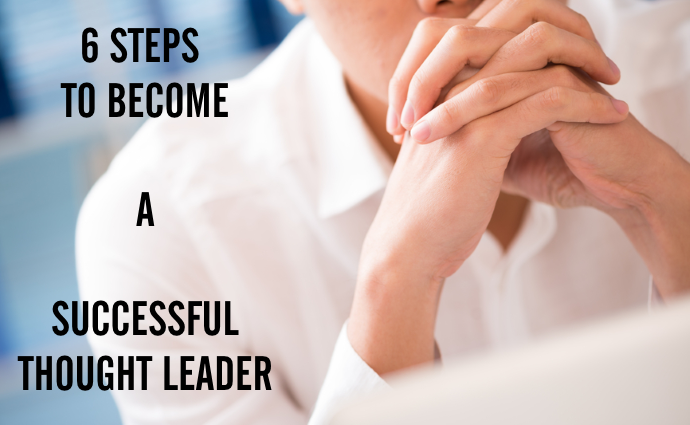 What about "computers?"
Apple? Microsoft?
What about mobile phone providers?
…or, pizza? Lingerie? Airlines? Rental cars?
When I think of rental cars the first thing that comes to my mind is Hertz.
In marketing, this is called "positioning." Basically, it means a company, corporation, or brand holds the primary "position" in the minds of consumers when it comes to a product, service or brand.
What more could a company desire than to possess the primary position in the minds of its potential customers?
The World's Most Successful Thought Leaders
It is no so different when it comes to the world's most successful thought leaders.
"What is a thought leader?" you ask?
"Who are the most successful thought leaders today?"
"How does one become a successful thought leader?
I'll briefly answer each of these questions.
What is a Thought Leader? A "thought leader" who holds the primary position in the minds of others regarding a particular field of expertise.  

In other words, this person is the "go-to" person others look to for inspiration, motivation, advice or guidance, as well as creativity. These persons are generally regarded as game changers.
Who is a Successful Thought Leader? The most successful thought leader is that person(s) who comes to your mind when you think of a particular service, expertise, product, program, or brand?
Try a little experiment. I'll mention a product, service, or area of expertise. As I do, someone will likely pop into your mind. Even if you cannot immediately recall his or her name, the fact that their face appears on the screen of your mind means they hold the primary place of importance, or recognition, in your mind.
At the end of this article, I'll return to the quiz and give you the names of those persons who appeared first in my mind when I thought about each of the categories below. Check your mental responses with mine. I suspect we will discover many of our responses are similar.
Ready? Here goes:
Wall Street? ___________
Rock N Roll? ____________
Spiritual Leader? ___________
Civil Rights? ___________
Global Warming? _________
The Internet? __________
Outer Space? Astronomy? _________
However, it is possible to raise your level of recognition as a successful thought leader…so that you become at least one of the primary "go-to" persons others turn to for inspiration, guidance, and/or service.
Below, I have outlined six steps to becoming a successful thought leader. Follow these steps and see what happens:
1. The world's successful thought leaders make thought leadership a conscious, daily choice.
That is to say, if you wish to be a thought leader, you must consciously, as well as strategically, make this your conscious, daily intention. Which means, practically speaking, you must let go of anything that does not contribute to this objective.
2. Thought leaders are notoriously skeptic, but not in a negative way.
Their default position is to doubt most things and to question everything. Which is why they are where they are. You don't get anywhere without questioning where you are at any time. 
Questioning things comes easy for me.
For example, I was driving down the interstate recently when an ad came on the radio. A psychic was advertising her services and asking those with problems to call her. She had answers to their life questions.
My first thought was, "If you're so psychic, wouldn't you know who had a life problem and call them?"
3. Thought leaders never confuse who they are with who they aren't.
You cannot be an expert in everything. So become one in one thing. My leadership mentor, for example, is John Maxwell.
I'm a founding member of his world wide organizational training institute for Professional Leaders, Speakers, and Coaches.
While I know John personally and know he's knowledgeable and wise about many things, he is known around the world as one of the top ten leadership gurus in the world.
How did he acquire that position? By not trying to be all things to all fields of inquiry. He is a thought leader in leadership. That's all you'll see or hear him speak or write about.
4. Thought leaders promote their specialized expertise across multiple platforms.
Virtually all of John Maxwell's books, many of which are New York Times Bestsellers, are all about leadership development.
But Maxwell also regularly blogs, tweets, and uses any and all platforms upon which to maintain his position as a thought leader. His tweets are tweets for scores of others.
That may be one of the ways of knowing you've become a thought leader in an area of expertise – when others are tweeting the things you say.  Utilize any and all platforms available to you.
If you don't regularly blog, you just do so. Again, there are ways of doing this, and ways it should not be done, that will maximize your presence on search engines like Google. If you do not know the "do's and don'ts" you must find someone who does. I recommend one later who is my "go-to" person for this.
5. Thought leaders remember also to connect with others to engage and encourage
As you use the available platforms to get yourself and your expertise "out there," so to speak, remember also to connect with others by encouraging their comments and responding when they do.
For example, when I got invited by the Huffington Post to be one of their frequent bloggers, I was amazed.
Early on, however, I did not know just how important it was to interact with those who commented on my blogs. I would frequently read their comments but I was generally too busy to respond to their responses.
Then, one day, I learned the importance of responding. One of my "go-to" persons had written a blog and I left a comment. I never expected a response from this person, as he was a huge presence in the world of spirituality and I would never have guessed he would respond to me. But he did.
Today, I not only respect him but I regard him. I'm sure it was the time he took to respond that did it for me. Today, I try much harder to diligently respond to others and not just to enhance my position. I have made many new friends by doing so.
6. Finally, thought leaders make it a practice to practice the five steps above.
There are only so many places at the top. The reality is, most of us will never occupy them either.
What is real, however, is the possibility of becoming a successful thought leader in your own area of expertise. If you'll make it your practice to practice the steps above, you'll soon reap the benefits. Of that much, I'm sure.
Now, are you ready to go back to the little quiz above? See how frequently you thought of the same persons as I did.  Leave a comment about who you think are some of the thought leaders that I might not have mentioned. I'd love to hear from you and get your insight in the subject of the world's successful thought leaders.
Wall Street?  I thought of Warren Buffett. What about you? Actually, however, Gordon Gekko came to my mind, too. Remember him? He was the infamous Wall Street tycoon played by Michael Douglas in the blockbuster by the same name, Wall Street. The fictitious billionaire who made famous the statement: "Greed is good." Maybe, however, you thought of Bernie Madoff, the stockbroker and financier who fraudulently misled thousands of investors in what is perhaps the largest Ponzi scheme in Wall Street's history. Madoff is now serving a 150-year prison sentence.
It is even possible to hold the primary position in the minds of the public for being something less than an exemplary leader. Yet, think about this: suppose Bernie Madoff gave a talk or wrote a book on "How Not to Be Swindled by Shrewd, but Unscrupulous Stockbrokers" – would you read it? I might. If anybody would know about dishonest, but shrewd stockbrokers who manipulate the market and swindle others, wouldn't that be Bernie Madoff?
Thought leadership is as much about the legacy you leave as it is the life you live. In fact, I have often said, although I'm probably just repeating what I've heard others say, "the life you live is the legacy you leave." It's so true, isn't it?
I suspect Madoff is thinking this a great deal these days.
He should.
Rock n Roll?  I thought of The Beatles? They still hold the position in my mind, anyway. But then, I'm a product of the 60's.
I also pictured and The Rolling Stones and Mick Jagger flailing about on a big stage like a drunk and awkward long-leg spider. If you are younger, maybe you thought of U2 or Cold Play. This one is a little harder for me.
Spiritual Leader? The person who came to my mind was the Dalai Lama. How about you? Maybe you thought of Jesus or the Buddha or even someone like Billy Graham. Until a few years ago, I might have, too. Not so much anymore, however.
Civil Rights? That one is easy. Martin Luther King, Jr.
Global Warming? That one is probably easy, too. Right? I thought of Al Gore.
Internet? I thought of Steve Jobs. I know he no more invented the Internet than did Al Gore. But I suspect, when many people think of the Internet, the World Wide Web, computers, or smartphones, they think of Steve Jobs.
The Cosmos? Up until just recently, I would have automatically thought of the now-deceased Carl Sagan. Since the remake of Cosmos: A SpaceTime Odyssey, however, I just as quickly thought about Neil deGrasse Tyson, Sagan's protege.
How'd you do? Did we think of some of the same thought leaders?
When it comes to thought leaders in the world of technology, business innovation, I find myself thinking of Kumar Gauraw.
He has done more to enhance my website and provide insightful guidance to the vastly complex and constantly changing Google world, as well as that mysterious thing known as the SEO, or Search Engine Optimization, than anybody I know.
I have only about a thimble's worth of knowledge of these things. But, what I do know is that every thought leader who wishes to be so, or remain so, must either be an expert in such matters or have a "go-to" person who can assist in this.  Kumar is my "go-to" person. Who's yours?
Everyone who wants to be one of the world's successful thought leaders can be, even if your real "world" will never be as large as, say, Warren Buffet's world or Bill Gates' world. Mine sure isn't and it won't ever be. And, that's OK.
When it comes to spirituality, however, interfaith and diversity activism…when it comes to congregations across all denominational lines, I have become one of the "go-to" persons, largely because I regular write, blog, counsel, and speak across the country to companies, corporations, and congregations seriously seeking change…seeking, as I am to Create a More Conscious, Compassionate and Charitable world.
You can, too.
I love the way Denise Brosseau puts it. A thought leader in her own right, Brosseau demonstrates what I'm saying with an interesting image.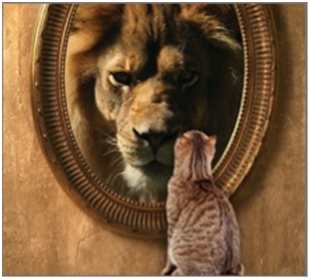 A picture needs no comment, does it? There is a lion in all of us. Remember this when you look in the mirror tomorrow morning.

Your Turn Now, Share Your Thoughts
Thank you for reading and responding. If you've found this article interesting or helpful, share it with others. At the least, leave a comment. I'd love to know what you're thinking about successful thought leaders and thought leadership in the 21st century.