The amount of work you've done on your WordPress website so far has been around setting up your website and getting you ready to blog regularly. If you have been with me until now in this journey, CONGRATULATIONS! You have come a long way!
But, growth is all about learning new things every day. It is all about making changes to get better. And this is the topic about taking your website to the next level. This topic is about optimizing your website content (the one which is already posted and all your future posts) to get greater search engine visibility.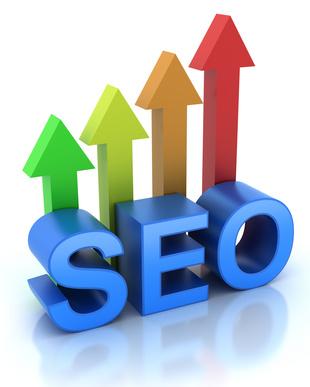 It's no more a secret that greater search engine visibility means more traffic which means better branding, more business and more growth.
On the contrary, imagine you have some incredible articles and resources published on your website that nobody knows about. Is it an effective use of your writing? If search engines do not know about your website, isn't it true that most people will never know about your website?
When I want something, I make a Google search. When you want new information, what do you do? Most probably you make a Google search as well. Now, think about it. If people make a Google search on some topics (about which you have posted some incredible information already), shouldn't your website link get listed in the search results?
But Google will not show your website in their search results if it doesn't know about your website. It will not index your website if you do not have SEO optimized content on your website. Our discussion today is about helping you understand what you need to do to get your website optimized for search engines. Once you do that, you will consistently draw more and more traffic from search engines as you continue to blog regularly.
So, let's get started setting your website up for SEO success. You already have setup your Permalink settings as we discussed while setting up WordPress. Now, let's talk about setting up your Titles, Descriptions, Images, Keywords and the content itself for optimal SEO impact.
Home Titles, Home Descriptions, Home Keywords And Other Settings
These are the most important elements of your website's SEO setup. Let's discuss about each of them before we get into setting up SEO plugins:
Home Title
This is the meta title of your website's homepage. Your website visitors will see this in their browsers when they visit your home page. This is the title search engine bots see as well.
When you name your website's homepage title, it is important to keep it in such a way that people can read and remember. Also, make sure that it is under 60 characters and that it represents you correctly.
Home Description
This is also known as meta description. This description is for search engines only. When someone searches for a keyword in Google, the website title, URL and the meta description is shown like this:

This meta description should be no longer than 160 characters because most search engines have a limit of 160 characters. If you write a longer description, it will be truncated by search engines when they display your description in search results.
Since this description is written for search engines, it is a wise idea to place your most important keywords in your meta description. For example, if your website is about personal development, you should include "personal development" as a keyword in your meta description something like this:
"We are a personal development and leadership company helping you realize your full potential. Come, let's explore the possibilities together!"
Home Keywords
These are the list of keywords that you want to target in the search engines. Why do we use this? Well, think about how people make Google searches. Don't you search for information on the internet based on certain keywords?
Yes, we all do that. Therefore, it makes sense to target some keywords for your website that people should search for to get to your website. Does it make sense?
Your homepage keywords are a comma separated list of keyword phrases that you intend to submit to search engines so they know which keywords should be associated with your website. This is important stuff.
Now, let me guide you through process of setting up these for not just your homepage, but also throughout your website – for all pages and all posts. We are going to achieve this goal with the help of a SEO plugin as discussed below:
WordPress Plugins For SEO Management On Your Blog
There are two popular WordPress plugins I trust. Both are awesome. Both are powerful. However, you only need to use one and ignore the other. They are not to be used together. They are:
All In One SEO Pack (a great plugin for beginners and those looking for simple configuration options)
WordPress SEO By Yoast (for advance users looking for advance SEO features)
Setting Up All In One SEO Pack On Your WordPress Website
This SEO plugin is probably the most popular and robust plugin for optimizing your blog for search engines. All In One SEO Pack allows you to setup your Title, Description, Keywords and other post format setting in a single, easy to understand format.
If you are a new WordPress user, you should definitely use this plugin for your SEO work and you will be pleased you did.
We have already discussed installing All In One SEO Pack on your website when we talked about installing and configuring plugins on your WordPress website. If you missed it, please refer to that article and install All In One SEO Pack before proceeding any further in this post.
However, if you have already installed this plugin, let's discuss the configuration settings you need to know about to make it work effectively on your website.
Once you have installed and activated the plugin, go to Settings » All in One SEO. Now, you will see a page with following options to configure:

As shown in above image, you don't need to change a lot of things. Just provide the information marked in red color and save the settings. Your overall All In One SEO Pack settings are completed.
SEO For Individual Blog Posts And Pages Using All In One SEO Pack
In your post editing panel, just below the editor, there is a tab that says All in One SEO Pack. It looks something like this:

Follow the same guidelines for title, description, and keywords. You must fill out these in order to maximize the benefits. Writing a custom meta description, and keywords can significantly help. We have talked with many top bloggers in the industry, and this is something all of them do and recommend to their followers.
Setting Up WordPress SEO By Yoast On Your WordPress Website
WordPress SEO by Yoast is the most complete all in one SEO solution in for your WordPress blog I've found and as many others endorse. Loaded with many advance features and options for SEO, this plugin is not as simple as All In One SEO Pack to configure.
Since there are so many options, it obviously is a bit complex to configure. But if you want to take complete control of your SEO, this is the plugin you need on your WordPress website.
The best part of this plugin is, not only does it have many additional options to configure including Google Authorship, but it also assists in SEO work very well while writing each page and blog post. It is truly a powerful SEO plugin and I use it here on this website.
Since we already discussed the installation and activation of this plugin earlier, I am going to skip that part and jump straight into setting up the plugin on your website.
Let's get started setting up your WordPress SEO plugin now.
1. Configure SEO Dashboard Options
As the first step, click on the Dashboard sub-menu from the SEO menu item within your WordPress admin area (SEO menu item gets added to your list of menu items after you activate the WordPress SEO plugin). Now, the screen that loads, it looks like this: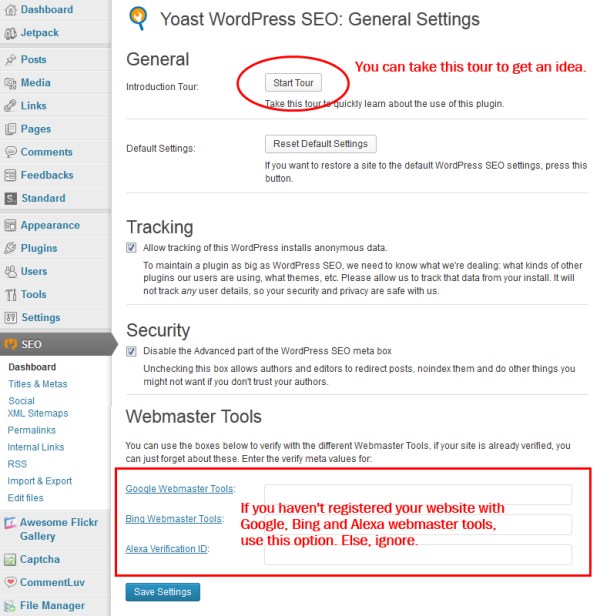 Follow the onscreen instructions and provide the inputs as shown in the image (if you need to). Now, move to the next step.
2. Configure Titles & Metas
This is the section very similar to the settings we discussed in All In One SEO Pack section. It allows you to setup your titles, descriptions, keywords etc. There are multiple tabs in this section and I am going to walk you through all the tabs that are important to for you (I am going to skip the sections that do not need to be changed).
Titles & Metas – Tab1: General
Here is a screenshot of the general tab. If WordPress SEO already gives the message that it has detected whether or not it needs to rewrite your title tags, don't worry about. Else, you need to check the box that says "Force rewrite titles". As shown in the image below, choose your options and save the settings.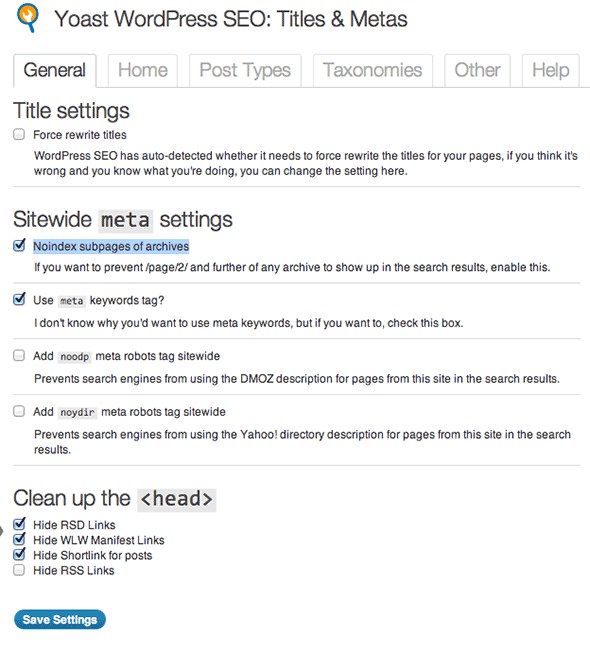 Titles & Metas – Tab2: Home
WordPress SEO automatically reads your homepage title and description. If you need to change it, click on the link it shows to edit the front page or your blog page. The changes you make in those pages will be automatically picked up by WordPress SEO.
In addition, you have an option to enable Google Authorship for you by providing your Google+ profile URL on this screen as shown in the image below. To learn how to enable Google Authorship for yourself, visit the post titled, "How To Build Your Brand Identity Using Google Authorship".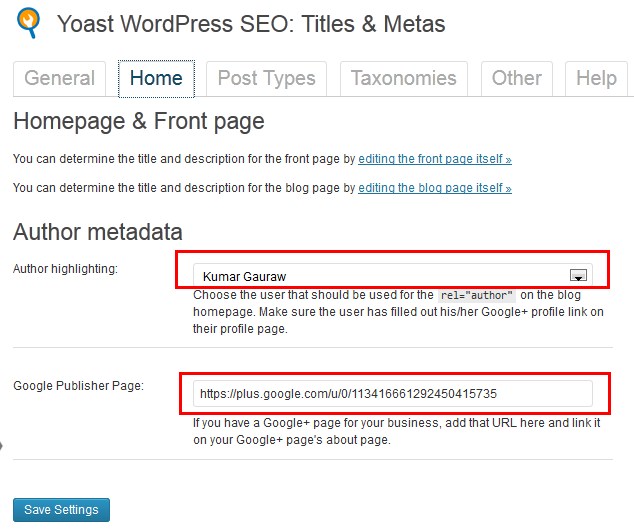 Titles & Metas – Tab3: Other
This tab is also an important tab that allows you to enable or disable various options, such as whether or not you want search engines to index your archives pages based on dates, based on authors, based on tags etc.
Because your blog posts are already indexed as a single page, sometimes enabling archives makes your content duplicate for search engines and therefore it is recommended that you disable indexing of archives. Take a look at the image shown below and setup your options accordingly: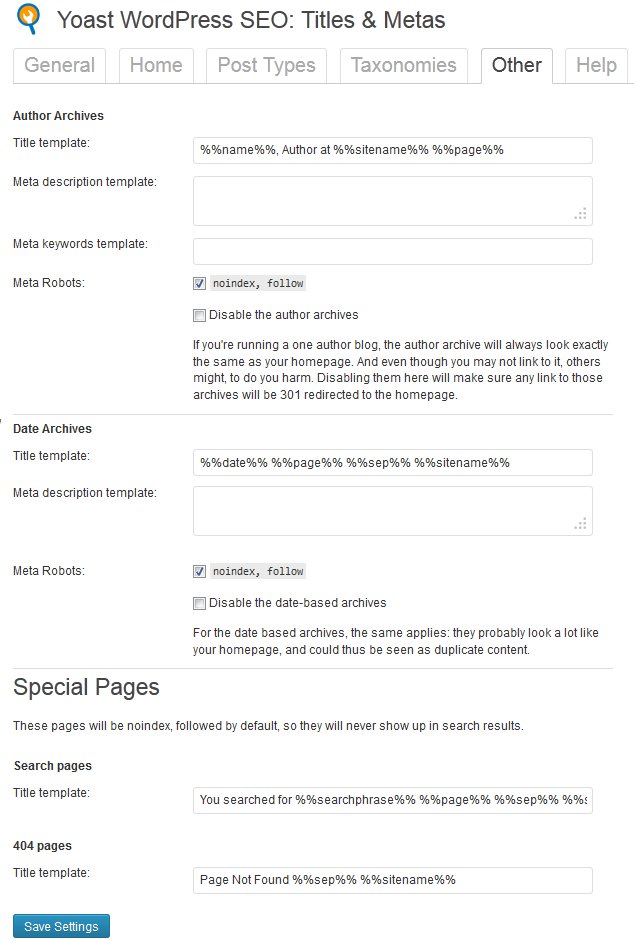 3. Configure Social Options
The importance of this section is to enable Facebook Open Graph and Twitter Card metadata for your website. It enables a feature to add a picture from your post to Facebook and/or Twitter when anybody shares a post or a page in these social media websites. As shown in the image below, make sure you enable these options.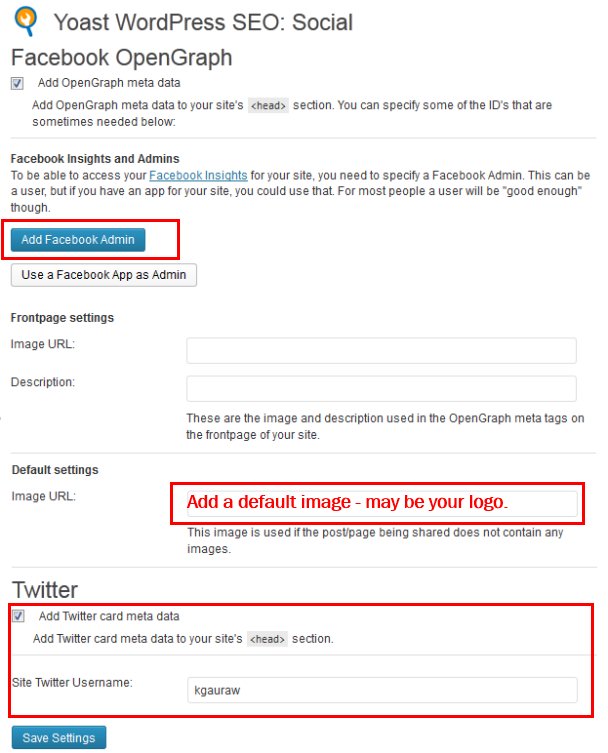 4. Configure XML Sitemap
XML Sitemaps are important components of your website for search engines to know the pages, categories and organization of your website. WordPress SEO does a phenomenal job of auto-generating sitemaps for your website and also submitting them to search engines as soon as you add a new page or a blog post.
You don't need to change anything except that you may want to exclude tags by using the checkbox as shown in the image below to ensure that duplicate content can be avoided in search engines. Other than that, nothing needs to change and WordPress SEO will automatically take care of sitemaps for you.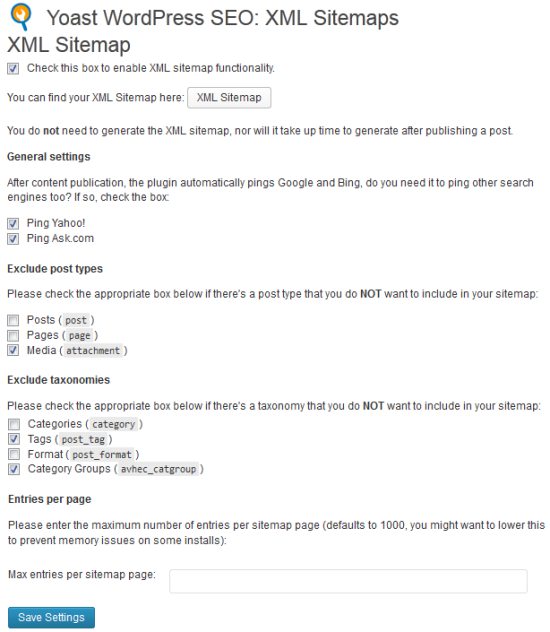 SEO Settings For Individual Blog Posts And Pages Using WordPress SEO
When you go to create a post or a page you will see a SEO box just below the editor in your post editing panel. The box looks something like this and it has many awesome tips to optimize your content for SEO: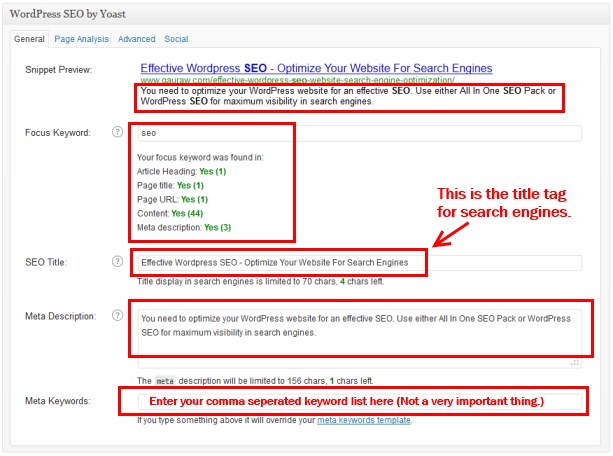 Final Thoughts On SEO
If you are able to install and configure one of these two discussed WordPress plugins for SEO on your website, your website is already SEO optimized. You don't need to hire a SEO consultant to do the basic SEO settings for your website. All you have to now do is, as you write blog posts and create pages, just keep in mind that your titles are appropriate and the content is in sync with your titles. The rest will be taken care by WordPress and your SEO plugin.
Have YOU Subscribed To Receive This FREE Website Setup CourseYet?
Next Post: In the next article, I will share how to increase traffic to your website. We will discuss some fundamental techniques to bring new visitors and drive more search engine traffic to your website on a consistent basis as you continue to publish new content on your blog.