Those who know me should know that I am a Toastmasters fan. I enjoy being with my club every Thursday evening. I believe it is a great confidence building platform, especially for those who want to get rid of the fear of speaking in public.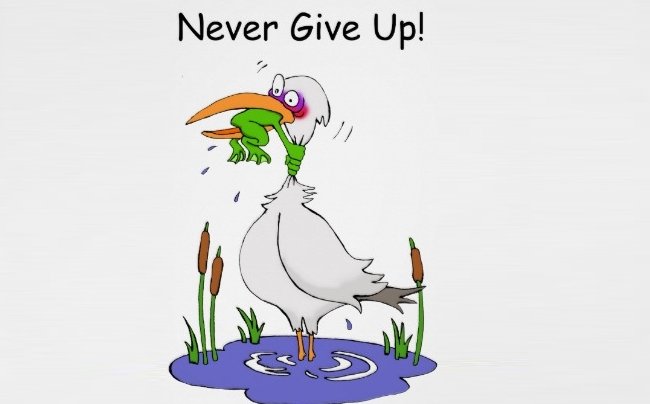 During our last club meeting it was interesting when Toastmaster Kim Vesely put me on the spot. In the Table Topics section of the meeting, she invited me to the stage with a question something like this:
What is the one character trait of yours that you think others should also have?
Those who are Toastmasters know that I had maybe 30 seconds to put together my thoughts and speak for about 2 minutes. Well, I did answer the question and the people were kind enough to award me the ribbon for extemporaneous speaking that evening.
The more I thought about my response after coming back home, the more clarity I obtained. I realized that it's not just about what is that one trait that I have. It is rather about being intentional about having the attitude that can be a game changer in anybody's life, as it has been for me.
That is the attitude of not giving up when the going gets tough. That is the attitude of not backing off when negativity strikes. It is the attitude of refusing to accept defeat when it looks almost certain.
Refuse To Accept Defeat Even When It Appears Certain
If you have read Think And Grow Rich, you know that Napoleon Hill makes a strong case against accepting misfortune as our fate. Through his own example, he showed us how the law of attraction works in our favor if we choose to leverage its power.
Too many people spend their lives avoiding responsibility by saying they can't do something or they can't be something. Most give up even before challenges arrive. They don't even try to fight for what they say they want.
Many others start the fight and keep moving as long as they are winning. But as soon as going gets tough, as soon as challenges start to overpower them, they give up. They accept defeat and choose to live a life of mediocrity. Probably they don't even know why they started the journey in the first place. Lack of vision kills their dreams.
When someone or some situation challenges me, I become more committed to my mission. Whether it is about health or profession, I have a habit of fighting the good fight until the end to prove that I am bigger than the problem at hand. I have come out the winner, in most cases, and am proud of my victories. But the cases where I could not win, I ended up with knowledge and experience that I would have never gained otherwise.
It could be a health situation. It could be a relationship that may seem certain to fail. It could be a work situation that may seem out of control or a business that may seem bound to fail. However, if you refuse to accept failure, the universe will align itself to help you overcome the obstacles.
I have my list of heroes that I look up to when I am down. I keep their stories, their examples right in front of me when things look too difficult for me. This gives me the confidence that I will not be denied. Not just that, it also keeps me motivated to give a good fight. It provides me the extra energy I need to push the envelope one more time.
One powerful story that motivates me each time I watch it is the incredible story of Derek Redmond from the 1992 Olympic Games in Barcelona. Every time I look at the man, I get inspired. I hope this video inspires you to never accept failure as a permanent situation and get up one more time. I hope this video inspires you to give a good fight when something, someone or some negative situation tries to belittle you.
Questions: How do you overcome when negativity strikes? What motivates you to keep on keeping on especially in the face of challenges that seem overwhelming?
Please share your thoughts and experiences in the comments by clicking here. Thank you kindly!