In my previous post I had shared about some of my favorite iPhone apps. Around the same time, I also got an iPad and I've been using it everywhere I go. This has been such a joy to have my iPad with me everywhere I go.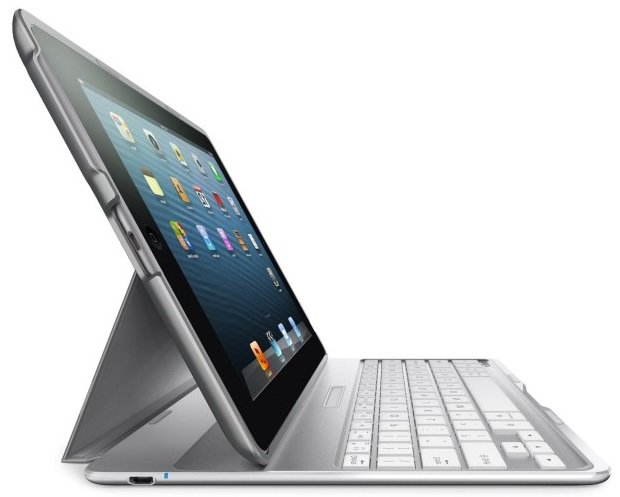 So, I thought to share some of the best apps on iPad that I use on a daily basis. These 25 apps are my favorite iPad apps although some of them also available for iPhone or iPad Mini. I hope this helps you get to know some great iPad apps through my experience.
Safari is a great browser. But, if you are a Chrome user on your desktop computer (like I am), you will not miss your favorite browser. Chrome has some awesome syncing features as well which makes life so much easier when you are browsing from multiple devices. Chrome on iPad comes with some additional great features such as a desktop view, a solid incognito mode, easy to browse tabs, and the speed dial to quickly access your favorite sites.
I love this task management app so much that I wrote a separate post about it earlier. I like their interface and since I wrote my post about it, they have made so many improvements in the tool. Although the tool is free to use across all devices, they have now also come up with a pro version of the tool with some premium features such as collaboration, delegation etc. for $4.99 per month.
You can't talk of social media without talking about Facebook. For me, this is the mandatory app and a place where I visit multiple times a day. If you are connected with me on Facebook, you know why this is my favorite app on my all devices.
This is the Apps I use to manage my Google+ account. An app with the search engine giant is an important App to have, especially from the angle of SEO, and being active on Google+ is an important activity I can't afford to ignore. Plus, with Google+ is a great social networking platform with Google hangouts and integration with other Google services.
LinkedIn is the only networking platform where a lot of professionals and recruiters live. This is one of my favorite places to go when I want to check out about somebody I am going to meet for the first time. This is a great platform to build professional relationships and get to know somebody. This is an awesome App with a beautiful interface that often comes in handy.
This is a great social media management tool. I use HootSuite often when I want to write an update that I want to broadcast on all my social media channels. I also use HootSuite when I want to check multiple networks at the same time. The iPad app by HootSuite is a joy to use. I use it all the time especially since their AutoSchedule feature came.
I wrote a post comparing Buffer with HootSuite and I encourage you to check them out. I use buffer as frequently as I use HootSuite and especially enjoy the feature of adding to the pipeline from almost any browser window using Buffer. Therefore, I always have Buffer on my iPad as I use it frequently. To me, Buffer is a backup in case HootSuite has any challenge and vice versa.
If you have been a Google Reader user in the past like me, you probably have already installed Feedly on your iPad as well. Feedly is a great way to organize, read and share the content of your favorite sites. This is the official reader I use on my desktop or on my iPad. If you haven't, try them out. You will enjoy it.
If you know anything about video chat, you know about Skype. They have been the pioneers in the VOIP based video conferencing and people around the world have been using them. Well, with Skype for iPad, video conferencing is so much fun. I talk to my international teams, do trainings and chat with family members in India all the time. Skype is simply a superb iPad app to have and it's free.
As I discussed about it in my post about iPhone apps, Evernote is such an amazing service. Although there are premium features for paid members, the free iPad app synchronizes notes from all of your devices (including pictures, videos etc.) and then makes them all highly searchable.
I use Evernote for pretty much everything from building my wish list, taking notes in meetings, recording my voice memos, having a grocery list or even to record the topics at random for blogging ideas. It is a must have app for your iPad.
Penultimate is known as the most popular handwriting app for iPad. It gives you the natural experience of writing on paper and now, it comes to you with the added power due to its integration with Evernote. It is an intuitive, simple app with some great features to add ink, paper quality that gives a great drawing experience. Plus, Evernote makes the drawings and handwritings highly searchable. Try it to love it.
This is one app that a friend recommended. Flipboard is a great way of seeing the daily news along with Facebook and Twitter updates in one place. Although I don't use it for Facebook and Twitter updates, I enjoy the way it presents everything in a stunning way. It's like I am reading a high quality magazine. It is a fun app I like to use when I just want to browse through news items or even my Facebook.
This is the native iOS app and it does a great job. I have heard and tried tools like MailBox and MailShot and many people love those apps on iPhones and iPads. But for me, I prefer this simple mail app on iPad as I like the simplicity this tool comes with. It is just what I need since I use my desktop for heavy duty email management related tasks.
This is a no brainer. With a device such as iPad, I do a lot of work. I write blog posts, do research, social media management and many other chores on the go. I definitely need a way to get to Google when I need to check into something. This is the app to have when you need to do any research using Google. I can't imagine an internet user who doesn't have this app on their smart phone or tablet.
I am a heavy user of DropBox with teams across the globe. My business needs me to share documents, audio/video files, pictures, excel workbooks and many other documents with my team and with this awesome app on iPad, life is so much easier. I get notifications of updates other people make and I get to upload my documents on the go. Definitely a must have app when you need to collaborate with long distance teams.
I've been a fan of Kindle for a long time and Kindle for iPad just made my experience so much fun. In fact, this was one of the main reasons why I wanted to buy iPad (I figured out and learnt about other apps later). It is such a joy to read books and PDF files on Kindle on iPad.
I found about this tool from my friend Bill Butler for the first time. He is a big time user of this App and after he showed me a demo, I decided to get the app for my iPad as well. Since then, I have been enjoying this tool using for mind mapping for various projects such as brainstorming ideas, speaking topics, meeting agendas etc.
It is a mind mapping tool that enables you to visually organize your thoughts, ideas and information on your iPad. It is not a free app. But I think it is worth the money it costs.
Having many sites on WordPress and running this blog which has several thousand visitors each month, I needed a way to access my WordPress administration screens on the go. The WordPress app for iPad gives me the ability to do a lot of management tasks while I am not in front of my desktop. If you have a WordPress blog, it is a must have app.
I had purchased this application for my Desktop about 6 years ago, well before I had an iPhone or an iPad. Later, as I got my iPhone and then iPad, I found out that eWallet is also available to me on these devices and I can sync each device with my data. This was such a blessing. This app has been a lifesaver many times.
So, what is the use of this app? Well, you can store all your credit cards, website login information, all of your passwords and any other information that is important and you don't want to lose. Store it once and access it from any device. A great app to have if you have too many accounts (which usually is the case these days).
Although most banks have a free app to allow you to access your accounts using iPad and to transact, Mint is a personal finance app for a different reason. You can't transact using Mint. But you can categorize your deposits and withdrawals. The tool allows you to show your buying habits and help you budget your monthly expenses for different categories.
I have used this tool for a few years now and it has saved me money many times. It has helped me many times to not pay late fees or extra interest fees. It is definitely a great addition to your iPad.
The Clock is an inbuilt iOS app but extremely useful to me. I have my business teams spread across different time zones. One thing I've done is, I have multiple clocks created for each time zone that matters to me and kept it on my main window. So, whenever I need to call somebody or schedule a meeting, I visit my World Clock and I exactly know what the time is there.
In addition, the app provides features such as Stopwatch, Alarm, Timer etc. which is extremely useful in situations which demand these features. A great help to me.
I started using this app when I got my first iPhone. Since then, I have it everywhere and thus on my iPad as well. Battery Boost Magic provides the fullest set of battery performance stats available that will let you know exactly how much time you have left for each type of activity, as well as a set of tips and info to help you optimally charge & optimize your battery.
Where you are on the train or in the air, if you need to access to your PC or Mac over 3G/4G, you need this app. LogMeIn has been a lifesaver for me many times. Being in IT, many times my job requires me to access my machine at odd times when I am not home or in the office. But, since I have my iPad, even while I am outside, I can connect to my desk and do what I need to do. A great app for remote working!
Onavo Extend is a free app on your iPhone and iPad that lets you save money on your data plan by compressing unencrypted data between your device and the web. The result is that you consume up to five times less data than you would otherwise. The app keeps track of how much data (and money) you save and which apps use that data. It is a great App that gives me an insight into what is happening with my data plan.
This is the official TED app for iPad although you can also have it on your iPhone. This app allows you to browse and watch TED talks from some of the world's most fascinating people. When I need some new inspiration, a new idea or simply need to revisit some of my favorite TED talks, I go this app. It is a great source of inspiration.
Questions: What are your favorite iPad apps? Please share your thoughts in the comments section. Simply click here to go there. Thank you kindly!