Doing What Must Be Done by Chad Hymas, is the book I have been reading since last week as I mentioned in my last post, Positive Thinking – It Takes Work While Negative Is Automatic. Now that I have just finished the book, I must admit, I couldn't keep the book down until finished. If I had to take a break for any reason, I got restless until I got back to reading again.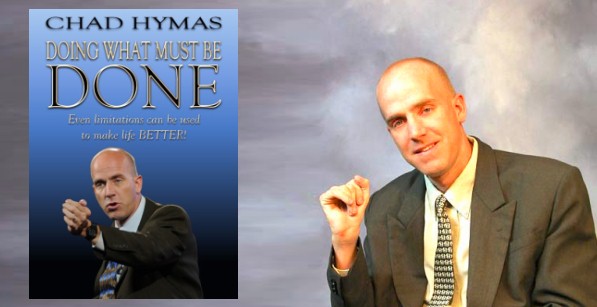 I am overwhelmed with the inspiration, the motivation and the positive thinking this book has pumped into my soul. It's an absolutely incredible story with absolutely incredible messages throughout the pages!
Chad Hymas, the author, is a world record wheelchair athelete with a new world record of wheeling his chair for 513 miles from Salt Lak City to Las Vegas in July 2003. He has been named "One of the 10 Most Inspirational People In The World" by the Wall Street Journal. Chad is also the youngest ever to be inducted into the prestigious Speaker Hall of Fame of the National Speakers Associations.
In this book, Chad shares his story of those critical days of his life after he had an accident that changed his life forever. He shares coming to terms with the heartbreaking new reality of his life. In this masterpiece, he shares those agonizing darkest hours of his life with a special message of inspiration in his special style. If you pick up this book for reading, I promise, it will make you cry, make you laugh, challenge you and help you recognize what is really important in life.
I highly recommend you to grab a copy right now if you haven't read this book so far. It is a must read for everyone! Also, I like to quote what these influential leaders have to say about Chad and his book:
"If you are feeling stressed because of crushing burdens, or are overwhelmed with too much to do or too much to overcome, this book is for you." ~ Kevin Hall ( Bestselling author of the Aspire)
"One of the most soul-changing stories I've ever heard live from the main stage; and now available within these pages for you to take home and share with your families. May it change your life as it did mine!" ~Zig Ziglar (New York Times Bestselling Author of several books)
"Get this book! If not for you, then for someone else. This book wasn't written for the writers benefit. In fact, unlike most books, it is not even written for the readers benefit. I found that all else around me benefited after I read it. Again, get this book and share it with your work families, colleagues and families at home!" ~Brian Tracy (Bestselling author of How the Best Leaders Lead)
Some of the inspirational messages that have impacted me the most, I would like to share with you today because I truly believe we all need reminded of these in one way or the other. Here are a few highlights:
One sudden devastating life event or an unexpected circumstance beyond your control can destroy all your plans and crush the life out of you. There are no guarantees in life and therefore, count your blessings everyday while you still can.

Our thoughts create our future. Our words create our future. Our dreams are not destroyed by our circumstances, but by our thought process, our own belief system.

Chad Hymas' life is a tremendous example of the unlimited power of the human mind. Once you learn what he has become, in spite of all the limitations that life put on him at once, you lose the right to complain about any challenges an obstacles of your life. His story is a challenge for every man and woman living today to do more and be more every day.
Now, if you still don't have the book handy, Grab Doing What Must Be Done NOW or run out and get it from your nearest book store! I promise, you will never regret this investment.
Your Thoughts?
Have you already read this book? What intrigues you about it? If you are yet to read, lease make note of what you aspire to learn from it. Then make notes on what you did learn and please share your insights. Thank you kindly!