Dreams have power, and simply because of the power of a dream, I am going to work with Richard Branson! I am so excited about it.
[note background="#F6F6F6″] This is a guest post by Aistis Zidanavicius. He is an entrepreneur and a blogger. To connect with him, check out the links to his social media profiles in the Author Box at the bottom of this post. [/note]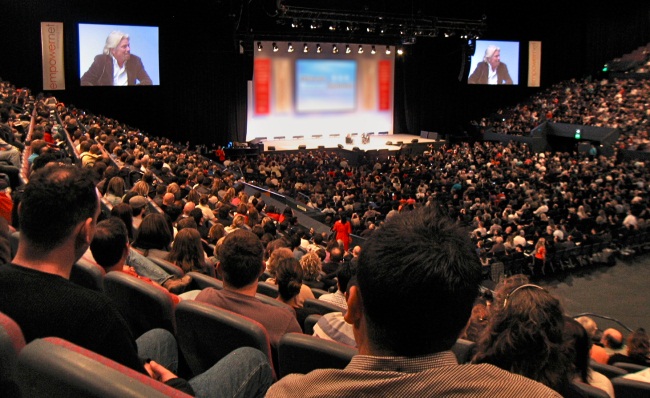 A year ago I got a dream. I had a dream to meet Richard Branson. He has been one of my those inspiring personalities I have always admired. He has been one my heroes because of many things he accomplished in life and because of his relaxed and positive attitude towards everything he does.
Just a few days ago my dream came true and I want to share this story with you today. I hope my story gives you the inspiration to dream big and have faith.
Richard Branson And My Dream
My dream was to meet Richard Branson. Everything started with a dream, which at first I told only to my girl. I always share my dreams with her first and this was no exception. Then I did what all the successful people do and teach us.
I started to crystallize my dream and that included hanging Richard's photo on the wall right in front of me to remind me of my dream every day. I wrote down my dream on paper. I wrote down my accomplishment plans for the next 10 years.
After doing these steps I started to wait for the opportunity. No, I didn't just sit on the couch waiting for the opportunity. I started to act towards the accomplishment of my dreams. I bought couple of Richard's books such as Reach For The Skies and Losing My Virginity. I started to read everything I could about him and his company "Virgin".
Those things gave me a great amount of information and I began to learn more and know more about his personality. Although I had never met him, I started to learn many things about Richard's life, his businesses and his personality. The more I dug into his life, the more I admired him. The more I admired him, the closer it brought me to my dream (I can confidently claim that now).
I then started to work on the power of spoken words. I started to talk to other people about my dream and my dream to meet Richard Branson. I didn't know how but I began to speak about it more frequently.
And to my amazement, a time came when I heard this amazing news. I found out that Sir Richard Branson was coming to Lithuania (This is the country where I live now). He was going to participate in the biggest leadership event in Eastern Europe – Forum One. That was the reason he was coming.
This was a big belief builder for me that dreams really do come true. However, it was not yet so easy for me to get in front of him. I registered to follow the news of the upcoming events and eagerly waited to get updates about the prices of the event. Finally, when I came to know about the entry fee for the event, I realized that the tickets prices were less than I had expected.
But the irony was, I still didn't have enough money to buy my tickets for the event. I didn't know how I was going to get the money to buy the tickets. I had no idea how was I going to get there. But, I marked the big day in my calendar and I was 100% sure that I will be there somehow.
I had no idea how it was going to happen, but I had faith. The event was getting closer and closer yet the chances to be in the event didn't change for several days. Sometimes, when I talked about this dream with others and about this event, I even said that it might not happen this time. But, somewhere deep within my heart I had faith that everything was going work out in my favor.
Suddenly, out of nowhere I got a letter from the event management. No, it was not a free ticket or something like that. In fact, it was an opportunity for me to become a volunteer at the event. That meant that I would be able to be there inside the event and I wouldn't have to pay!
WOW! What fantastic news and opportunity! That was really an amazing feeling. It was a feeling I cannot describe in words. I was absolutely amazed when I got this opportunity. Now I was excited and sure that I will be able to see Richard, at least from a distance. At this time, I didn't care where and how far I will be placed from him. I was just happy and excited that I will fulfill my dream.
To my serendipity, things just started to be better and better as the event got closer and closer.
While signing to be a volunteer I had thought that I would be busy all the time. But the organizers told us that we will be able to see the event and especially the speech of Richard Branson. That was great news.
The leadership event went very well. A lot of great things were shared from the stage. And finally, at the end of the second day, the moment for Richard to give his speech came.
Right at that moment, another amazing development happened. All the volunteers were asked to come to the stage with Richard. This was one of those magic moments for me. I couldn't believe it was happening in real. Things were getting better and better with each passing moment. It's hard to describe the feeling. But it is like a situation when you want to cry because you are so happy. My dream was becoming a reality and I was in that state of mind.
In that moment, I realized that life is not the years we live, but it's the dreams that we have and how big our dreams are. I realized that dreams have the power to come true if we have faith and if we absolutely believe in our dreams.
Everything happened just in the best possible way. I had a chance not just to stand next to Richard, but also have the amazing time during the whole event. I had such a wonderful time.
My dream has expanded. I am more excited about my dreams now than I was before the event.
So, I encourage you to dream big. I encourage you to act big. Go crazy about your dreams. Believe in the beauty of your dreams. Believe that you will be presented with the right opportunities at right time and have faith in the future. You will enjoy the fruits of your persistence.
Never think that something might be unrealistic. Richard Branson removed the word "impossible" from the vocabulary and you can do the same.
Questions: Do you have your dreams written? Do you have a picture of your dreams in your bedroom? Do you look at your dreams everyday? Do you talk to other people and share about your belief in your dreams?
Please share your thoughts in the comments section. Thank you kindly!