He who is good for making excuses is seldom good for anything else. ―Benjamin Franklin [tweet this]
Recently, I came across a very interesting book written by a palliative nurse, Bronnie Ware. She named her book as, "The Top Five Regrets of The Dying". It is a book that touches our lives in the most relatable ways.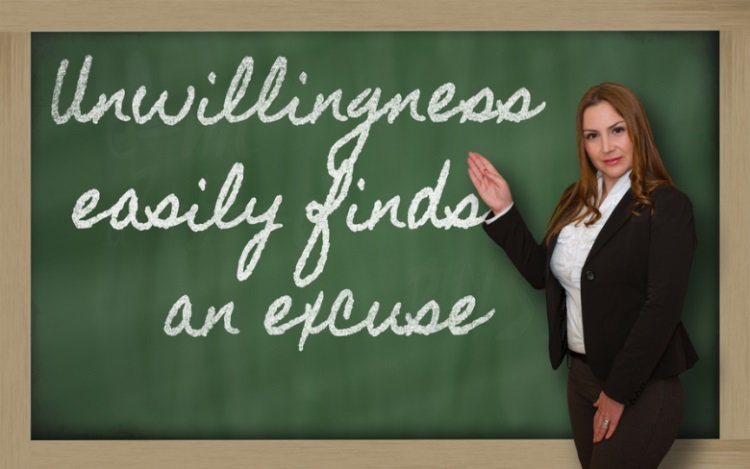 Ask any young kid about what they would like to be when they grow up. It's amazing to know how almost all of them will tell you about their dream of becoming top athlete, top cricketer, doctor, engineer, top spy, astronaut etc. At the same time, you will find almost none of them who will tell you that they would like to be average at anything when they grow up.
So, what happens on the way as we grow up, that we begin to give up on those dreams and start settling down for the average? Why is it most people do not act on their dreams, procrastinate and then have regrets in the end? Why do we make excuses when we could act and then regret later when the opportunity has passed?
If this question challenges you, here are 25 top excuses (although I believe there may be more to this list) we give most of the time when we have the opportunity to act. If you (and I) are intentional about not making these excuses, we will not have a place for regret in our lives. Let me know what you think in the end through your comments:
Excuse 1 – I'm Too Old For This
Growing up, we all go through phases of finishing school at a certain age, starting to work at a certain age, getting married at a certain age, and so on. Somehow, this makes us believe that endeavors we undertake must be taken by a certain age. We assume that there is an age limit for everything and then, if we can't do it within that range, we assume that it's not for us.
But guess what? If you think that way, you couldn't be more wrong.
You are never too old to set another goal or to dream a new dream. ―C. S. Lewis [tweet this]
Today is the first day for the rest of your life and therefore, today is the perfect day and now is the perfect time to begin.
Excuse 2 – I'm Too Young For This
Being young is great. But whether you do something today or not (which is up to you), you are just getting one more day older today.
There is no sadder sight than a young pessimist. ―Mark Twain [tweet this]
Yes, there are age limitations (government imposed) in many countries, such as the age for voting, getting married etc. But other than that, if there is an opportunity at hand and you think that you should avoid taking charge because you think you are too young for that responsibility, it is an excuse which may cost you in terms of regrets later.
Excuse 3 – It's Not The Right Time For Me
You may relate to some of the following situations:
"I've just got a promotion and at this time, I don't want to focus on my career right now."

"I just got out of a troublesome relationship, I don't want any responsibility now."

"I just got married and so, I don't want to do anything at the moment."
There may be many more along these lines but the idea is that you are busy in something which you "believe" causes the time to not be right for taking up a responsibility.
Unfortunately, opportunity never comes to you or me after checking if it's the right time or not. It knocks at the door once and if the door doesn't open, goes on to knock the next.
Excuse 4 – It's Not The Right Opportunity
I've seen people letting go of great opportunities because they thought it doesn't suit them because they thought something along these lines:
My personality doesn't suit this

I am not interested in this kind of work

I am looking for a better deal than this
Well, it's a good idea to evaluate the opportunity for its worth before undertaking it. Wise people do. But there is also a thin line between an excuse and a real evaluation. And only you can identify that for yourself. Unless you are already doing something better than the opportunity presented to you, what makes you think that you can do better than that?
Are you doing anything better than that? If not, maybe it's time for you to evaluate if you are making an excuse and then reconsider your position. If it doesn't suit your personality, maybe it's time to attempt to make some positive changes in your personality so you can be more productive.
Excuse 5 – I Don't Have Time
You are busy, right? We all are. However, everyone gets the same 24 hours a day – nothing more, nothing less. Then, how is it that some people are able to accomplish so much in their lives with the same amount of time and others are able to achieve nothing of significance?
It is not enough to be busy. So are the ants. The question is: What are we busy about? ―Henry David Thoreau [tweet this]
Time is a matter of priority. It's not the time which makes the difference. It's the use we make of the time allocated to us on a daily basis which makes all the difference in our lives. Having goals in life changes our priorities and as our priorities change, our life changes its direction. Focus on your priorities around things that matter to your future and you will be able to find time.
Excuse 6 – I'm Too Shy (Introvert)
This is just a matter of opinion. The reason you believe you are shy is because somebody told you growing up that you are shy. You chose to believe in him/her and so, you lived all your life thinking that you are shy.
Throughout my business career, I've met numerous such people who declared themselves to be shy or introverted and yet, they wouldn't let me speak when they start speaking. From my perspective, they probably didn't even know what it is like being shy. Don't you think?
Well, it's a matter of choice. You only have one lifetime. You don't want to give up this golden opportunity in the name of shyness. You can make a choice to change that today. But only you can do it.
Excuse 7 – I'm Not Qualified For This
This has many forms. It is usually a result of low self-esteem which causes you think that either you are not capable of handling this, or, the opportunity is not worthy of you.
The thought of, "I'm not worthy of things like love, respect, wealth, success etc." is because of low expectations from yourself. You really need to work on your personal development because you definitely deserve those things whether or not you know them.
The other thought process of looking down at the opportunity is also a result of a low self-esteem combined with a big ego. A person with that disorder is in serious personality crisis and usually isn't willing to listen to anybody. Books are the only ray of hope in cases like these. Do you have any suggestions for people suffering with this excuse?
Excuse 8 – I'm Not A People Person
This is similar to the thought process that tells you that you are shy. If you think you are not good at getting along with people, you need to first of all know that it's not true. If you have a family, you have always been with people. You are a people person.
You may need to learn and practice a few people skills to improve your interface with people and books such as How To Win Friends And Influence People and How To Have Confidence And Power In Dealing With People will help you tremendously.
Excuse 9 – People Don't Care About Things I Care About
Many people can't start something because they think that the only way they can succeed in their mission is when other people (who they haven't yet checked in many cases) will not support their idea.
This happens especially in cases where you are starting a no-risk situation, such as starting a charity, starting a non-profit organization, or maybe starting a low investment business. When you begin to think that you will only start when other people you know will care for the same cause, you will mostly end up starting nothing.
Excuse 10 – I'm Not Smart Enough
Well, you may not be smart enough in things that you think other people around you are smart doing. However, you do have some God given talents and abilities that other 'smart' people around you don't.
Everybody is a genius. But if you judge a fish by its ability to climb a tree, it will live its whole life believing that it is stupid. ―Albert Einstein
If you compare your worst with somebody else's best, you will always feel dumb. You need to focus on your strengths and practice to get better and better every day. But, for that to happen, you need to get out of this self-fulfilling prophecy that you aren't smart enough because you are. You just need to drop this excuse and start practicing what you are good at.
Excuse 11 – It's Not My Fault
A lot of people blame their parents, society, their elders, the government, the economy and the world for their problems. This can be a dangerous habit and this excuse will most definitely deprive you of happiness and peace of mind if you don't get rid of it.
Leadership is about taking responsibility, not making excuses. ―Mitt Romney [tweet this]
As an adult, you are in full control of your own life. You can't blame somebody else for your circumstances. You can't blame somebody else for your failures or your inability to recognize opportunities. Taking responsibility is the first step towards success.
Excuse 12 – I'm Not Money Minded
I've seen my friends making this excuse – to me. I remember discussing opportunities of making money, creating products, marketing opportunities around them, only for them to use this excuse. In the end they say, "Well, you know, money isn't everything in life. We should rather make use of this time in enjoying what we already have than worrying about making more money."
Well, if you are making money, in one or another, you are actually already money minded. It's just an excuse that you don't want to get out of your comfort zone. If this is not the best you can achieve in your life, maybe, you should consider getting out of your comfort and do something about it.
Excuse 13 – I Don't Have The Discipline
This is the silliest of all excuses. What kind of a person do you know that says he/she has no discipline, does nothing about it, and then proudly announces that "I don't have discipline?"
But guess what? We all have friends who will just excuse themselves with this and we also have friends who suffer towards the end of their careers and lives in general because they didn't have the discipline to be disciplined while they still had time. I don't want to be in their shoes, do you?
Excuse 14 – I Don't Have That Passionate Personality
Can you remember why you think this way? May be you don't think about your future and even if you do, you don't have any goals for yourself. This excuse is causing you to probably spend your time not doing anything, not achieving anything and only getting a longer list of regrets every time you realize that you made a mistake.
If you don't have passion, force yourself to associate with passionate people, you will catch it. Do something about it. Don't make it a reason not to do something.
Excuse 15 – My Personality Doesn't Suite This
None of us are born with a personality. We all develop our habits, thought process and behaviors based on our association. We also change jobs and careers based on our association and market conditions.
Do you have friends who graduated from mechanical engineering but work in IT? Have you seen people changing industries as market conditions change, as economic rewards change from industry to industry? Chances are, you are doing what you do today because somebody said it's good for you (or you saw some examples and latched on).
If you think it's important, you will not make your personality an excuse not to do it.
Excuse 16 – It's Too Much Work
Why do you think things like success, wealth, fame, influence should be easy? If these things just become so easy to achieve, do you think they will hold any value then?
Success is always a minority and for good reasons. People who have passion, who are willing to work hard and those who have the discipline to follow their dreams, achieve success while others who are busy making excuses are deprived. Is it unfair? It's the hard work that differentiates winners from those who have regrets.
Excuse 17 – I Just Can't Trust People
Just because you had a negative experience with someone you trusted once doesn't (and shouldn't) define the world for you. No two people are same. Plus, how would you like it if nobody around you trusts you? I don't think you want that, do you?
Treat others as you want to be treated and so, start trusting others. Start taking a leap of faith and eventually, you will be glad you did.
Excuse 18 – I Don't Believe In Things Until I See
This is another of the lame excuses people give when they see nothing wrong with a plan except that the only way it's going to work for them is when they work it. But if they don't want to put in the work, they use this excuse to avoid the work.
Can you learn swimming before you can get into water? Can you see your body built before you regularly go to the gym and put in the work that is needed? Have some faith and take baby steps. Without faith it's hard to live happily and succeed at anything.
Excuse 19 – I Don't Have Anybody To Support Me
Before somebody can support you, you need to support your dreams. Do you know what do you want to do? Do you have clarity in your dreams and do you have goals around them?
The best way to garner support of others (if this is your real challenge) is to have passion for your dream. When Mahatma Gandhi began his non-violence movement against the British, he neither received support from others nor did he expect it. He did what he believed was the right thing to do and when people saw his passion, they joined him.
Excuse 20 – I'm Just Not Lucky
Somehow, luck happens to support more often those who work hard. Yes, once in a while somebody wins a lottery ticket (if that is the luck you are waiting for, you may never get lucky.) But usually, luck doesn't become an obstacle in the path for those who believe in themselves and who are willing to put the work needed to get the job done.
Start with writing your dreams and goals and then start putting in some efforts, your luck will turn around and reward you big time.
Excuse 21 – I'm Yet Not Ready
This is the funny one too, and yet so common. How many things have you done in your life when you were completely ready? Most people do things in life as they come and deal with the situations. If you are driving and the car breaks, you can't say, "I am not going to deal with it because I am not ready."
Then, how can you say the same thing when an opportunity knocks at the door? There are times when we feel we are prepared before the moment of decision comes. But that doesn't mean that we can always be prepared and ready for everything.
Excuse 22 – There Is Too Much Competition In This
Although it is a valid concern, it shouldn't be your excuse for not taking action. There's almost nothing you can do that hasn't already been done before. There is always some competition in everything that has proven to be working. That, indeed, is good news because the competition proves that it's working. All you have to do, is the apply your unique touch so you can do it differently and attract success to you. Competition should be used to apply your creativity to succeed, not as an alibi for inaction.
Excuse 23 – I Am Not Made For Business
I've heard that many times and I am sure you may have heard it too. People who look for safety and are willing to settle for average, usually make this excuse. Being in business means being uncomfortable, having good work ethics, having the ability to take rejections and a willingness to network with others.
If you are willing to settle for a paycheck-to-paycheck lifestyle, you may not need to start your own business. But, if you have a dream of having control on your time and finances, you really don't have any other alternative. You better start to program your mind so that you are indeed made for business.
Excuse 24 – I Can't Take Rejection
That's okay. You can't take rejections because you have not yet got used to it. It may have happened that you got a job without much rejection. May be you did get rejected by a few employers but you were so focused about getting a job, it didn't occur to you that you were being rejected.
In any case, rejections are part of life. Not just in business, not just in your career, rejections are the things we have to deal with everyday. When you go to get your driver's license and you get rejected at first, do you go to retry? If yes, then you are pretty good at taking rejections.
Excuse 25 – It's Too Risky For Me
To live is to risk. To go out is to risk meeting an accident. To have a job is to risk losing the job. You don't stop living because there is risk in living. Then why stop yourself from doing something right just because there is a risk of failure in it?
If something you are about to do is risky, it's a good idea to take counseling from someone more experienced than you. That will help you reduce your chances of failure. But not taking your chances guarantees your chances of failure. Why do you want to fail even before you give yourself a chance?
Over To You – Any Thoughts?
Which one of these 25 excuses do you think is the most fatal? Is there an excuse or two you would like to add to this list?
Please leave a comment below and share your insights. Thank you kindly!