I am not such a huge fan of having too many plugins on a WordPress installation. However, there are times I can't avoid adding a plugin or two for a feature that gets my attention!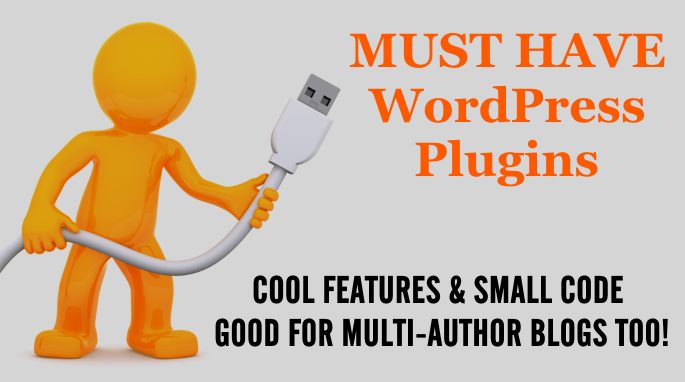 At other times, I come across some awesome plugins because my clients need them. I am not suggesting that you install all of the plugins I suggest. However, if you need a feature that one of these WordPress plugins offer, these are definitely a great choice!
I am  not going to write a whole lot about these WordPress plugins because their functionalities are so intuitive, and they are so lightweight, that you don't need to go through too many hoops to get them working for you.
As the title says, I am going to talk about only 3 plugins this time. I share about these because I think these are some great tools in your arsenal as a blogger/developer.
So, let's get started.
Have That Little Cool "Go To Top" Button On Your Pages
Have you seen some of the recently developed powerful WordPress themes come up with a "Go To Top" button dynamically appear at the right-bottom corner?
You click on that button and you are brought immediately to the top of the page no matter how much down you had scrolled? Check out this screenshot to know what I am talking about:



Such a button dynamically appears at that position on your webpage when your visitors scroll down a little.
I found this button to be very helpful, especially for people who write long pages or receive a lot of comments. It makes the lives of readers easier to scroll up to the top in one click.
To have this feature enabled on your website (if your theme doesn't have this feature,) install Dynamic "To Top" WordPress plugin for free and activate it. It's free and it's small. Not too much overhead when compared with the benefits for your readers!
The beauty of this WordPress plugin is that it allows you to customize the color, borders, positioning of the button etc. and works like a charm. You can see this button functional on my website pages and it's possible that the button is right there on this very screen if you notice!
Assign Multiple Co-Authors To A Single Post
This is very useful when you have a multi-author blog. This is also very useful in cases where you have more than one guest author contributing to the same post.
When you have co-authors on a single post or page, you do want to give all of them their due credit for that post. That means you want their individual author feeds to show that post and the author bylines to indicate that there are multiple authors for that post.
In such cases, the WordPress plugin called "Co-Authors Plus" is very handy. The plugin is designed to solve that problem for you and it does a great job of that!
The plugin gives you the ability to assign multiple bylines, allow post authors to edit  the post (or not) depending upon their authorization level. It is pretty up-to-date, and even though I don't have multiple authors on my blog posts so far, if I ever need such a post, I know this is the plugin I am going to use.
Switch User Accounts To Impersonate Another User
This is definitely not for novice bloggers. However, this is very handy for developers and WordPress administrators.
Many times my clients face a problem while working on their website (maybe while producing new content,) and they mail/call me for help. When I get in, I don't see any such problem. In such cases, this User Switching WordPress plugin is extremely useful!
The plugin allows WordPress administrators to impersonate any other user without logging out to log back in as another user.
As an administrator, I just login to the WordPress Dashboard, go to users menu, choose the user I want to  impersonate and click on the link "Switch User" link to work in WordPress admin area as that user. Easy to understand, simple to implement!
For more details and to install this feature for your WordPress installation, go to User Switching WordPress plugin page and learn more about it.
In Conclusion
I don't think everybody needs these plugins or these features. But if you do need these features, you are going to love the way these awesome plugins work and add power to your WordPress installations.
Your Turn To Share Your Experience/Thoughts About These Plugins
Have you ever tried any of these plugins or any similar plugin that you love? I would love to know what your thoughts are about these features on your blogs or any other blog you admire.
Please share your thoughts in the comments section below and add value. Thank you kindly!