When was the last time you analyzed your blog traffic to identify your most popular blog posts? How many of those posts are from last year or the year before last?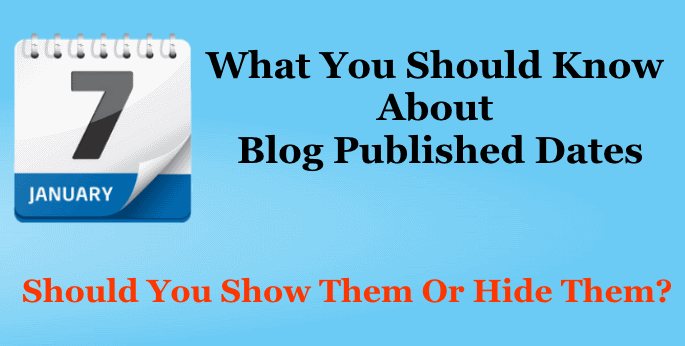 It's not just about Google. The real readers of your blog, the humans also tend to be highly focused on what's new. No matter how great your content is and how relevant it is — chances are, your readers will ignore it if they notice that it was published 3 years ago.
Don't trust me?
Well, try bringing up one of your favorite blog posts from 3 years ago and highlight it on your homepage without changing its published date! Let's see how much traffic you receive on that post.
Another good indicator could be the number of comments you receive on your older posts even though you might have a few people landing on those pages through search engines and your content is evergreen. Doesn't it mean those published dates play a role somewhere?
Example Google Search With Blog Post Dates Displayed
Not because you don't know about this or you haven't tried. I performed this Google search with the term "Why You Should Start A Business" to show you how those dates impact click through rates in search results. Look at this: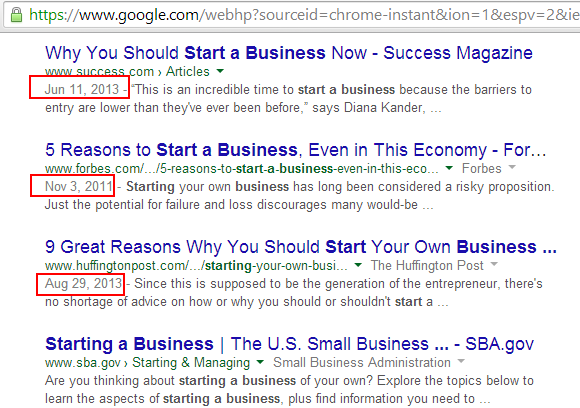 I don't know about you but, instinctively, I wanted to click on the post which was published on August 29, 2013 first. If it would not have been what I was looking for, I would have clicked on the post which was published on June 11, 2013.
The Forbes article in the search results will always receive less clicks, compared with the other two.
Two Schools Of Thought on Dating Your Blog Posts
There are bloggers who believe that we must promptly display the published date on our articles so that if the information we have shared is outdated, the reader will know; based on the date on the post.
This is just common sense, comes by default as soon as you set up your website, and I thought shows  good intentions. I did this for a while as well.
It is true that most blog posts to not have evergreen content. And therefore it makes sense to let your readers know when you publish something so that they know how old the information is. That way, you don't confuse or upset your readers and try to follow your instructions.
But, over a period of time, I decided to make some changes in the way I display my blog posts and my publish dates because good intentions alone cannot generate revenue.
The second school of thought is that there is no need to display publish dates on your blog posts unless you are a news website or you're writing about technologies that change frequently and drastically. People like Derek Halpern of Social Triggers do not display any dates against anything on their blogs and their websites are really huge.
Companies like Copyblogger also removed dates from their posts last year. However, now I see that Copyblogger has put back their publish dates against their blog posts. So, perhaps they now realized that they need this back!
How I Display Dates On My Blog Posts
Some of my blogger friends think (and they even asked me why I don't display dates on my posts) that I do not have dates on my posts.
But, that is not true. Every post on my blog is dated!
Back in 2010, when Michael Hyatt published his book, Platform: Get Noticed in a Noisy World, he shared his experience with dates against his posts. You know that I follow the man because I know that he only teaches what he practices.
He said that because of this one little change in the way he displays his post dates on the page and the way he promotes his old posts, 30% to 40% off his entire web traffic comes to his old posts. That is an incredible achievement!
Can you imagine 40 out of hundred people who visit your website daily reading your posts from last year and from the year before? Check out his blog post about it here and learn more.
The idea is to not hide dates on the blog posts but to make it difficult for ignorant readers who want to decide the worth of my content based on date. Interestingly, it works! It works for Michael Hyatt and it also works for me!
On my blog, the date is displayed in the meta section of the post below the content instead of the default location around the title as this screenshot shows:
Home Page – Date At The End Of The Teaser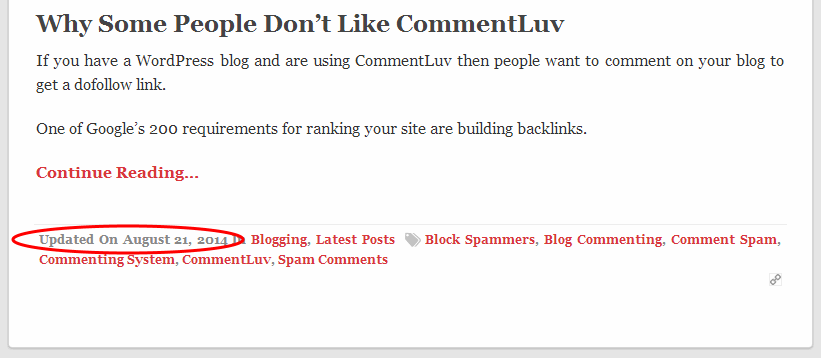 Single Posts – Date At The End Of The Post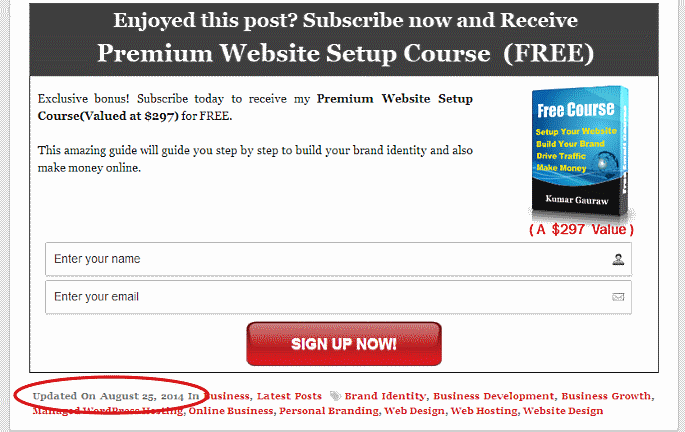 I Don't Display Dates For Comments
Because I do not see any value comment dates add to the comments, I chose not to display them. It adds to the size of my pages and if it will do anything, it will only stop people from commenting since the last comment on the post seems to be old.
I have never received any complaints regarding comment dates, and so, I received comments on posts I published in 2010. I think I'm going to keep it that way.
I Update My Content To Keep It Current
I know that I have published a few guides and I continue to write technical posts with regard to website design, security aspects of WordPress, and some tools from time to time.
Those posts need to be current to be relevant and, therefore, as soon as I realize that a post needs to be updated, I go back to it to update it.
Sometimes, I receive an email from my readers and then I go back to update it. The point is, I try my best to keep my content relevant.
Blog Published Date Is A Bad Indicator
Now, you might say that you keep your content current as well. Well, that's great! And that is why you need to know what I am about to share.
Unfortunately, WordPress by default displays published dates against our posts (and most themes are coded that way too.)
That means, for a WordPress setup guide that you wrote in 2011 will still appear as published in 2011 even though you have consistently kept the post up to date. Even though your post talks about WordPress 3.9.2, Google shows that this article was published in 2011.
That is bad for your readership, right?
Use Last Updated Date Instead On Your Posts
That is why I do not display publish date on my blog posts. Instead, I got my WordPress theme customized to display last updated date on my blog posts.
Did you notice (in above screenshots) that my meta section says "Updated On" instead of saying "Published On"?
With this one little modification, my pages not only become relevant because last updated date is displayed, Google searches will also display last updated dates against my posts since the sitemap also reflects last updated date against my posts.
If you are good with PHP, you can modify your loop.php and single.php theme files to make use of " the_modified_time" function instead of "the_time" and it will do the magic.
However, since every theme is coded a little differently, I do not want to give you a piece of code and have you assume that you can just copy it and add it to your theme. If you like this idea and if you are not comfortable with PHP and WordPress coding, get in touch with your developer and get it done.
For all Krishna World Wide hosting clients, this service is free. If your websites are hosted on KWWHost servers, please send an email indicating that you wish to make this change on your website and we will get this done for you FREE of charge!
Over To You – Share Your Thoughts And Experience
How do you handle (or balance) displaying of blog post dates with retaining your visitors and increasing traffic to your old blog posts?
If you use any strategy which is working for you and you like to share, please add value and let me know what are you doing and how are you doing it. I am sure all my readers thank you for that.
If you do not have any special strategy around post dates, would you mind sharing how you drive traffic and reduce bounce rates on your old archived posts?
I look forward to your thoughts, experiences and any ideas that will add value to this post. Kindly add to the comments section.
Thank you kindly!