When it comes to blog commenting, there is always a debate as to which commenting system is the best and which one should you use.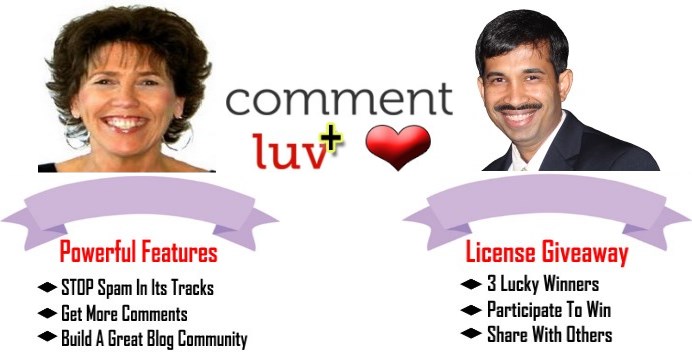 Well, the grass is always greener on the other side and I see that true in blogging arena too.
People who have default WordPress commenting system, they wonder if they should switch to CommentLuv or should they choose DISQUS?
People who have one of these commenting systems, they seem to wonder if the other one is better.
We had a wonderful guest blog post by none other than Adrienne Smith just a few days ago about CommentLuv, it's components and some incredible features of the tool and.
Adrienne did a phenomenal job of showing us why CommentLuv is so powerful tool for blog commenting and how it is designed to fight spammers and increase engagement on your blog. She's a great testimonial of CommentLuv as she has a buzzing online community through blog commenting while she never gets spam comments.
Isn't it what most bloggers are looking for?
If you haven't seen her post yet, I highly encourage you to visit that post and get to know the power of CommentLuv Premium and how you can benefit if you use the system properly.
What About DISQUS?
I have seen a number of bloggers writing posts to compare CommentLuv with DISQUS and some of them justifying why DISQUS is better than CommentLuv.
Well, as far as DISQUS is concerned, I used to have DISQUS commenting system on this very blog and eventually I ended up switching to CommentLuv Premium and I couldn't be any happier since.
Some people say that the reason they prefer DISQUS is because they get spam when they are with CommentLuv while DISQUS gets SPAM to zero.
That theory could not be any more wrong!
You get spammed whether or not you use CommentLuv. As long as spammers can access your wp-comments-post.php file, you will have spambots doing their job. Whether or not you approve it, that is always your choice. But you will have spam. I know I used to have SPAM all the time when I was on DISQUS.
What About Broken Links?
Some of my blogger friends have objections about broken links because of CommentLuv links.
I agree that commentators could delete that post on their blog after commenting on our sites. It will result in broken links on your site. However, Andy has a plug-in to take care of that issue which many of us use already.
If you use DISQUS, you will not have that issue for sure but then, no commentator gets a back link from a blog that uses DISQUS.
Isn't it unfair?
I mean, I take my time and energy to share something of value in form of my comment to somebody else's website who may or may not even respond to my comment. On top of that, I don't even get a back link. Why would an average commentator waste their time commenting on somebody else's blog for absolutely no value?
Yes, there are a handful of bloggers who will respond and be open to building relationships. But, for an average new commentator, is that hope worth their time and energy?
I doubt that.
Announcing Winners Of The CommentLuv Premium Luck Draw
Okay! Having said that I do love CommentLuv, you are here to find out who all won a license of CommentLuv Premium.
So, let's get to the point.
The 3 lucky winners of the CommentLuv premium draw are:
Jennifer Kennedy
Deborah Tutnauer
Mi Muba
Congratulations to Jennifer, Deborah and Mi! Adrienne and I are so thrilled to congratulate them!
They will get an email with the details of their premium CommentLuv license from Andy in a few days.
Grab Your Premium License With Heavy Discount
If you did not win a premium license in the draw and you still want to have CommentLuv premium on your website, you may want to purchase it with a discount of $20 right off the bat!
[button size="10″ url="https://www.gauraw.com/go/commentluv"] Buy CommentLuv Premium With $20 Discount Now! [/button]
This deal will not be available for a long time. Therefore, I encourage you to take advantage of this opportunity and get your premium license while the discounted offer lasts.
Your Turn To Share – Have Something To Say?
Please take a moment to congratulate the lucky winners of this contest. I am sure that they will appreciate that.
Also, if you have any questions with regard to CommentLuv, please feel free to ask in the comments section. If I am unable to answer, I will get that the answer from Andy and let you know.
Please feel free to share your thoughts about blog commenting and/or CommentLuv and add value to this post. Thank you kindly!