If you are planning to setup a private membership website, probably, this is your major concern. Where should you host your videos securely? How do you ensure that you do not lose a lot of money? Have you found your answers yet?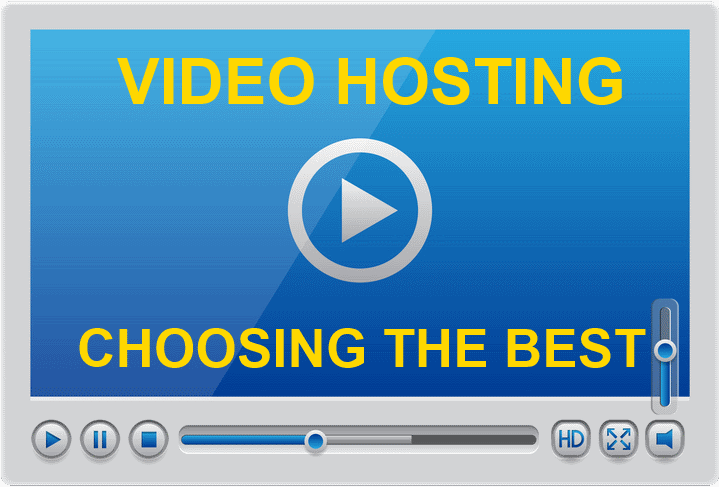 My friend David Merrill asked me a few questions when he was setting up his WhirlWindSuccess.com and I noticed that not much comprehensive information is available for people starting out.
That's when I decided that I need to write about this.
Does Your Membership Website Offer Video Content?
Not every membership website is a video website. If you do not have video content to offer to your private members, probably this won't be of much help to you.
However, if you are planning to offer video content such as webinar recordings, special training videos created for members and interview recordings which only your private members can access, this is going to help you choose the best video hosting solution for you.
Why Self-Hosting Your Videos Isn't A Great Idea
You might have thought of the idea of hosting your videos on your server at some point. Well, that isn't a good idea and here is why:
Your server bandwidth may cause trouble.

Your video may not play properly for your visitors (slow, long buffering, may not load at all etc.)

Your web host may have storage limitations and your videos can pretty quickly consume it all.

You will need to have multiple versions of your videos because different browsers need different formats. That multiplies the need for storage on your server dramatically.

Too much work to make it work even if you are hosting public videos. If you plan to host some premium video content, you also need to concern yourself about piracy which adds to the pain even further.
Why go through all that pain if you can avoid it all with a little investment of money and hosting your videos with a hosting service that specializes in video hosting only? Wouldn't that allow you to focus on your business while all these headaches are out of your way?
I teach the same thing to serious entrepreneurs with a self-hosted WordPress blog. Why host, manage and struggle with mundane tasks of maintaining your WordPress when you can have a premium hosting service like Krishna World Wide Host take care of all that for you while you can focus your energy on your main business?
Special Video Hosting Need For Your Membership Site
When you are offering a premium service to your private members, you need to make sure that your private members have access to something that others don't, right?
If that isn't the case then people aren't going to buy into your membership program. And that is why when you are offering videos to your private members, you do not want to host with Youtube.
A lot of people who do Google Hangout On Air shows, record their shows live and when done, download the video and then delete it from Youtube to only offer to their private members. I am guessing, probably you would have done a few of those videos as well.
Now, you need a solution that allows you to host your videos securely and efficiently so that your members can watch them on your website only and nobody can steal your content. That's the basic need, isn't it?
In addition, there are some good-to-have features that you will take if they are available. For example, you will take advantage of the features if:
Your video hosting provider allows you to put a call to action within your video itself.
You can customize your video player to match your website's theme.
You are able to password protect your videos so only people with the password can watch.
Your video hosting provider gives you analytics around your videos.
…and so on.
Premium Video Hosting Service Providers
If you are setting up a membership website, you definitely do not want to use any free video hosting service such as Youtube or Vimeo's free version. Therefore, I am not even going to talk about those services in this post.
Here are some of the and reliable video hosting services you may want to consider for your membership websites:
1. Amazon S3
Amazon S3 is the most popular cloud based hosting solution where you can host your videos and then use S3 FlowShield for streaming. It's affordable, secure and fast.
Now, when you are new to video hosting (or not so excited about dealing with the nitty-gritty of technicalities), you will find the Amazon S3 setup pretty intimidating (when compared with some of the other solutions.)
2. Vimeo Pro
Vimeo is my favorite solution, even the free hosting space for hosting is much cleaner than Youtube where they will not insert their advertisements in your videos. No clutter, unlike Youtube!
However things get real simple, cleaner and more pleasant when you choose Vimeo Pro for your professional quality video hosting.
Vimeo Pro videos don't show up within the regular Vimeo site videos unless you configure them to be made available to the general public (and they are not commercial videos). With Vimeo Pro, you can host commercial content for up to 50GB of upload space, unlimited on-site plays, and up to 250k embed plays.
When it comes to protecting your videos, security is awesome where Vimeo Pro also lets you lock down your videos to play only on a domain you specify. For membership websites, isn't that what you want to happen?
You can buy additional space and plays as your needs grow. However, there are no limits on bandwidth usage. I think that Vimeo Pro is a perfect solution for a professional quality video hosting on membership websites.
3. MaxCDN
If you already have MaxCDN working as a content delivery network for your websites (like I do), then you can also use MaxCDN's push/VOD zones to distribute your videos.
For any website, you just need to setup a Pull Zone (for caching your scripts and images) and a VOD Zone for media streaming (both audio and video).
If you can't figure out how to use VOD Zones, they have a very helpful customer support. Call them and they will help you set it up.
Once you have the video's embed code ready, input that to the video player you are using to play the videos and you are ready to go.
Now, this experience is similar to using Amazon S3 so I wouldn't recommend it to the beginners. You are better off going with some ready out-of-the-box solutions, such as Vimeo Pro.
4. SproutVideo
SproutVideo is a premium class business video hosting solution. Along with hosting, they offer a number of features important to businesses.
Some of the features that SproutVideo offers include tight security options, SSL embeds, domain whitelisting, easily customizable video players, etc.
With SproutVideo, you also get video analytics which will show how many plays your videos get, where those plays are coming from, which of your videos are popular, etc.
SproutVideo also offers a free trial period. If you aren't sure if they are the right solution for you, try them without risk and you will know if you like their video hosting service.
5. iPlayerHD
iPlayerHD is a high-definition hosting service, great for small businesses with its incredibly flexible pricing structure.
They give you a free trial period as well.
iPlayerHP allows you to choose whether videos are embeddable or not (or choose which domains can embed them), and doesn't put any restriction on video length.
They have a feature-rich video hosting service with things like customizing your player, your branding options, putting a call to action etc. I like the way they have priced all these options making it very affordable for small businesses and scale up as business grows.
6. DataCast
DataCast is another great option in the video hosting arena with their live streaming and broadcasting features.
According to their website, DaCast is a full-featured streaming service that provides everything broadcasters need. After a quick setup, the platform can be easily used to do high quality streaming to monetize video without having to be locked into any commitments.
They have options for you to sign up on their monthly pricing plans or, if you prefer, sign up on their 'Pay As You Go' plan. I think that is a great flexibility because depending on your custom needs, you have the ability to choose what gives you more value for the money.
7. Vzaar
Vzaar is a great professional video hosting platform as well and quite popular in the video hosting marketplace as well.
Vzaar's initial trial offer is irresistible as well, offering a 1-month free trial with great features. Their pricing options are very flexible as well.
Vzaar includes a video player you can customize as you like with your design preferences. All videos are in high definition and you have full control of privacy options, domain controls etc.
You can choose if you want to set your videos to autoplay and loop among many other powerful features Vzaar offers.
With their ability to add call to action into your videos, integration tools for Ebay, embeddable video code (including HTTPS embed code), and integration with Google Analytics etc., it makes it a great choice for entrepreneurs as well.
8. Framesocket
Framesocket is a premium video hosting service with an awesome content delivery network designed specifically for developers.
What it means is, it is similar to Amazon S3 and it requires you to have some technical knowledge to deal with its APIs to make uploads etc. It has easily customizable video player, customizable channels, automated audience building tools, and mobile compatibility inbuilt as well.
While Framesocket gives unlimited flexibility, I would think that you may not feel comfortable working with their system unless you are a developer. Too many options means too many complexities to deal with for people looking for simplicity.
9. Oculu
Oculu is another quality video hosting service you may want to check out. They have most features you would want to use on your membership website anyway.
Oculu also offers a free trial period. That means you can experience their service for free and decide if they are a good fit for you. No risk!
Their video management controls are incredibly easy to use, with a dashboard for customizing each individual video.
They offer multiple options to embed your video on other websites including standard embed, overlay, and light box videos. Oculu also offers tools to manage, measure, and optimize your video campaigns like many other services.
10. Viddler
Viddler started out as a free Video hosting platform (like Youtube) in 2006, with focus on personal video blogging. But, the site changed its focus to become a premium video hosting platform for its paying customers.
Now, with their enterprise focus, they offer their solution depending on your needs. Videos hosted with Viddler are HD quality, embeddable, and have all an enterprise may need. You need to contact them and work with their support to get a custom solution for your needs.
I wouldn't go with them as a small business owner. But, they are worth a mention for being a popular name still due to their past.
Conclusion
When you are looking to setup a membership website where you want to stream videos, you need to have a premium video hosting setup for yourself. And speaking of that, if you are just getting started, Vimeo Pro is my favorite option to recommend.
However, if you need a few more features than Vimeo has and investing money in your infrastructure isn't a challenge, you can consider any of these above excellent service providers.
Your Turn – Have A Question Or A Testimonial?
If you have a question about video hosting, you can post your question in the comments section below and you can get an answer from any of my awesome and experienced readers or from me.
If you have used any of these services and you have something to share about your experience, please use the comments section as well and add value to this post.
Please click here to go to the comment section and share your thoughts. Thank you kindly!