Email marketing outperforms social media 8 to 1. So, you bought the premium product, Follow-Up Emails WordPress plugin from Woocommerce, to leverage the power of Email Marketing. Well, let's examine how it delivers on its promise.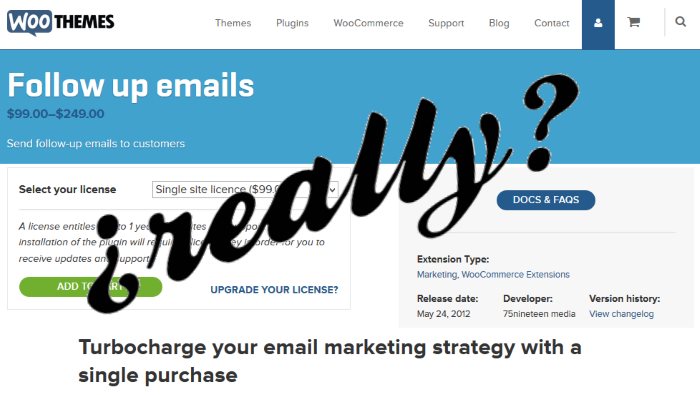 What Follow-Up Emails Plugin Is Supposed To Do
This premium plugin from Woocommerce is supposed to enable you to define and create your own customized emails that will be automatically delivered to your customer's email inbox, at defined intervals, after they complete a specific action such as finishing a quiz, making a purchase, or signing up for an account etc.
It sounds good and, for the most part, it is capable of delivering on its promise except when you really install it and start actually using it to do the job flawlessly.
You can find a great deal of documentation about its functionality and how to configure it properly here. I encourage you to read the documentation before you buy the plugin so you know how to configure it correctly.
Now, the assumption I make here, before you continue to read further, is this:
After paying for the premium features of the plugin, you want the plugin to deliver 100% on its promise, not 50%, not 60%. If some part of the plugin works and some other part doesn't, the plugin is a failure.
If you do not agree, this post is not for you. You can stop reading any further.
Subscription Related Follow-Up Emails Do Not Work
One of our clients wanted to send subscription renewal reminders to their more than 6,000 subscribers a month prior to the expiry dates of their respective subscriptions.
We bought the Woocommerce Follow-Up Emails plugin and configured it correctly; following all their documentation and anticipated things to work just out of box like a charm.
Well, nothing seemed to happen. We kept trying different things for a few days… until we figured out that the plugin wouldn't send emails to subscribers who were in the system prior to the installation of the plugin. It would send emails to only those who were signing up after the plugin was installed.
Knowing the problem, we created a support ticket to find out if we were doing something wrong and why were our emails not going to those 6000 pre-existing subscribers.
In response, here is what Woocommerce support said: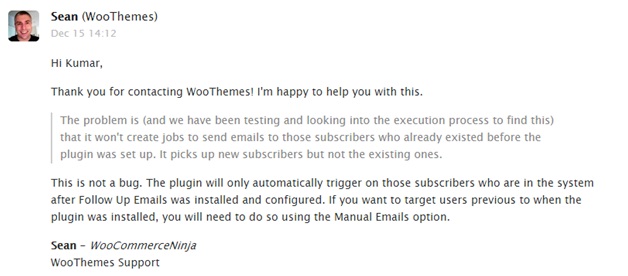 I was amazed looking at this email and the confidence with which they admit that it's true that the plugin only works for new sites correctly and those who already have subscribers, have no joy. In addition, they claim it's not a bug, although they do not make this clear anywhere on their sales pages or documentation, as if this is not an important point at all.
The truth is, most people who decide to purchase this plugin for sending follow-up emails are those who already have a set of subscribers.
How Did I Solve This Problem For My Client?
Now, I couldn't go to my client and tell them that they can't get this feature because Woocommerce has given us a plugin that doesn't do its job.
So, we created a new Follow-Up plugin, custom made with a much lighter code and even greater flexibility to deliver the results we wanted.
I am so proud of the Krishna World Wide development team who used their ingenuity and creativity to produce a plugin that does everything Woocommerce Follow-Up plugin can do, MINUS things that are unnecessary and then things that it lacks.
Now, my client's membership website sends early renewal emails to their now 8000+ existing subscribers, renewal reminder emails at different intervals for those customers whose subscriptions have already expired, and many more features.
We have technical skills within our team to solve our problems and that of our clients. We delivered on our promise to our client like we always do for all Krishna World Wide customers!
But, what concerns me is, how many people would have learned to live with the issue after spending money, simply because Woocommerce developers decided that it was not important to make the plugin actually do the work people expect it to do?
My Final Thoughts And Recommendations
If you need to send your customers an email confirmation when they purchase something, open an account, renew their subscription etc., Woocommerce plugin itself has got a good number of template emails that do a great job.
You can just customize those emails to your liking and be happy. There is no need to spend money on Follow-Up Emails plugin to override what comes out-of-box with Woocommerce.
If you have already built a subscriber base and now you need some reminder emails based on the subscriber's expiry date or triggers around subscription, know that the plugin will be pretty much useless for you since it will only work for people who will become your subscriber in future. This may NOT be what you want.
The only people who will probably benefit from this plugin are those who are just starting out to build a membership website and don't have too many subscribers to deal with.
So, if you already have an established membership website and you want such a feature, what should you do?
My recommendation is to get it custom built. Get a developer who can develop a plugin for your custom website needs and I promise you, it won't cost you a leg and an arm. For a fair and reasonable price, you can get a custom solution that will work just for you the way you want it to.
Your Turn Now, Share Your Experience
Whether or not you have a membership website, do you think it's wise to spend money on such a plugin that serves only new websites and doesn't even declare that it does so?
If you have any experience building trigger based follow-up emails for subscribers either for your website or for your customers, please share how you achieved the goal. Your answer may help a lot of people.
Thank you kindly!