If you love Windows 8, it's probably because of the beautiful touch-screen feature which has made life so much better since it became available.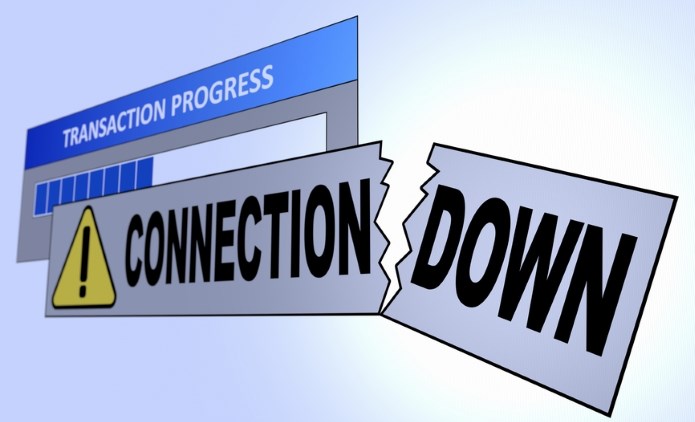 I know there are many better quality operating systems around and many people prefer Apple and Linux, even Windows 7 over Windows 8.
However, less use of the mouse is better for my fingers and Windows 8 touch screen has given me a lot of relief in that aspect. So, although not perfect, it is definitely my favorite OS at this time.
The Internet Connectivity Problem
Once in a while, you may come across a situation where your Chrome browser suddenly starts to complain saying, "This webpage is not available," while Windows 8 seems to be perfectly connected.
Then you start Firefox to see if it is an issue with the Chrome browser. But Firefox says, "This page can't be displayed."
It's the same story with Internet Explorer as well.
At this time, although the internet seems to be connected, you know that something is wrong with your Windows 8.1 that is blocking you from accessing the internet using any browser.
How To Fix This Internet Connectivity Issue
There can be many other ways to fix it. However, here is what I did to fix my connectivity issue and most probably it will fix your internet connection issues as well:
Method 1: Check Your Network Proxy Settings
Got to your Internet Settings and inspect Proxy Server configuration. For example, using Chrome, you can get to your LAN settings as shown in the screenshot below: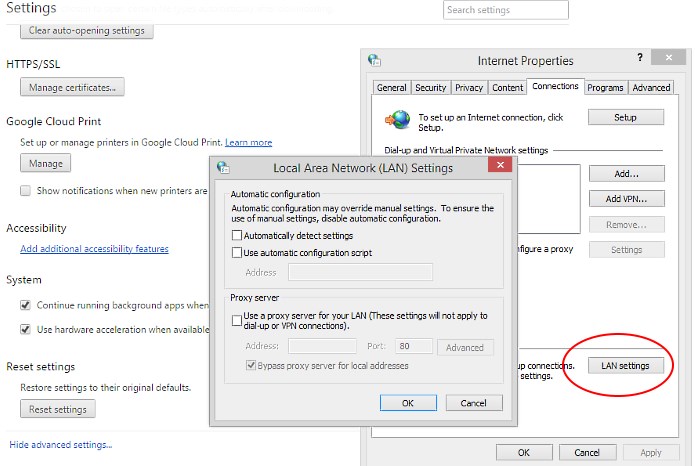 Please note that you can also get to these settings directly from your machine's "Network Settings" going through the Control Panel as well. The idea is to make sure that there is no Proxy server setup that might block you from getting connected.
Method 2: Reset Windows Socket using Winsock Utility
Windows comes with a Dynamic Link Library (DLL) called winsock.dll that implements the API and coordinates Windows programs and TCP/IP connections.
There is general information that says, "Windows Sockets may get corrupted at times as a result of which you may not be able to connect to the Internet."
To fix this problem, you will need to reset your Winsock and then restart the machine. To get this done, this is what you will need to do:
Search for CMD and open the command window as Administrator as shown in the screenshot below: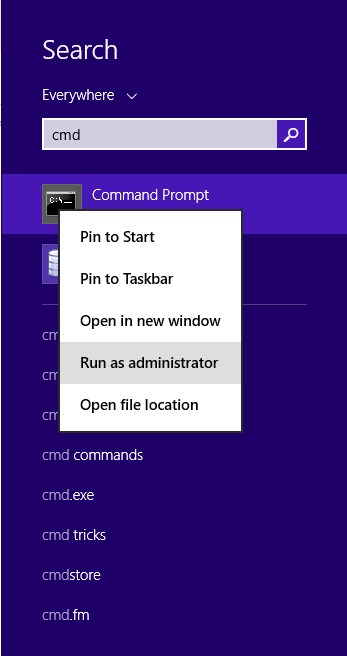 Now, at the command prompt, type the following command followed by the Enter key:
netsh winsock reset
If you'd like to generate a log file of the changes the command makes, append a logfile path to the above command. For example, your command will look like this:
netsh winsock reset  c:\MyLogFolder\winsocklog.txt
Once you press the Enter key, the system will ask you to restart your computer. Do that now and when your system gets restarted, you will see that the internet connectivity problem is gone.
That's all. Every time you get to this weird situation where the internet seems to be connected and your browser is not able to load any website page, this method will help you solve the problem 99% of the time.
Your Turn – Share Your Experience
Have you faced this type of internet connectivity issue so far? Did you use the same method as me or did you find some other way to get around this problem? Please share your experience through your comments and add value.
Thank you kindly!