The superstar motivational speaker and personal development legend, Zig Ziglar passed away on November 28th, 2012 at age 86. The sad news came along with this quote from him that has been a driving force in my life:
You can have everything in life you want, if you will just help other people get what they want. ~Zig Ziglar [tweet this]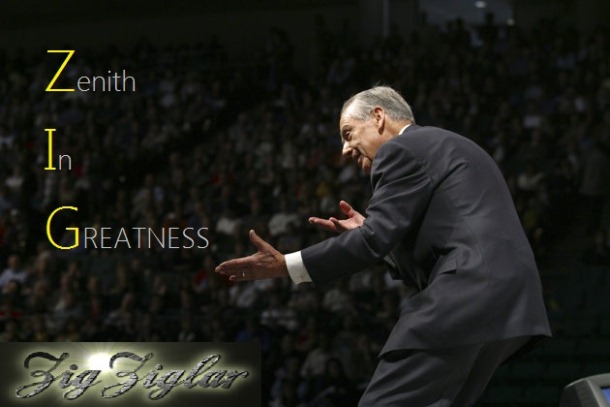 Photo courtesy of Bill Butler
He was known for his clever way with words that inspired millions of people around the world to stop looking for shortcuts to success; and instead, earn it the old-fashioned way by rolling up their sleeves and getting to work.
His book, See You at the Top: 25th Anniversary Edition has been my all-time favorite. The incredible life lessons he shared in this book have inspired people from all walks of life around the world to take charge and make a difference in their lives.
Positive thinking won't let you do anything. But it will help you do everything better than negative thinking will. ~Zig Ziglar [tweet this]
Zig Ziglar lived a difficult life. Born in 1926, he was only 6 years old when his father died leaving his mother to raise him and his 11 siblings alone during the great depression. His mother did not have much of a formal education but she worked hard and raised the children with strong moral values.
Coming from such humble background, Zig Ziglar became a global leader in the realm of positive thinking, self-improvement and motivational speaking. His life has been a tremendous success and an inspiration to millions.
Here are my favorite top 5 life lessons we all can learn from Zig Ziglar's legendary life:
A Goal Properly Set Is Halfway Reached.
Zig Ziglar's suggested this incredible 7 step process of setting goals for success in every area of our lives. Here are those 7 steps:
Identify, define your dreams and goals, and write them down.

Set the deadline because that is what makes it a Goal. Without a dealine, it's just a wish.

Identify the obstacles.

Identify the people, groups and organizations that can assist you in achieving your goals.

List down the benefits of achieving your goals.

List down the skills you need to acquire to achieve your goals.

Develop and write down a game plan to achieve your goals.
These powerful steps have helped me be on top of things and be in control of my life. For more details on these steps, I highly recommend you to get hold of the book, See You at the Top: 25th Anniversary Edition.
Don't Confuse Activity With Accomplishment.
In the video talk from Zig Ziglar I shared earlier in my post How To Reduce Stress And Increase Productivity For A High Quality Life, he talks about this in detail.
However, the message is simple, just because you are busy, doesn't mean you will achieve your goals. The only activities that are in synchronization with your dreams and goals may lead to success.
Believe In Yourself
If you do not believe in yourself, who else will? Zig Ziglar believed that self-confidence is a pre-requisite to any worthwhile success. He was so passionate on this subject that he published his audio CD by name Success and the Self-Image. I highly encourage you to listen to this life changing talk.
Be An Encourager – Help Others Succeed
Zig Ziglar believed that the surest way to achieve our dreams and goals are to help enough other people achieve their dreams and goals. He always taught that the best way to unleash our true potential is to take our eyes off ourselves and put it on others. By helping others, we actually help ourselves.
That is the reason he loved the sales profession and then eventually switched his career path to be a motivational speaker. He wanted to make a difference in the world and he achieved the goal!
Focus On Personal Growth – Be Willing to Learn
Greatest leaders are the greatest learners. They always keep an open mind to new information. They are always exploring new ways to improve themselves, their knowledge and their skills. Zig Ziglar talks in depth about personal development in his book, See You at the Top: 25th Anniversary Edition.
He not only taught these principles, but he also exemplified them through his own life. Zig Ziglar became one of the greatest motivators of our age, traveled the world, encouraging, uplifting, and inspiring audiences across the globe for more than three decades. A life well lived!
As I close, here is a Zig Ziglar Memorial Video that I highly encourage you to watch. A phenomenal video in the memory of the motivator:
[media url = "https://www.youtube.com/watch?v=510iJvmlZZk"]
Question: Have you read any of the Zig Ziglar's books, listened to his audio CD programs or attended his seminars? What do you like about his teachings the most? Please share your thoughts in the comments section.