[note background="#F0F0F0″]This is a guest post by Ness Garcia from MakeAWebsite. You can circle her on Google+. [/note]
Letting high bounce rates on your website to continue could be one of the worst things to allow for your websites. The bounce rate means that there is a reason that people keep coming to your site but then leaving too soon.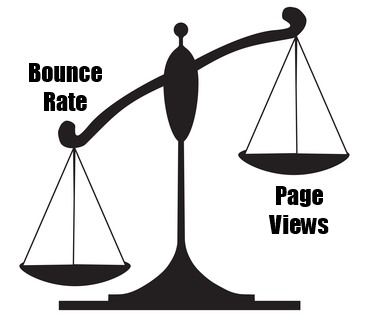 That means you have some serious work to do. If you want to keep your viewers on your site longer, you have to give them a reason to stay. They need to stay on your website for a little longer to lower down the bounce rates. So, let's take a look 5 ways that will definitely help you keep your visitors.
Your Website Design
If you createyour own site with an unattractive design, it can surely push anyone away. While not everything depends on having a professional design, it definitely can help keep users attracted to your website. This especially works if your website has a target demographic in mind. If that is the case, you can research what it is they like and then set the theme of your website to hold their attention.
Good designs also have ways of making the eyes of your viewers focus on certain areas of the site, allowing you to give them a push into looking more into your content.
There are plenty of different ways that a good design will decrease your bounce rate. Therefore, you first have to just realize that your current design isn't working too well if you have a high bounce rate. .
Internal Links And Navigation
If your visitors are scrambling around everywhere trying to figure out how to find the content they want, they are not going to be too happy. In such cases, they will most likely just leave to find a similar site that is more userfriendly.
On the other hand, if you have a better navigation throughout your site, your users will have a much better time getting to the content they want, increasing their time on your site. This is a great thing to happen for your bounce rate.
Another aspect of navigation within your site, that you should be aware of, are the internal links you have available.
Internal links are a vital part of lowering your bounce rates because they lead your viewers to other pages that are relevant and that they would probably be interested in. The more internal links you include, the easier it is for someone to find a related page they would like.
Aside from the user experience, internal links are also liked by search engines. Relevant, honest, and valuable links will help your overall site get ranked higher.
High Quality Content
If you provide your audience with a lot of content, but still see that the bounce rates are high, then you should look into the content you are providing.
There is a lot of competition nowadays when it comes to content. So you need to provide some good stuff to your audience to keep them interested in you and your content. Your audience's goals are to look at valuable content, if they can tell you are not providing it, they will go to the next website that will.
More Multimedia
Hosting a podcast, posting images, and recording videos can all help your bounce rate dramatically. People are much more attracted to multimedia naturally and this helps you keep them longer on your page. Therefore, if you are able to implement some type of media in your website, do it.
You just need to make sure that you don't put too much on one page because then you might increase the loading times of that particular page because longer page load times are not good in many ways.
If someone is trying to load your page and it is just taking too long, they will leave, which increases your bounce rate. You always want to keep your loading times to a minimum. Search engines also look highly on websites that have very low loading times.
More Engagement
If you interact with your audience more, you will have no problem keeping your audience engaged. Getting personal with your interactions will only give your viewers more reasons to come back to your site and interact with it. The more they interact with it, the less bounce rates you are going to see.
As a blogger, you should already be aware of the many benefits that come with interactions that cause engagement. If you find yourself slacking when it comes to responding to messages or comments, you should start making some time for it.
Are these the only ways to improve your bounce rate?
Absolutely not. There are other ways to help reduce the bounce rates on your blog as well, but these 5 have been proven to work and they will work for you too.
Questions: How is your bounce rate doing? If you applied any specific technique that worked well for you, would you like to share with us today?
Please share your experience (or your questions) through your comments. Thank you kindly!