When I started blogging just a couple of years ago, I did not think it was necessary to worry about the security of my WordPress Blogs or make regular backups very often. Whenever possible, I did manage to make a few backups, once in a while, using the default backup services provided by the web hosting companies.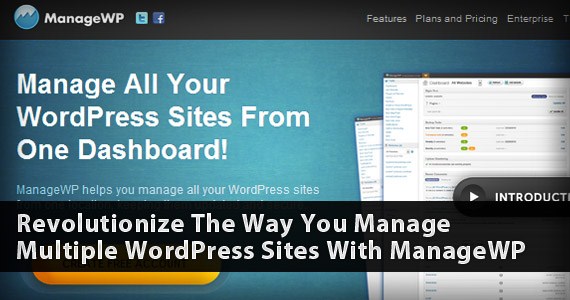 However, as my blog and online business footprint started to grow, I soon realized that it is not just about writing and publishing blog posts, but I also needed to take good care of things: like managing plugins, database optimization and even SEO improvements, wherever applicable.
I've shared about heightening of the security and loading speed of your website by leveraging CloudFlare and MaxCDN in the past. I have also shared the importance of making regular backups of your WordPress blogs along with the tools that you can leverage for that purpose. I recommend you to visit those articles in case you haven't seen them already.
But, in this post, I decided to share my experience with this awesome tool called ManageWp. It is one of the most admired additions to the WordPress Blogging world by Vladimir, who is also known for some of the popular WordPress plugins such as SEO smart link.
Introduction to ManageWP For WordPress Blogs
If you have operated and managed a WordPress blog for any length of time, you must have realized that WordPress version upgrades and plugin updates happen from time to time. We need to ensure the website is secure and performs optimally. Plus, you also need to ensure that regular backups are being made, to be safe, in case something goes wrong with your hosting server.
While that doesn't seem to be much of a headache, the problem comes when you are managing multiple WordPress blogs. Keeping them all updated, secured, optimized, and making regular backups for multiple websites may sometimes get intimidating.
ManageWP comes to rescue in situations like this and it has not just saved me several hours of work, but also provided the peace of mind knowing that my websites are being backed up regularly and I will not lose my content if something happens to my hosting server for any reason.
ManageWp is an online platform that lets you manage an unlimited number of WordPress blogs from one dashboard. It is easy to configure with your websites with step-by-step, easy-to-implement instructions.
Your WordPress Blogs Are Secure With ManageWp
ManageWp is a secure platform and they take the security of your website very seriously. You may want to check out how they manage security. I never had any issues with any of my websites since I've been using them and it has already proven to be a life saver for me a couple of times ,especially during the upgrade to WordPress 3.5.
Some Of The Main Features Of ManageWP
The best thing I like about ManageWP is the fact that their Dashboard looks very similar to the dashboards we see when we login into the admin area of our WordPress Blogs. Here are some of the additional features that are worth mentioning in this review:
Manage unlimited number of WordPress blogs from one place

Installing and upgrading of themes and plugins for all WordPress blogs from one place

Optimization of the databases of all WordPress blogs from one place

Ability to store copies of the backups on DropBox, AmazonS3 etc.

Ability to Clone your WordPress sites ( Making it extremely easy to migrate your WordPress blog from one place to another or one hosting company to another)

Check speed of your sites

Check SEO stats of your sites
There are other additional awesome features as well. However, these are some of the features that I enjoy the most.
Use ManageWp On Your WordPress Blogs For FREE
Can it get any better than that? If you are managing less than 5 WordPress websites, you can use ManageWp for absolutely free with limited functionality which is worth trying anyway.
They do offer premium plans with more features that you can try for free for a month. If you are not sure and you want to try their features, ManageWP FREE Trial Offer is the best option for you to get started. Their premium plans offer many more features and additional tools. To learn about their pricing structures and to learn more about the features of each plan, visit the ManageWP website.
I'm personally on their business plan and I am extremely happy with my investment. That is exactly why I recommend this to everybody who is managing a WordPress blog for themselves or for their clients.
Your Turn To Share
How do you manage your WordPress blog? If you are already using ManageWp, I would love to know your thoughts and feedback about this tool. Please share your thoughts in the comments by clicking here. Thank you kindly.