Have you been to a website where you simply loved a sentence, may be it was a profound statement or a quote and you instantly thought, "Wow! Let me tweet this!" and then you have to a copy paste?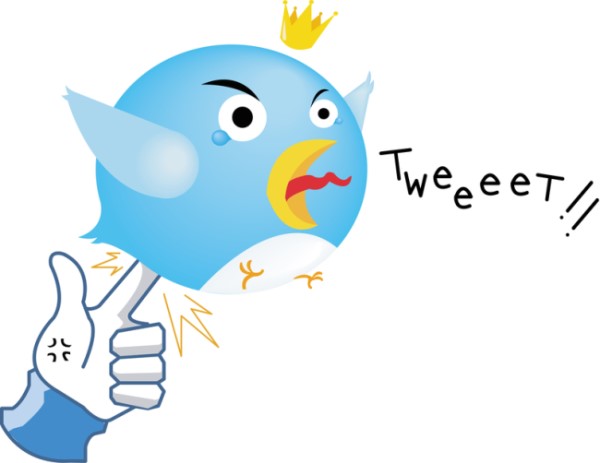 Usually, when that moment comes, you have to copy the statement, go to HootSuite or Buffer (or Twitter directly) and do the tweeting work. If you loved the statement or the picture so much, you wouldn't mind going through that effort.
Sure!
But, wouldn't it be so much nicer if you suddenly saw a button or a link that said "click here to tweet this"? I mean, that would be such a relief, right?
Bloggers Want That To Happen, But…
On the other hand, as a content marketer, don't you love when somebody tweets something you wrote and gives you the credit?
Sure you do!
But, many times, your readers find it hard to tweet your content because of the steps involved and busy readers may not have enough time to go through all those hoops to tweet something from your site.
Wouldn't it be nice if you made tweeting your content easier for your readers with a "tweet this" link so that people have to just click once to tweet what they love to tweet on your post anyway in a format that they like?
ClickToTweet Can Help
That's where ClickToTweet comes to the rescue. This is a brilliant concept where you can construct the message to tweet within 140 characters and generate a small super easy short URL to link in your "tweet this" button (or link) anywhere in your post. Here is an example of this concept implemented in one of my posts: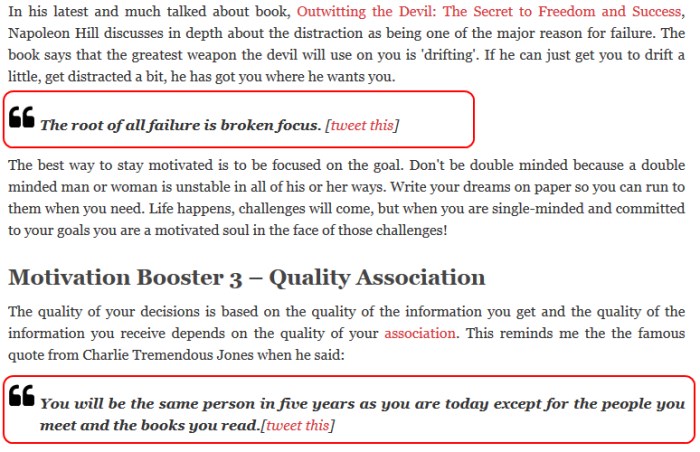 How To Use ClickToTweet.com
You can easily create such a tweetable link anywhere in your blog posts in simple steps and increase your chances of getting more tweets from your post.
Here is what you need to do:
Step 1: Decide which section of text you want to allow people to tweet. If you have a quote or a saying (as I did in my post shown above), probably you want to create a "tweet this" link for that.
Step 2: Construct a tweet and format it the way you would like it to be tweeted. For example,
Without faith, nothing is possible. With it, nothing is impossible. ~Mary Mcleod Bethune via @kgauraw http://bit.ly/1jlwoso
Step 3: Go to ClickToTweet.com and in the text box that appears (as shown in the image below), paste your tweet text. Make sure your text is less than 140 characters (preferably less than 130 characters) and then click onto the "Generate New Link" button.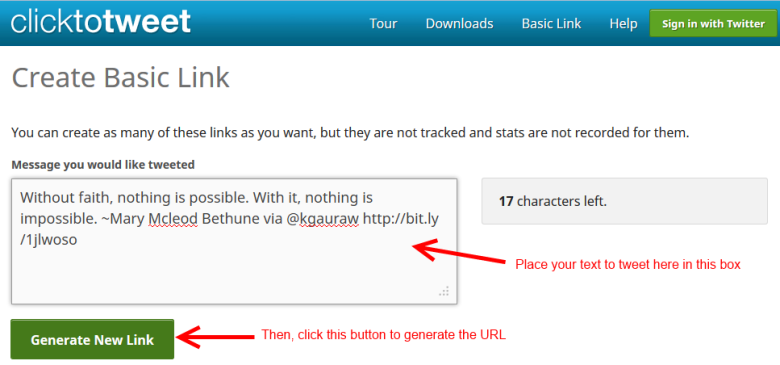 Step 4: The next screen will give you a URL that you can click to tweet your tweetable content. The URL will look something like this:
Step 5: Copy that URL and hyperlink to the "tweet this" link or button you want to provide to your readers within your post.
That's all. You are done. It is such a simple thing to do and it can benefit you tremendously in terms of getting more tweets from your posts.
ClickToTweet Now Has A WordPress Plugin Too
I have been using this service for a long time, long before they even had this URL shortener ctt.ec. But, I am pleased to see the improvement they have been consistently making in this awesome tool over last several months.
ClickToTweet now has a plugin for WordPress users to enable them to easily create tweetable content and highlight the tweetable content through beautiful "click to tweet" boxes.
If you are a WordPress blogger, install this plugin and then you will be able to create "Click To Tweet" boxes within your content right from the text editor while you are editing your content before publishing as shown below:

When you use this option, the tweetable content will be highlighted on your page in a box as shown below:

This is such an awesome feature although I prefer to use the service directly through their website simply because of my selfish reasons to keep the number of plugins down on my website. But, this plugin really does a great job. So, if the number of plugins on your WordPress is not too many, you can use this option which does a phenomenal job.
Conclusion
Clicktotweet.com makes it super easy for you to construct a tweet with any message of your choice which you can share on your blog posts.
Not just that, you can also send that URL to your friends and followers in a private message (a DM or even in an email) and request them to click the URL to tweet it. Usually people love to tweet something of value and if you just do that, you can get a lot of tweets using this tool.
Over To You – What Do You think?
Have you used ClickToTweet so far? If yes, how do you like it? Did it help you generate more tweets?
If you haven't heard about this service before, would you prefer to use the plugin or simply using their website?
Is twitter an active part of your social media strategy? How do you plan to leverage this tool in your favor?
I look forward to your thoughts in the comments. Please let me know what you think and also, if you liked what you learnt, please share this post with your friends and followers.
Thank you kindly!