Have you noticed how many people are starting their own businesses every day? The numbers are mind- blowing and obviously that's because the idea of owning a business is very fascinating as well.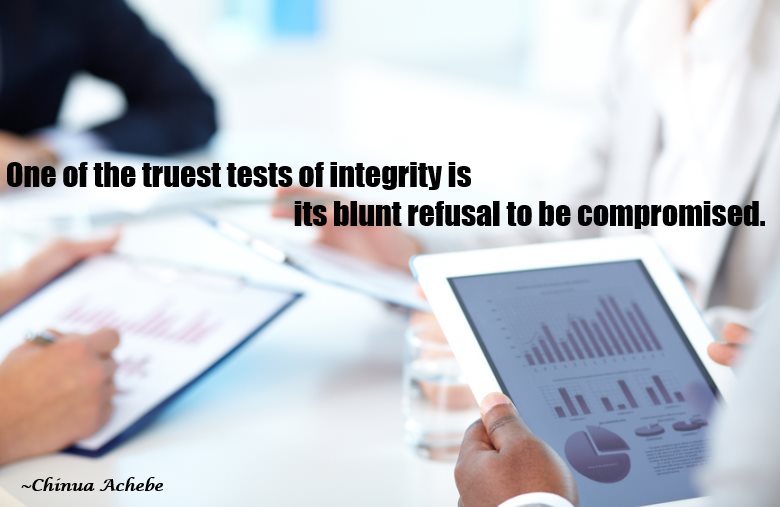 Entrepreneurship is the best thing that can happen to you and I can tell you from my personal experience. It is a way of life. Entrepreneurship is adventurous and it is the best way to succeed while serving other people in many ways.
I am an avid advocate of entrepreneurship and free enterprise myself. That is the reason I started blogging when I did so I could not just brand my business online but also help other people do the same for themselves.
Integrity Is The Most Important Thing
However, if you have a job alongside that pays your bills, the issue of integrity sometimes comes your way and if you aren't careful, it's easy to ignore integrity and go for what feels good to you.
Integrity without knowledge is weak and useless, and knowledge without integrity is dangerous and dreadful. —Samuel Johnson [tweet this]
Let's take a step back here. If you don't like your job and you are passionate about your business, you should quit your job and give all you've got to your business. That is absolutely the best thing to do. Do what you love and don't waste your life doing things you hate doing.
But, if you have a job, you want to continue with it while you are also building your business, integrity is very important and therefore, this post is for you.
Every Business Needs An Intentional Leader
I was recently in India travelling by train from Kolkata to Ranchi. Since it was an eight hour long trip, I picked up a book titled, "The Leader Who Had No Title" by Robin Sharma and I was amazed by what he shared in there.
What intrigued me the most is that many entrepreneurs who also work for somebody while building their business, seem to treat their jobs like a disease. Now, that doesn't sound very appropriate from a leadership standpoint, does it?
A contract is a contract and when you sign on the employment contract, you always have two choices after that:
Respect the contract, be enthusiastic and loyal towards your duties and perform with excitement – like a true leader.

Try to get by, barely fulfill your duties and always look for excuses, treat your job like a disease and feel like a victim.
The first choice leaves you excited, feeling empowered with a sense of accomplishment every day while the second choice (and a popular one), makes you feel like a victim, frustrated and exhausted.
The first choice is about living with a tremendous integrity and leading your life every single day while the second one is about just getting by, looking for peace somewhere else, while feeling stuck at your current place.
The first choice shows strength in your attitude which is positive, responsible and therefore, it rubs off in every other aspect of your life and helps you succeed much faster even in your other businesses. While the second choice demonstrates that you are always looking for an escape route and it shows itself off even in your other endeavors making you struggle even in other things.
Integrity Is About Being Sincere
I love the free enterprise system and this is what enables you and me to choose our professions and decide the way we spend our lives. Therefore, I love the spirit of entrepreneurship.
However, being an entrepreneur is about being a leader, taking responsibility for our actions and being sincere in our efforts in every possible way.
But I don't think I am being a leader when I am not being sincere with my responsibilities at my work when I am actually drawing salary from there.
Yes, a job is a temporary solution to a permanent financial problem (bills). But, that can't be excuse for me as a leader to run away from my responsibilities and not add value to the organization where I work.
If I am not sincere, I am not a leader. Would you agree?
Leadership Is An Attitude – You Can't Be Selective
If you think about it for a few minutes, how can you be sincere in one thing and not be sincere in another? You have only one heart, only one mind and only 24 hours a day.
How is it possible that you are frustrated and making excuses all day at your job and suddenly become a superman and be uplifting, positive and a leader for everything else? I can't imagine it's even possible!
I think that leadership is a way of life. Either you are a leader or you are not. [tweet this]
You can't play a victim in some aspect and victor at another and succeed at the same time. It's not only not the right thing to do, it's not even possible to succeed with this attitude.
Robin Sharma, in his book, "The Leader Who Had No Title", shares this principle in such a magnificent style. I was spellbound when I read the book because it talks straight at what's happening today and why we must be lead our lives no matter what kind of jobs we have.
With an attitude of gratitude towards the job you have at the moment, when you approach your workplace you are a leader.
When you remember all the good things that happen in your life because of the job you've got, you will be enthusiastic and excited to perform your duties.
When you remember to remember (intentionally) that you matter and that you will only do the right thing, you will always feel empowered at your work and in turn that attitude will help you succeed in every other area of your life including your business.
If you relate to what I have shared here, I would highly encourage you to pick up a copy of the book, "The Leader Who Had To Title" and read it cover-to-cover. You will be excited!
Zig Ziglar On Having Gratitude For Your Job
One of the thing I want to highly encourage you to do right now is – do not leave this page until you spend about 9 minutes of your time and watch this incredibly famous talk by none other than Mr. Zig Ziglar:
Your Turn – Share Your Thoughts
Having shared some of my thoughts and a few helpful resources about leadership at your work, I would like to know… What are some of your thoughts?
Please use the comment section and let me know what you think about being sincere at work and some of the tips and strategies that you can recommend on this topic. Thank you kindly!