Did you know that blogging is the best way to build your brand identity? It helps you, not just in reaching out to a maximum number of people, but it is also the most effective way to get your message out to the world.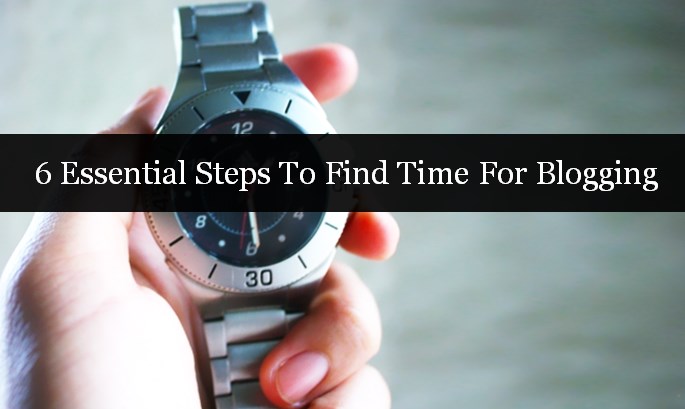 Everybody I talk to understands the value of blogging. But, the biggest challenge people have is finding time to actually do it.
Starting a blog is one thing; staying consistent, and continuing to blog regularly, is another. That is where most people give up. In fact, I have seen blogs with good community fade away because the blogger couldn't keep up.
I don't know  about you but I certainly find it overwhelming at times. There are days I just don't feel like writing and there are other times when I don't have time to write, even though I know what to write. I have been through phases where I wonder if I will be able to keep up with this responsibility.
You Can Find Time For Blogging
The good news is that I have been able to streamline the process for myself. Now I know that if I can blog at least twice a week consistently, in spite of all my commitments everyday, you can do it too!
I am going to share with you a handful of steps I took to make sure that I can stay consistent. I am confident that you can also find time and confidently blog if you follow some of today's steps.
Okay, let's get started.
1. Own Your Schedule – Be The Master
This is the big deal! The question I asked myself was, "Who is in control here?" and I knew that if I wanted to make it work, I needed to be in control of my calendar.
What I mean, is that I allocate an hour or so for blogging activities on my calendar and I respect the time allocated. That slot is my blogging slot.
It helps me reduce the pressure of writing at the last minute. This way I can avoid the feeling of being overwhelmed.
2. Maintain A List Of Potential Blogging Ideas
Although I never had this issue, one of the top reasons for people to stop writing is that they can't think of a topic to write.
If you relate to this issue, maintaining a file of blogging ideas can be very helpful. I maintain one in Evernote. I have a file where I maintain a list of potential headlines and a few details about the post I want to write against that headline.
I can go back to my file anytime, from any device from anywhere, and pick up an idea from my Evernote and start writing.
You can do the same and at least rule out this problem from your blogging life.
3. Create  An Outline – Save Time
Every successful blogger has a certain way of presenting their ideas through their blog posts. The way they start, the way they use images and/or videos and the way they close – has a certain standard.
You also want to have a certain style to your blog posts. It not only helps you save time but also brings consistency in your writing style.
Just as I recommend, I have my own guideline template for my own blog posts. The way I start my first paragraph, the placement of the first image (if there more than one,) in my blog posts, the size of every image in my posts, the way I use subheadings within my posts and the way they close, are all predefined. I follow this style and it helps me focus on content, rather than styling my blog posts.
If you are serious about your blog, you should have a general outline for your blogging. I am sure it will help you be even more confident about your writing. It will also save a lot of time for you.
4. Write On Topics You Understand
If writing the main body of your post takes more than 45 minutes, you are writing about a topic you do not fully understand. That means you are spending way too much time figuring out what to write about and not focusing on topics that you already know.
Writing on topics by researching is not a bad idea. If you have time, be my guest. However, if time is a problem (which is the topic of this post,) you might want to start writing on topics that do not require you to research.
5. Set A Deadline – Use A Timer
This is a great technique to get your creative juices flowing every time. I use this whenever I feel lazy and it works!
Before you start writing, set a goal for yourself. Set a deadline that you want to finish this blog post within 60 minutes. Don't concern yourself with proofreading, images or fonts. The goal is to finish the main post inside of an hour.
Set a timer. Every smartphone has that facility now. Use it to challenge yourself! You will be amazed how much you can accomplish within that hour. Try it. Give it a shot and amaze yourself!
6. Keep It Simple For Yourself And Your Readers
One of the reasons bloggers also struggle to stay consistent is the urge to write on complex topics with a complex style.
While that kind of writing (and I have seen some,) might satisfy your ego, it does not attract others. People already have so many complexities in their lives. They do not want to deal with one more complexity at your blog.
Not only that, complex (or advance) style of writing requires more time, more energy and an extended amount of focus from you too. Why would you want to spend your time this way if you can't keep up?
As a rule of thumb, you will be way more successful in blogging if you can dumb down your writing so that even a fifth-grader understands it. This will save you time and attract readership.
Most Importantly, Remember The Dream
None of these technique I shared will help if you are not motivated. Motivation is the fuel that drives you to take action. If your tank is empty, no matter how great skills you have, you are not going anywhere.
Therefore, it is very important for you to not only know, but to also remember, why you started blogging in the first place.
Did you start because you wanted to build your personal brand? Was it because you wanted your message to reach a maximum number of people? Was it because you wanted other people to benefit from your knowledge and experiences? What was your reason? Is this still the reason you want to blog?
Remember the dream. Your dream will motivate you to apply these principles and help you succeed.
My SlideShare Presentation On This Topic
Last week, I created a slide show on this topic first and then uploaded it on SlideShare just for fun. It was then that the thought of making it a blog post came along. So, here is a slide show I had created:
Have Some Thoughts? Share Now!
If you have been blogging for a while, you might already be applying some of the techniques I shared today. However, I want to ask you one question in the end:
What was your reason for starting your blog? Please share your thoughts and add value.
Thank you kindly!