I have shared my website hosting story on a prior occasion, where I told you how I decided to do it myself when a web developer from Bangalore asked me to pay an amount which I thought was too much for the job.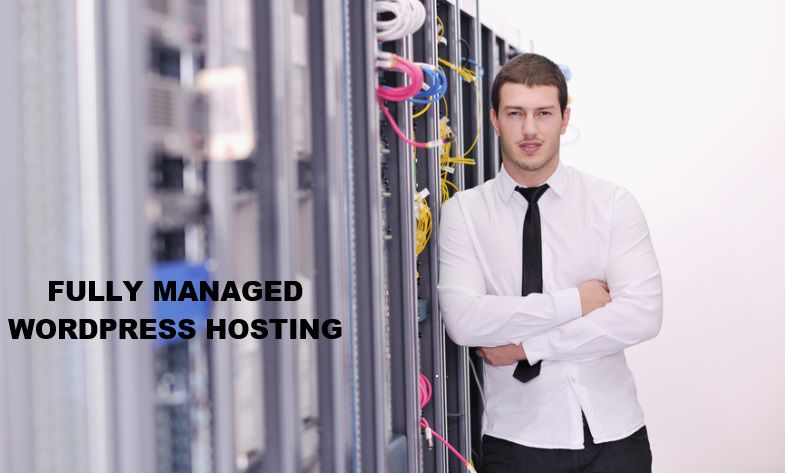 But I was an IT professional by background and I had a handle on technology in general already. So, when I started hosting my first website, as an entrepreneur, I didn't have much difficulty in catching up with WordPress.
I started by hosting my first website with GoDaddy and it was great. I didn't have any experience in SEO and therefore I had no expectations. I didn't care how much time it took to load a page and if I recall, snigdhakrishna.com used to take about 35 seconds to load. Neither Snigdha nor I cared and as a matter of fact, no one ever complained that the website was slow.
Founding Krishna World Wide Team Changed Things
As Snigdha and I became serious about starting our own enterprise, we partnered with a few exceptional people and founded Krishna World Wide Team. That is when some of our team members (these are the people who knew stuff) brought the issue of SEO and showed me how badly our websites were doing.
Since then, the change started in our approach to managing our websites. We spend a good amount of time and money fixing our websites, optimizing our websites for SEO, creating sitemaps and all those activities that we now do and recommend to our clients.
It was a huge learning curve and it was a lot of fun doing that.
As Our Needs Grew, We Kept Moving Our Sites
There was a time when I had about 12 WordPress plugins on this website and GoDaddy customer service was saying that my website was loading slow because I had too many plugins. So, I decided to move some of my websites to another web hosting provider and test it out. Turned out, 12 was not a big number for plugins.
Then I decided to try CloudFlare and it dramatically brought down my website page loading speed from 25+ seconds down to under 5 seconds. I was still not happy and my team kept trying different technologies to get better. Here is a screenshot of my current website pagespeed statistics using Pingdom (Considering the page size of 1.3 MB, I think it's good at the moment):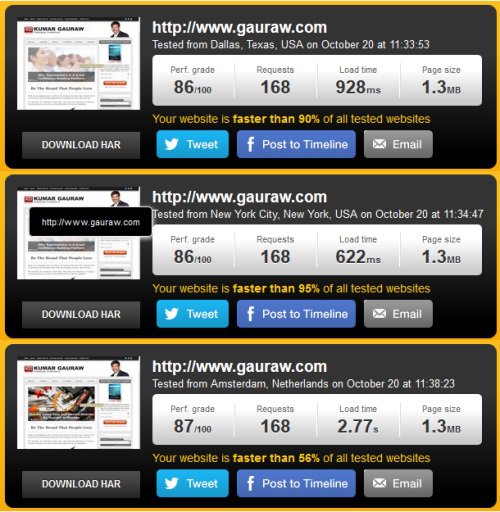 We were on shared hosting plans because I wanted to keep the costs down. We kept moving from one hosting company to another in search for the best place we could host.
Finally, I stayed for a good long period with InMotion Hosting. Their business hosting plan was really awesome for me. You may refer to my earlier post about my move to InMotion Hosting with a lot more information about that decision making process.
But earlier this year, InMotion Hosting began complaining about too much resource usage by my website. They said my website was using 200% of the allocated resources on their servers. I only had about 300-500 visitors a day at the time.
With some effort, we found out that it was because of the comment spambots who kept on invoking my wp-comments.php over and over throughout the day. Well, we resolved the issue through new .htaccess rules and tightened our security through CloudFlare to calm things down.
However, I decided that I didn't want to deal with petty issues and therefore, I should have my own server which will not go down often. I wanted my own server where nobody would shut me down without my permission.
Finally, We Moved To Managed VPS Hosting
My awesome Krishna World Wide experts helped me identify KnownHost as the winner when it comes to fully managed VPS hosting. Many online entrepreneurs highly recommend their managed VPS services as well. So, I made the move.
Since then, it has been a joy ride. With optimal web server and MySQL configuration to support WordPress efficiently, our server has never given up no matter how much traffic we get on any of our websites.
In addition, we have an auto scheduled full backups that run every night to place a copy of the backup on the cloud. The server administration team at KnownHost does a great job and more than anything else, the server administration customer support has been simply fabulous.
This is what we needed. We found a place where we could relax on the web knowing that we have full control on what goes on our machine.
Yes, it is about 10-15 times more cost than it used to be when we were on shared hosting environments. But the peace of mind is worth the money. Now we can focus on business knowing that our websites are taken care of.
Powerful Servers, Managed Services – Happy Clients
Although I didn't plan about it to begin with. However, when I saw some of my good friends struggling with their website management tasks, I offered to move their websites on my servers at a nominal cost.
Their main challenges were the same common ones that most people on shared hosting face. For example:
Website goes down every few days due to some issue for some time (and sometimes, for hours).

Some plugin breaks the website and customer support says, "We don't support WordPress or third party applications."

Website is loading extremely slow and hosting company blames on number of plugins (sometimes there may be a genuine case though).
I knew some of my good friends whose websites had grown beyond the capacity of a shared hosting account, were struggling at BlueHost and Hostgator. They would spent hours trying to figure out small-small issues only to get more frustrated and they would wonder if it was the right decision to have a website in the first place.
So,when I offered my friends and assured that they will never have to worry about these technical challenges as my team will support issues like this, they were extremely pleased to move to Krishna World Wide servers.
To my knowledge, all websites that we host, are performing extremely well and we never leave our clients alone to investigate their WordPress issues. We take responsibility and work with them to resolve their issues hand-in-hand.
We have been providing this service to people who have come through referrals so far. We wanted to make sure we are able to develop a happy customer base to test out our support capabilities before we make a public announcement about our service. But the results have been tremendously encouraging so far.
Fully Managed WordPress Hosting Public Offer Coming Soon
I have received great feedback from all my hosting clients. We are excited to know that we, the Krishna World Wide Team have made a difference and we can be even more impactful in future. Therefore, as I write this, my team is working on a plan to launch a full fledge marketing campaign to announce a well organized and Fully Managed WordPress Hosting Service offering by Krishna World Wide Team.
We intend to offer this service to the entrepreneurs who are intimidated by the technical details of running a website. This service is also for people who don't have the time or the energy to take care of day-to-day issues of WordPress and plugin upgrades, daily backups etc.
Our goal is to take your technical challenges away from you so you can focus on your strengths and build your business.
Keep watching for updates and the details will be out soon…
Have Questions Or Suggestions?
If you have any questions about website hosting or our Managed WordPress Hosting service offer, please use the comment section for asking your questions.
What are some of your challenges with web hosting services that you wish were provided by your web host? Please share some of them so I may benefit from your experience.
If you have any suggestions or thoughts, I would love to know what you think because this is how I learn. Please take time to share your thoughts through your comments and add value. Thank you kindly!