Evernote is one of those productivity tools I have come to realize as the best tool I have found so far. The more I use it, the more I admire it. The more I learn about it, the more it amazes me.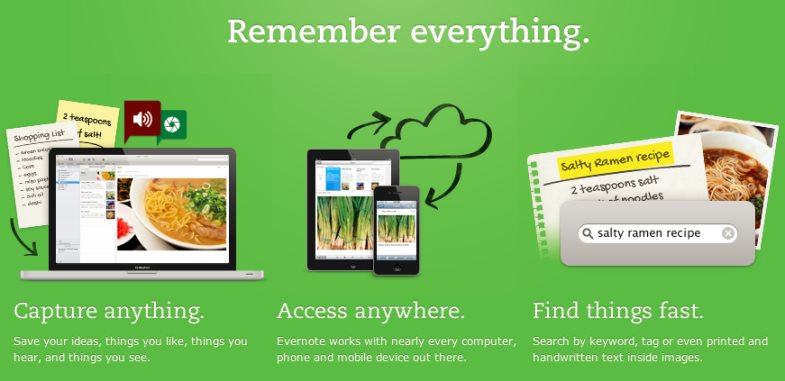 I started using Evernote a couple of years and although I should have written about it earlier, it's never too late. Besides, I am able to share way more powerful features of Evernote than I would have if I talked about it even a year ago.
If there is a tool I use more than my email and calendar, it's definitely Evernote. I even use it to feed my favorite task management software , Wunderlist at times.
Evernote All About Getting Organized
Getting organized was one of those things I used to struggle with. Using those Post-It Notes, index cards and tucking meeting notes inside notebooks, I couldn't find them later, and this had become very painful.
Remember the days when you need to refer to a note you took last year in a meeting for an important presentation and now you don't know which notebook it is in?
Evernote has solved this problem by being a one-stop solution for most of my organizational needs with its awesome notebooks that make taking notes, shopping lists, task lists and collaborating so much easier.
It's power comes from the fact that everything you store in Evernote becomes instantly searchable. Talk about having your own little search engine to find ANY information you need from your personal repository!
The Basic Structure Of Evernote
If you have been using Evernote for any period of time, you already know these probably. But I want to talk about it since this is how I organize my content in Evernote.
Establishing an organizational structure was very important to me when I began using Evernote as my productivity tool. By the way, you don't need to have a structure. But, having one definitely helps tremendously.
Here are a few basic structural elements that I incorporated in Evernote and I use them all to maximize the benefits of Evernote in my life:
Notes
In the world of Evernote, treat these as pages of a notebook although there is no limitation on how long or short the pages can be. Every time I open my Evernote to take notes about one subject, I open a new note. Simple!
Notebooks
Notebooks are collections of individual notes. Now, it makes sense, doesn't it? You can have a notebook for each subject area. You don't have to do it this way. But, creating a notebook and arranging your notes by notebooks makes it very well organized.
Tags
If you know about blogging, you know tags. Tags are keywords you can apply to any individual note. It allows you to search your notes based on tags. Also, you can view all notes with a specific tag regardless of which notebook it is in.
Stacks
These are the things that I didn't pay any attention to in the beginning. But, once the number of notebooks increased, I figured out that "stacks" are a collections of notebooks.
For example, I have a stack called "Business" which contains all my business related notebooks such as meeting notes, blogging ideas, clients, projects etc.
How You Can Use Evernote Everyday
Not so much in the beginning. But, eventually I ended up signing up for a premium account as I realized it became a need.
Now, I keep my Evernote everywhere with me on my iPhone and iPad and use the desktop version when I am working on my machine (windows version).
Here are some of the most common things for which I use Evernote, and probably it will give you some ideas too:
1. Take Meeting Notes
This is the most common ways everybody uses Evernote and I wanted to make it the top item in my list as well. This is what got me started with Evernote. It is very powerful to even record a talk while an interesting speaker is talking from stage and I am also taking text notes at the same time in the same note.
2. Take Photo Of Items While Shopping To Check Later
This is my favorite activity. While I am looking at items such as a camera lens, a book or a new electronic item which I want to buy later or check on the internet before making a buying decision, I take a picture of it and send it to my Evernote.
Later, as I come home, I can check out reviews, prices at different stores and then make my decision.
3. Store Important Contact Information
Contact information of important people such my doctor , CPA and a few other people who I don't talk with daily but I need their contact information once in a while, is there in my Evernote. This comes very handy when I am away from home and need to get in touch with them or send them some information.
4. Take Picture Of Documents
I keep a scanned copy of important documents such as receipts, discount coupons etc. that may come in handy later. Especially, discount coupons are very useful when you need them at a store later and now, you don't need to bring a paper with you.
5. Maintain A Shopping List
I figured out that I could have a shared notebook with my wife and it made my shopping so much easier. Instead of coming home, getting a physical shopping list handed over to me to again go out to bring the stuff home, I use this shopping list.
Now, the things we need to buy, get added to the list (by either of us) and whoever is outside, can check the shopping list and if there are items to be purchased, gets it and removes the item from the list.
6. Maintain A Swipe File For Blogging Ideas
As a blogger, I need to always stay ahead of my blogging schedule, right? So, I have a note in my blogging notebook only for storing blog ideas.
When a new title or a new idea comes to my mind, this is where it goes. Later, I can come back to this note and pick up an idea to start writing a blog post around.
7. Create Draft Of Blog Posts
Many times, when I am not with my laptop because I am travelling or I am waiting in my doctor's office, instead of wasting my time flipping through the magazine, I pull my iPad , pick up a blogging idea from the swipe file and start writing my blog post draft.
Many times, I have completed my entire blog post while I am still in Evernote. The next job is to only get it formatted, edited for accuracy and publish!
8. Clip Web Pages To Read Later
Whenever I come across an article on the web I want to read later (or to keep referring to it multiple times), I use the Evernote Web Clipper for Firefox and Chrome.
I add those to my "Read Later" notebook and add a tag or two to it. That way I can get to these clips with a simple search when I get to read. I also remove them later as I am done with those posts.
9. Maintain A Jokes File
Just like blogging ideas, sometimes I come across a joke or a funny picture flowing through my Facebook news feed and I want to store it for a future amusement or to show it to someone. I send those to my "Jokes Notebook" right away.
10. Maintain A Task List For My Task Manager
Sometimes, I know I need to add a task or two to Wunderlist to enter a deadline and I am still not sure when it must be done. Has this ever happened to you?
Well, all such tasks go to my "Tasks Notebook" which I review periodically and put them into Wunderlist and then remove them from the Evernote when the time is appropriate.
Helpful Resources On Evernote
I know this isn't a complete list of Evernote features, and as you get creative, you can learn way more uses for this amazing tool. In fact, if you already are using it in more ways than I have listed here, I would love to know how. Please share your experiences through your comments.
However, if you are somebody who is looking to get more information about it, here are a few awesome resources on Evernote. I hope you will find them useful:
The Evernote User Forum – The Evernote user community is large and active. It is a great place to learn about features, engage with other users in the community and help others solve problems apart from finding help in resolving your problems.
The Evernote Blog – This is the best place to hear about new updates and features if you are using Evernote seriously. This is Evernote's official blog.
Evernote Blogcast – For those who like to listen to podcasts, this is the place to be for news, tips, and tricks for Evernote users at every level.
Over To You, Share Your Thoughts
What is your experience with Evernote? If you use Evernote, how do you use it? What are some of features of Evernote that you enjoy the most?
Please share your thoughts in the comments section below. Thank you kindly!