Hootsuite or Buffer, what social media management tool is the best for my individual situation? If this is the question in your mind, probably this post is going to help. I use both and I have clients using both the tools and they are happy with both as well.

Scheduling tweets and other updates to go out to the social networking sites at pre-defined times is not just quite popular, but it is almost a need now for various reasons.
Yes, there are more sophisticated tools out there in the marketplace, but for small business owners, networking marketers, self-employed people, allocating a lot of funds for social media management is still not a priority. Hootsuite and Buffer like tools are a low cost efficient solutions and therefore popular. Both are incredibly easy to use, both are fit for purpose and both of them are highly recommended by the online community.
I am going to share some of the great features that make them a great choice. They are priced similar, they offer similar trial offers. But they both give unique experience. Here are some of the highlights: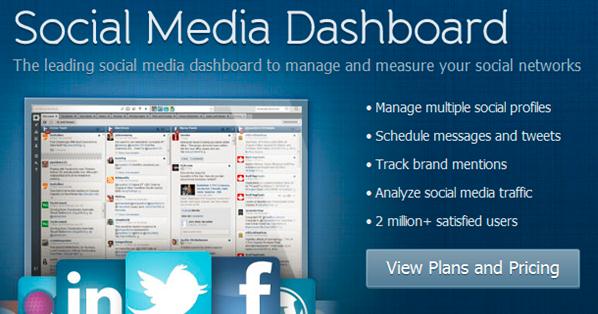 Hootsuite allows to connect up to 5 social networks with their FREE account which is really a good deal for a free account. If you need to connect more accounts, you will then need to buy their premium service.
It comes with some great scheduling features. Recently, they added a new feature to auto-schedule your posts that the tool will spread throughout the day for you if you utilize this feature. It is a solid addition to this already powerful tool.
If you prefer to schedule your tweets or status updates at your preferred timings, the tool provides a choice so you can be specific with date and time. Some people like this feature, some don't. I personally like the Auto-Scheduling feature since I let the tool decide the optimal time for my updates.
One of the best features I liked about Hootsuite is that it allows to do bulk schedule your tweets from a CSV file. Imagine you can populate your next 200 tweets in an excel sheet and the upload into the Hootsuite in 2 minutes. This is great!
With every post you schedule, you can choose to publish it to Facebook, LinkedIn, Google+ and other networks. It can also track content publishing effectiveness comprehensively due to their tight Google Analytics integration. Hootsuite is powerful — even more so when you are on their premium plan.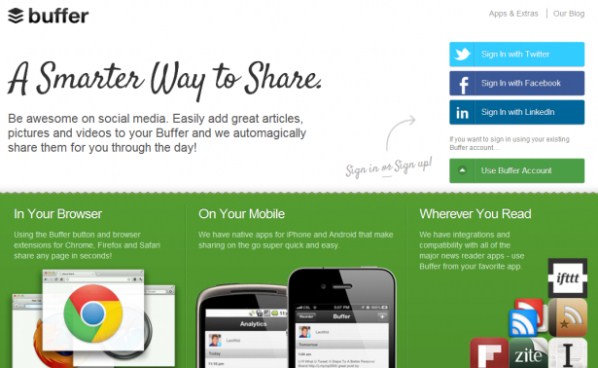 Buffer is the closest competitor to the Hootsuite, relatively new in the market that allows you to create tweets and status updates in a queue, and it publishes them out at pre-determined times of the day and week. They predefine optimal times of the day for you, but you have the choice to modify those.
Buffer automatically shortens any link you provide, as opposed to Hootsuite, where you enter the link in a separate box and click "shrink" before you can proceed. This feature makes Buffer a faster way to schedule the updates.
The third party integration of Buffer is one of the most convenient. You can use a number of different Web Apps or iPhone/iPad apps like Reeder or Flipboard that have Buffer integration built in. They offer plenty of browser-based add-ons that help with scheduling content on the go – which is a brilliant feature. I personally love these little apps and plugins and they save me a lot of time. Buffer is awesome!
With the free version of Buffer, number of updates are allowed to have only up to 10 scheduled updates in your queue at any given time. But once you go on the premium plan, they remove that restriction.
So, how do you choose the right Social Media Management tool for you?
My recommendation would be to try both of them. HootSuite and Buffer, both allow you to schedule your updates at your choice of date and time, or let the tool schedule them for you. Both charge same amount for their premium features. Trying their FREE version, is the best way to know which one works the best for you. Both offer 30 days FREE Trial on their premium service as well. Give it a shot and you will know if it is for you.
However, Hootsuite has one advantage over Buffer if that makes a difference. It has a bulk scheduling feature that allows uploading several tweets at once from a CSV file. If you like that feature, Hootsuite Premium is the only choice you have.
Question: Why do you think scheduling status updates for different social networks is important today? Are you using any Social Media Management tools?