There is only one boss – the customer. And he can fire everybody in the company from the chairman on down, simply by spending his money somewhere else. ~Sam Walton
Reading success stories and learning from successful people has been one of my obsessions over the years. I've been particularly fascinated by the success story of one of most influential men of late 20th century, Sam Walton.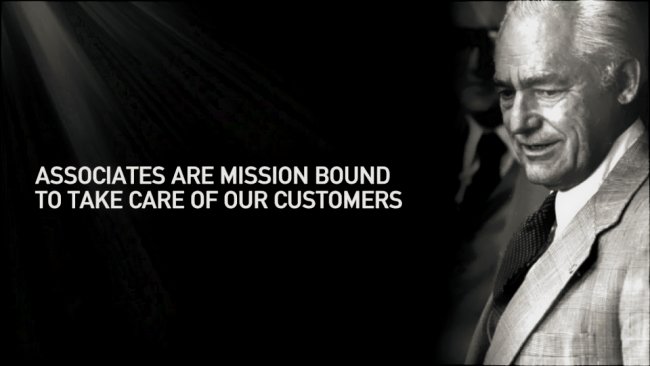 From a humble beginning, facing business challenges, learning from everyone and from failures, Sam Walton created a company that became the world's largest retailer – Wal-Mart. With just a simple idea to help others save money so they could live better, he created Wal-Mart, the #1 retailer in the world.
10 Lessons In Leadership From Sam Walton
Sam Walton was not just another businessman. He was a true visionary who created a tremendous history. I picked up a few incredible leadership lessons from his life story and I want to share them with you today.
1. Leaders Are Driven By Their Vision
This isn't something revolutionary that only Sam Walton had known. However, through his life, he exemplified the power of vision. He had a very simple but clear vision for Wal-Mart when he started and it still remains, "Everyday low prices for the American working class."
Capital isn't scarce; Vision is. ~Sam Walton [tweet this]
No matter what happened with the economy, no matter what his competitors did, he always stayed true to his vision until his death. With that vision, he offered an assurance to American consumers that if they shop at Wal-Mart, they will save money.
What he accomplished with that vision is a glorious part of the history of the retail industry.
2. Leaders Expect Great Things
Sam Walton was a man of high expectations. It is said that, right from his childhood onward, he always had a "never give up" attitude. He expected more from those he worked with and even more from himself. He believed in always delivering what he promised and a little bit more. He didn't just do it sometimes, but always.
High expectations are the key to everything. ~Sam Walton [tweet this]
He never compromised on his vision of everyday low prices for the American working class. Did he face challenges? Absolutely, and he worked even harder to meet the challenges to deliver on his promises.
3. Leaders Learn From Everyone
Sam Walton is known for remaining connected with his business at the grass-roots level until his end. He would spend time with his employees on the floor, talk to them, listen to them and even take notes. He paid attention to what they said.
The key to success is to get out into the store and listen to what the associates have to say. It's terribly important for everyone to get involved. Our best ideas come from clerks and stock-boys. ~Sam Walton
Not many people have that kind of focus and intensity. No wonder he led to the way to the incredible heights that Wal-Mart reached.
San Walton learned not just from his employees but he watched his competitors. He interviewed employees of other retailers and took notes. He worked hard to improve his business. Over the years, he collected lessons from industry experts, associations and more. He was hungry for knowledge. He took every opportunity to get that knowledge and he applied what he learned to his business.
4. Leaders Communicate Their Vision
Sam Walton knew the importance of effective communication. He created a world class organization that thrives even today, long after he is gone, through the company culture he created. Even today, walk into any Wal-Mart early in the morning and you will hear their corporate cheer that ends with "Who's number one? The customer is".
Right from the beginning of Wal-Mart, Sam Walton placed the highest importance on customers. He made sure that the mission of the company is reinforced in everybody's mind each morning. He made sure everybody in the team knows and remembers the mission before they begin the day.
5. Leaders Don't Quit, They Persevere
In 1945, Sam Walton, at the age of 27, raised $25,000 to purchase a Ben Franklin variety business in Newport, Arkansas. Through his hard work and dedication to excellence, he soon tripled his business. By 1950, he owned the leading Ben Franklin operation in a six-state region.
The landlord of the building had his eye on Walton's business. He decided to acquire the business from Sam, but Sam didn't want to sell the store. The landlord then simply refused to renew Walton's lease. Since he ran out of options, Walton was forced to sell his thriving business to the landlord for $50,000 and walk away.
An experience such as that would have caused most people to give up, but not Sam Walton. He searched the rural towns of Arkansas for a new place to do business and opened his first Five & Dime in the summer of 1950. He kept working hard, kept persevering. In 1962 Sam Walton undertook his biggest project, Wal-Mart. From that point on, he never looked back.
Speaking of perseverance, Walton once said,
I had to pick myself up and get on with it, do it all over again, only even better this time.
6. Leaders Are Risk Takers
He already was operating several Ben Franklin stores before he decided to start Wal-Mart. So he approached the company that franchised Ben Franklin stores with his idea of building big stores that discounted everything and to place them in small towns. The company directors loudly refused.
He was determined and so Walton decided to take the gamble. Mortgaging his home and borrowing to the hilt, he opened his first Wal-Mart in 1962 in Rogers, Arkansas – not far from Bentonville, Arkansas.
7. Leaders Are Humble & Relatable
Walton portrayed a humble image right up until his death. His vehicle of choice was a red 1985 Ford pickup. With his wife Helen, whom he married in 1943, he lived in the same house in Bentonville, Arkansas, since 1959.
In 1985 Forbes magazine named Walton the wealthiest man in the United States, a declaration that seemed to irritate the businessman more than anything else. "All that hullabaloo about somebody's net worth is just stupid, and it's made my life a lot more complex and difficult," he said.
8. Leaders Work Harder Than Everyone Else
Sam Walton was not one of the brightest kids on the block during his childhood. Going through school was not easy for him. It seemed like other children could make good grades very easily while he had a hard time. So he had to work hard for his good grades. The good news; he was determined. He worked harder than anybody else and became an honor student.
He just didn't work hard at school. He had many other chores to do at home and he did it all. He had to get up very early every morning to milk the cow, bottle the milk, and then deliver it to customers. Not just that, he also delivered newspapers.
That habit of working hard kept on growing no matter what he did. He worked hard to offer good service, he worked hard to keep his competition at bay. Year after year he kept his promise of keeping the prices low. More and more people began to trust him and his enterprise.
9. Leaders Have Faith In Others
He was a people encourager. He believed in people he entrusted as his associates and valued their contribution. In his own words: "Outstanding leaders go out of their way to boost the self-esteem of their personnel. If people believe in themselves, it's amazing what they can accomplish."
He would spend his time on the floor working alongside of his associates, sometimes assisting customers just like any other associate. He exemplified the adage that no work is too big or too small. His associates saw him doing that and they took pride in their job. What an incredible leadership lesson!
10. Leaders Keep Their Focus On The Goal
His vision was on providing everyday, inexpensive prices to the American working class. When Ben Franklin's board didn't agree with his idea, he went ahead and took his chances to bring his vision to reality. He worked hard to build a company that became the pinnacle of success in the retail industry.
On the way, things happened. As the company became big, it drew attention of the critics. People blamed Wal-Mart for killing local small retailers and jobs. He addressed the issues proactively and communicated his true vision of Wal-Mart. He kept his promises as long as he lived.
Use Of Technology: Sam Walton knew that the key to keeping costs down and profits up was tight inventory control. That means ordering just the right items in just the right amounts. Too much inventory meant undue expense; too little meant lost sales.
Finding a way to keep track of what was selling, what was in the stores, what was on order and what was on backorder became his focal point. As a result, Wal-Mart was one of the first major retail chains to install electronic scanners at cash registers linked to a central inventory-control computer.
Sam Walton was technology savvy and because of that, today, Wal-Mart's database is second only to the Pentagon's in capacity.
New retailers came along; competition grew and so grew the challenges. "Mr. Sam" never let the company divert from the vision of providing everyday low prices as long as he lived. Such an accomplishment requires an absolute focus and intensity on a daily basis and he made sure that it happened.
Recommended Reading
If these lessons inspire you to learn more about Sam Walton and his success story, I highly encourage you to read his autobiography, Sam Walton: Made in America.
Questions: What inspires you the most about Sam Walton's life story? Do you think that Wal-Mart, post Sam Walton, continues to be driven by the vision he set forth for the company?
Please click here to visit comments section and share your thoughts. Thank you kindly!