Social media is so irresistible that it's almost impossible to stay away from it. How many times have you come across a situation where you wanted to sign up for a new product or service and it wants you to sign up with your Facebook or Twitter account?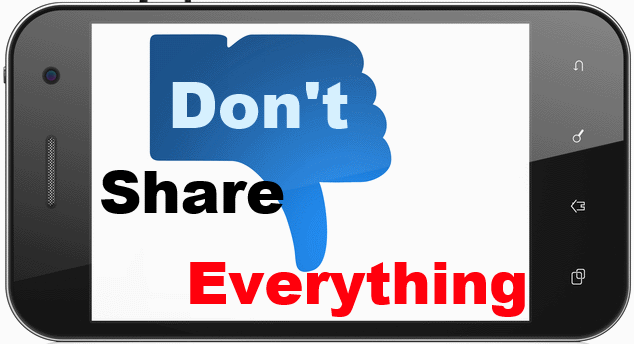 Well, social media is now integrated into our online lives.
I have friends who hate Facebook for philosophical reasons but can't get out of it because other products and services they use need them to have a Facebook account. Obviously they hate Facebook even more.
Not Using Social Media Is Not Wise
I am a very passionate advocate of using social media. In fact, social media is what got me started with this blog to begin with.
Not using social media may have many adverse effect on your career or business. I have discussed about it many times and I am not going to get into that topic right now.
But, I do want to reference following posts in case you would like to do some reading on that topic:
However, the need for a maturate mindset is becoming more and more important with regards to social media.
Effective Use Of Social Media Can Yield Spectacular Results
There are many success stories from people using social media and you can read all about it on the internet.
However, since this topic came, and although I don't like to write about politics, I would like to mention about the landslide victory of the current Prime Minister of India, Narendra Modi in the last general elections.
I did not know much about him or his charismatic personality. I didn't know about his outstanding growth model of Gujrat. I didn't even think just a year ago (and most people didn't) that he could even be a prime ministerial candidate.
But Mr. Narendra Modi didn't just lead his party to power, he created history with his landslide victory. He energized a tired nation with new hope of growth and prosperity. If you are on social media, you can easily find out, he dominated social media world in Indian politics and remains the most popular politician among about 1.3 billion people of India.
You make a Google search on his name and he is all over the web. If you know nothing about him, check out the Wikipedia page on Narendra Modi.
His landslide victory in the general elections didn't just put his party, BJP, on top. He almost eradicated some opposition parties from their own homeland. The outgoing Congress party which always dominated Indian politics post-independence, seems to now be struggling for survival.
Now, it's wrong to say that Narendra Modi's success is because of social media alone. There are many reasons for his dominance in Indian politics and popularity across the nation.
But, nobody can deny the fact that his social media dominance played an important role. Especially, to me, that's the only way I learnt about him since I hardly read newspapers or watch TV news.
If social media can fuel an election campaign in India, can it generate some decent returns of investment of time and energy for you and me?
Inappropriate Use Of Social Media Can Cause Pain
This is obviously important to understand and reasons why I wanted to write this post today. I have discussed it in the past and I would like to share some of the things I have already said about this:
1.       10 Online Activities You Should Avoid To Protect Your Brand Reputation
2.       The Challenge Of Social Networking And Our Children's Personal Brand
3.       How To Do Personal Branding The Wrong Way
Then, there are a couple of interesting posts from around the web of people getting into trouble because of their social media updates:
1.       Social media behavior could threaten your reputation, job prospects
2.       10 people who learned social media can get you fired
List Of Things You Shouldn't Share On Social Media
I hope you already have an idea about what kind of posts are not appropriate for your online reputation (unless you know like Georgia school bus driver Johnny Cook who did it for a cause as the story on CNN points out).
My rule of thumb in dealing with the online world is very simple:
Don't post online what you will not feel comfortable sharing with your neighbors and colleagues at work. [tweet this]
But I want to share a handful of specific examples of online updates you should be avoiding. So, here are those:
1. What Game You Are Playing Online
There is nothing wrong with playing online games. But, sometimes, it may have an adverse impact on your online reputation. People may perceive you as somebody who wastes a lot of time online in unproductive activities.
And inviting others to play games like Mafia Wars and Farmville? That can irritate a lot of people (me included). I will mute updates from you if I get an online game invite from you.
2. Inappropriate Party Photos
Posting pictures from a party isn't such a bad idea. But, it can ruin your online reputation if pictures posted are inappropriate.
If you won't feel proud showing that picture to somebody you respect, don't post it on Facebook and Twitter. It will only harm your reputation and I can't imagine what good it can bring except a moment of ignorant excitement while posting.
3. Complaints About Your Job Or Boss
This is not only dangerous for your employment but also inappropriate. If you don't like somebody in your life, talk to them in person. Posting about them online is the same as talking behind their back which is just wrong.
If you don't like your job, do something about it rather than posting on Facebook about it. Your friends on Facebook will LIKE your problems but they can't solve it for you.
4. Pictures Of Your Outdoor Activity When You Called In Sick
If you called in sick at work, do not post on Facebook that you went out to Las Vegas and had a lot of fun in a Casino there. It can get you fired.
Don't think that nobody at your work is online and nobody will notice. Well, if they don't notice, you may escape the consequence of your lie and go undetected. But, do you really want to take that chance?
5. Your Family Affair And Issues
This is similar to the point number 3. Don't upload your problems on Facebook because people may only LIKE them. They won't solve it for you.
Besides, it only reveals your personal affairs to the public and may complicate your issues further. People who you share information about may not like it. Others may try to exploit the situation to your disadvantage, and so on.
What we used to post online a few years ago wasn't taken this seriously back then. But today, the story is different.
Be careful what you post about your family, especially when your online activities are more and more being taken as facts in the real world.
6. Your Holiday Plans
If you reveal your holiday plans, you can possibly endanger yourself and your family in some situations (of course it is a subjective matter and you need to make your own judgments.)
For example, if you reveal that you are going to be out of town between two dates, you may invite burglars to your property if they figure out nobody is going to be home. This is just an example.
There may be other dangers, too, depending on where you live and where you are going. I leave it up to your imagination.
7. Your Financial Situation
Unless you are doing it to inspire somebody, I don't see a reason for sharing about your financial wins on social media. Things like, "Dollars are raining while I am sleeping" and "May paypal balance increased by $120 while I was still sleeping" only show that you are still small and struggling.
What if you are going through financial challenges? I would refrain from posting anything about it online because it can, most probably, only complicate matters for you. Just don't share your problems with the social media world. They won't solve it online.
8. Your Passion For Dangerous Sports
This is especially important if you live in the USA. Your risky behavior and passion for risk taking can cost you.
If your insurance companies figure out your love for dangerous sports such as skydiving, they might raise your premium.
9. Frequent Postings About Your Health Challenges
This danger is also true in case you have a habit of posting every life event (especially problems) online.
If you post frequently about your illnesses or injuries, it only increases your chances of paying higher premiums for your health insurance next time.
Besides, what goes online, remains online forever. Do you want to take that risk?
10. Your Personal Details & That Of Your Children
Do not share your phone number, your home address, your date of birth and sensitive information of that nature on Facebook/Twitter/Google+ or places of that nature online. You endanger everybody at your home by doing that.
Oh and never ever share your children's school details online. In fact, reduce your posts about your children as much as possible. Where your children are concerned, the less you post, the better off you are.
Your Turn – Did I Miss Something?
Do you want to add a thing or two to this list? Please share your thoughts in comments below. Thank you kindly!