Everybody seems to talk of "To-Do-List" and I had shared about it earlier when I shared how I manage my list as well.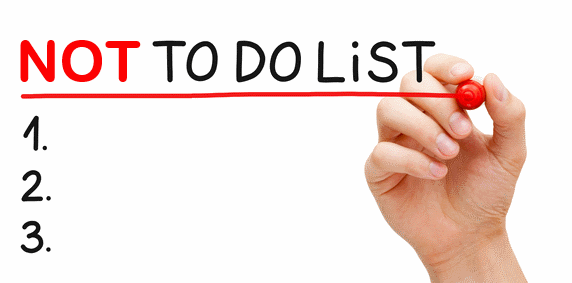 However, having a "Not-To-Do" list is equally important, if not more so, because I have been in situations recently where there are more things lined up for me to act upon while I am not yet done with my current task at hand. Situations like this bring frustration.
What I noticed with experience is, as we get better at doing our work effectively, we also attract more and more attention from others and that means more assignments.

If you have been employed, you know it's true because the more you quality you deliver, the more is expected of you.
If you have a business, you would have noticed, the more happy your existing customers, the more new clients you get. That means more work for you.
While more work usually means growth, it also means that our time is limited and if we aren't wise about managing our time, success may bring more frustrations than happiness. It is true for everybody.
As Our Responsibilities Grow, Our Priorities Should Change
Nothing is constant in life. Our responsibilities change as we age, as we get promotions, and as our businesses grow.
We must also adjust our priorities and exclude a few activities while adding some new ones into our schedule to stay productive and effective.
And a "Not-To-Do" list is an important aspect of being productive. I realized I must not do a few things while I must do a few other things I never did before, as my priorities change from time to time.
And today, I want to share with you a few things that I decided to put in my "Not-To-Do" list recently. Hopefully, you will find them useful and implement some of them in your "Not-To-Do" list to stay productive:
1. Do Not Read/Watch News
If a news is worth knowing, somebody tells me about it and then I can make a Google search about it to just learn enough about it.
Why waste time reading news everyday when I know that the news is rarely any positive? Why should I waste my time filling my mind with negativity in the name of current affairs?
2. Do Not Underestimate Value Of Time
It happened recently when I blocked my time for a meeting clearing an hour in my calendar for a meeting with a prospective client. Well, the call did happen but only to postpone for future due to another appointment that seemed more important to this person.
Well, lessons learnt. I won't let anybody ruin my calendar again. If anybody does it again, they don't get another appointment from me going forward.
Why? Because my time on this earth is limited and I must make sure my life isn't wasted waiting for nothing.
3. Do Not Be Afraid To Speak The Truth
When you speak the truth, you don't have to remember anything. Yes, it can be a bit bitter at times, but, it brings more happiness in the long run when compared with short term pleasures that the lies bring.
4. Do Not Answer Calls From Unknown Numbers
If it's important, they will leave a voice message. If not, why bother anyway?
5. Do Not Wait For The Perfect Time To Act
The best time to plant a tree was 20 years ago. The second best time is now.   [tweet this]
There are no guarantees in life. If something sounds good and there is an opportunity to take action now, act now. You never know what's coming tomorrow. Don't wait for the perfect time; it doesn't exist.
6. Do Not Try To Do Everything Yourself
This one is a big one for me. It takes conscious effort every time because it's hard for me to convince myself that somebody else can do the same thing as good as I can (if not better.)
But, believing in others and empowering them to take over, has been one of the most rewarding decisions I have ever made. Try not doing everything by yourself because you won't be able to.
You can't do everything by yourself and also stay happy and succeed. It's much easier if you let others help you.
7. Do Not Get Hung Up On Details
I am a bottom line who tends to leave details to somebody else. At home, my wife does a great job when it comes to details and in business, I have very detailed people in my team to help me with that.
However, I have noticed that, sometimes, if I don't take control, the discussions on details can kill a lot of time without getting anything done.
So, you always have to keep a tab on yourself if you are a detailed person or, make sure your team isn't wasting a lot of time because they are very detail oriented.
Your Turn – What Do You Have In Your List?
Having seen my "Not-To-Do" list, do you have some of your favorite items to put in this list?
Did I jog your memory a bit?
Please share your thoughts about your list of "Not-To-Do" items in your comments and add value. Thank you kindly!