A few weeks ago, one of my friends came with his family to visit us over a weekend from Irving,TX. They stayed overnight with us and we had a great time cooking, watching movies and just talking about various things.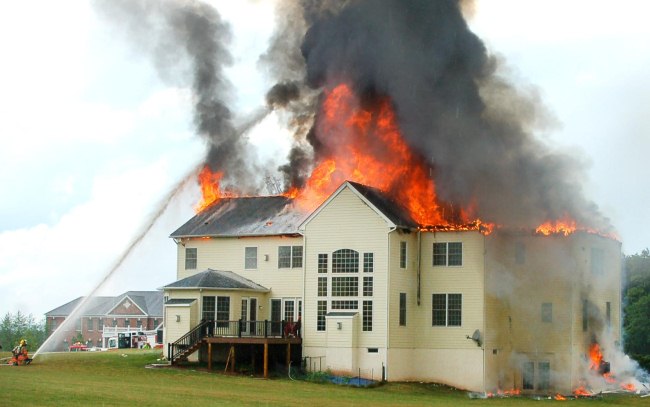 As they returned to their apartment community the next day, they discovered that there had been a fire in their neighborhood during that night and two or three buildings around their building had turned into ashes. They just got lucky as their building was still standing and so their belongings were safe.
I had never paid much attention to house fire situations before (I just never had any interest in the subject). But that incident got me curious about the causes of house fire, the fire alarm systems and the process around fire prevention. So, I decided to share a few things I have recently learnt about fire alarm systems with you today.
By the way, I have a continued love-hate relationship with smoke detectors (a type of fire alarm systems) since I first got introduced to them. My tussle with smoke detectors started the day I came to the United States several years ago and when it started to buzz whenver I entered kitchen.
The smoke detectors don't seem to like the way we cook our Indian food. Our cooking method simply produces smoke sometimes and as soon as that happens, the smoke detector goes off scaring my boys instantly.
And to add to the trouble, during my stay in Frisco, our smoke detectors would go off all by themselves at midnight (sometimes at 2 or 3 AM) while everybody is asleep, play for about 15-20 seconds and then stop automatically. That went on for several weeks arbitarily with no idea why it was happening. Later, we figured there was some kind of mechanical fault in the fire alarm system.
Yet as I study more, I still think it's a good thing to have in the home. In spite of all the heartache I have had with it, I still think that it simply can be a life saver. Therefore, I invested a good portion of time in recent weeks to learn about fire alarm systems, their types and their functionality.
And now, let me share with you what I found out about the fire alarm systems and how they function:
Types Of Fire Alarm Systems
Depending on the need and the place, there are different types of fire alarm systems that can be installed. Here are some of the most common type of the detectors:
Heat Detectors
As the name suggests, these detectors are the type of fire alarm systems that are best suited for environments where a fire is likely to produce heat and very thick smoke. These type of detectors have two temperature-sensitive elements known as thermistors. One thermistor is in contact with the surrounding air while the other is enclosed.
When the air temperature rises above a certain threshold, the exposed thermistor's resistance to electric current decreases. That allows electric current to flow through the thermistor and sound the alarm.
Photoelectric Smoke Detectors
Photoelectric light smoke detectors employ a light source and a light sensitive device. When smoke particles block the light beam, the light sensitive device identifies the reduction in light and it modifies its output. The change in output is sensed by the detector's circuitry and when the pre-set threshold is passed, the detector sounds the alarm.
Photoelectric detectors are a type of fire alarm systems that are most effective for fires that generate visible smoke. These are one of the popular smoke detectors used in homes in the US.
Ionization Smoke Detectors
This is the detector that is notorious for giving false alarms. A typical ionization smoke detector typically consists of two plates in close proximity to each other and a radioactive source (typically, this consists of a very small quantity of radioactive element Americium-241). Both plates are connected with a battery, which applies voltage to the plates.
When smoke enters this chamber, it interacts with the ions so the current ceases to flow. A microchip registers the drop in current and sounds an alarm. These kinds of systems are very effective at detecting small smoke particles including the ones that are so small that they may even be invisible. But are these detectors are not very effective at sensing dense smoke.
These smoke detectors are popular as well and many experts recommend to use these detectors along with the photoelectric detectors for safely being able to detect any kind of fire threat.
Resources For More Information
Here are a few useful links to some resourceful websites where you can get more information about such systems:
Questions: What type of fire alarm system do you use in your home? What type of fire alarm system do you recommend? Please share your knowledge in the comments by clicking here.
Thank you kindly!