The success of your email marketing depends on how many people open your email. Obviously there is no point in sending emails to those who don't even open your emails, right?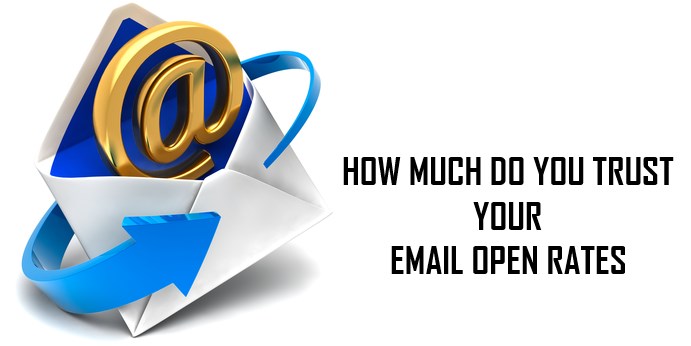 Email open rates seem to be an important metric for many internet marketers. In fact, I have been very diligently following email open rates for a long time.
But, it changed after my friend and a fellow entrepreneur, Adrian Jock helped me understand this correctly.
His post helped me understand this concept and then I did my own little experiment to test the theory. The results were inline with what I had thought.
I am going to get into this subject just in a minute. However, let's understand what is an email open rate from a layman's perspective.
What Is An Email Open Rate?
Email open rate is a measurement of how many people on your email list open a particular email. The email open rate is usually shown in percentage.
It is calculated it using the following formula:


How Email Open Rates Are Measured
When you send an email using your email service (it doesn't matter which company you use for your list building – they all do the same thing,) a piece of code is added to your email. That piece of code requests a tiny, invisible image from your email company's web servers as soon as the email is opened.
So,when a reader opens your email, that tiny, invisible image is downloaded causing your email service provider to record one open for that specific email.
Later, when you go to check your email open rates, this is the way your numbers are calculated. When you check how many people are not opening your emails for a period of time, this is the logic your email company uses to show that number to you.
This Is Where The Problem Comes In
As Adrian points out, there are many circumstances that can cause that tiny, invisible image to not load. For example:
When your subscriber is using email client software and is not connected to the internet when the email was open. No request will be sent. No open will be recorded.
When your subscriber's default settings aren't changed to download images. Even though he/she may still read your emails, an email open is not recorded because that image was blocked by the web client.
When a subscriber is using a smartphone, either the images are downloaded by default or blocked by the email App. In either case, the open rate can't be trusted as true.
Now, if you are depending on this open rate for your email marketing decision making, you might be making incorrect decisions.
Email open rates based on this logic are flawed and cannot be trusted.
My Email Experiment Tested This Theory
Sometime ago, there was a news that Yahoo was going to delete accounts that were not active and release those email addresses to the public again.
I didn't care to investigate if this was really true or not. But, I took this opportunity to clean my mailing list a bit by riding on this wave.
So, I filtered out all the subscribers in my mailing list which were using Yahoo email addresses and who had not opened my emails in the last 6 months (at that time) at least.
I sent an email to all those people with an ultimatum that if they do not respond to my email within 48 hours, I will have to delete their email addresses because I will assume that they aren't reading my emails anyway.
Even after 10 days, the open rate on that email remained 0%. No open was recorded whatsoever!
However, about 60% of those people responded within 36 hours asking not to be removed from my list as they were reading my emails. They were surprised to know that I was thinking they are not reading my emails.
Right then I knew that I can't rely on the open rates provided by my email service provider (Aweber in my case.) Others have reported a similar situation with other email marketing companies as well.
How I Track My Email Subscribers Now
Although I can't be sure if I still get 100% accuracy, I changed my strategy to depend on the click through rates more than the open rates.
I do not send my entire blog posts in my blog broadcasts as I used to do before. Now, my subscribers need to click on the link to my post to be able to read the complete article. This strategy helps me with three things:
People who couldn't comment because they read the whole post in the email itself and felt lazy towards commenting or even sharing the post on social media, get an opportunity to do so more often since they have to be on my website to read the article anyway.
Those who still feel lazy, never get to read my blog posts. They don't get something for nothing now.
Those who click on the link to get to my website, get tracked and I know who are my loyal readers.
Strategy For Removing Inactive Subscribers
So, if you have been using email open rates as your strategy to remove subscribers from your email list, it may be the time to rethink your strategy. You may be deleting genuine subscribers.
The best thing to do is to periodically identify people who have not clicked on any links in any of your emails. Then, send them an email asking if they are getting your emails and if they would like to continue being in your list.
If they don't respond in a reasonable period of time, it may be a time to remove them. The rest will continue to be part of your active mailing list.
Your Turn – Share Your Thoughts
How do you measure your email open rates? What logic do you use to clean your mailing list?
Please share your thoughts and add value. Thank you kindly!