We get a lot of different types of email every day. These emails include messages from friends, social notifications (from Facebook, Twitter, Google+ etc.), deals and offers, confirmations and receipts, and much more.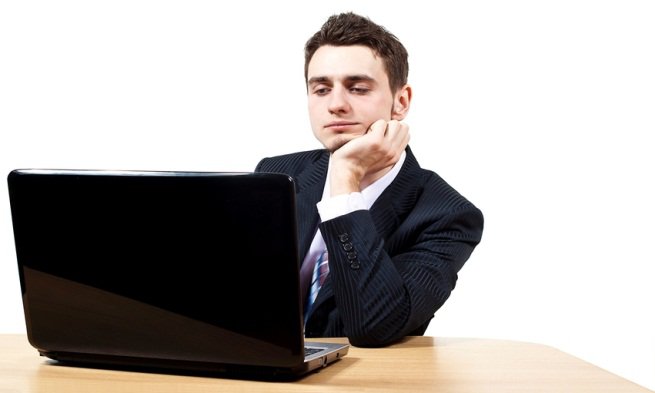 We also get a lot of SPAM everyday, which most email providers automatically filter and place into the designated SPAM folder. Gmail, the most popular free email service provider does a good job of that. Most of us have a Gmail account and we love it.
Gmail keeps making enhancements and, more or less, we have adjusted to new changes and learned to manage our emails. But this time, Gmail has introduced a major change that may hurt you (and me) more than it is supposed to help.
Google Is Changing Gmail Once Again
Gmail launched a new inbox at the end of May, which has been gradually rolled out across desktop and mobile throughout the month of June and July. This new inbox provides a tabbed layout which automatically places emails into folders dependent on their content. The inboxes are pre-set with five folders:
Primary

Social

Promotional

Forums

Updates
Gmail automatically places your old and new emails under the tab it thinks most appropriate for that email. Seems like a good feature at first, especially with regard to email organization.
The Primary tab, at a basic level, contains all emails sent by an individual. The Social tab is supposed to contain emails from companies such as Facebook, Twitter, Google etc. The Promotional tab is supposed to contain promotional emails. All good so far.
By the way, your SPAM folder is no more visible unless you hover over the navigation bar on the left hand side and click more. That means, the spam folder isn't available in front of your eyes anymore and many times you will not even realize you have one.
Problems With Gmail's New Redesigned Look
While this is a move by Google to give a better user experience, this new redesigned look lacks the ability to make our experience better. In fact, it has made the experience more complex than it should be. Just to list, here are the inconveniences this new look of Gmail is causing as I write this post:
1. Limited And Predefined Tabs Have No Flexibility
The number of tabs you can have are only 5. That means your emails will have to go in one of those predefined categories, even if you don't like a classification.
For example, you may not want your credit card statement to be categorized as "Updates". You may want a new tab such as "Finance". But unfortunately, you don't have the ability to create those tabs and you have to live within these limitations.
2. The Filtering Mechanism Is Highly Inefficient
Even within these 5 tabs, Gmail is doing a bad job of classification. For example, it will place the same category of emails from two different sources in two different tabs. I checked my inbox and saw several examples of inconsistent classifications of my mails. For example:
Primary tab contains affiliate promotion emails as shown in the screenshot below (of my Gmail inbox):

Promotions tab contains important emails, important educational subscriptions and booking confirmations (as shown in the screenshot below):

Booking confirmations, bank statements and even some important bills are placed in the Updates. This is totally unacceptable. I would never want to place my bills into update folder, would you?
These classification tabs are more distracting than they are helpful. Imagine that you've missed making a payment because you forgot to check your Updates tab (and then pay a penalty because Gmail caused this).
Imagine you forgot to attend your friend's son's first birthday party because Gmail told you that an Evite invite email is a promotion.
Imagine you did not know that the timing of your flight was changed (or your flight got cancelled) before leaving for the airport simply because Gmail thought that an email from your airline was a promotion.
These are some serious problems which I don't want to have because I don't think Gmail is smart enough to know what is important to me and what is not that important. I would rather classify my emails in my way (which I already do).
3. Gmail Is Marking My Emails To You As Promotion
If you have the new Gmail inbox enabled, you are not even going to get my emails delivered to you and if you are getting them, probably they are ending up in your Promotion tab. That means, you will not be able to get my blog updates in real time.
This is absurd. Don't you think?
Do you think marking my blog updates as promotional email is fair? Do you think getting "The Secret Scroll" (which I look forward to everyday), a blog update from people like Neil Patel, Michael Hyatt, John Maxwell or Bob Burg can be regarded as Promotion? I love their posts and learn from them. This just doesn't make any sense!
These are the reasons I decided not only to disregard this new Gmail feature and stay with the classic Gmail look but also to write this blog post to let you know what you are getting into if you are accepting this new Gmail look for your inbox.
What To Do So New Gmail Look Doesn't Hurt You
Here are two options for you if you want to take control of what gets classified as what. Of course I prefer to go with the first option because I like to have total control. But you can choose from any of these options based on what you feel the best for you:
Option 1: Disable Tabbed Display Altogether
If you are like me and want to control your mailbox your way, all you have to do is, just click on the PLUS Sign (+) adjacent to the last tab. As soon as you click, a popup window will come showing you all the tabs that you are allowed to have or disable as shown in the image below: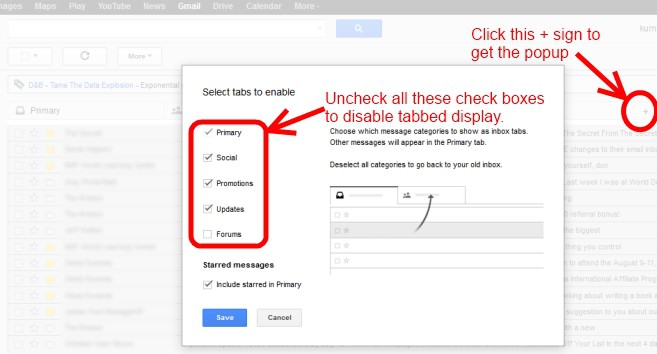 As shown in the image, uncheck all the tabs and you will get back to your normal Gmail look and save yourself from future troubles.
Option 2: Bring Individual Senders Into Primary Tab Manually
If you want to keep tabs because you like them still, but you're worried about missing out on valuable emails that you don't want to miss (like updates from me like this), follow these little steps:
Step 1: Go to the Promotions/Updates/Social Tabs (My emails will be mostly in the Promotions tab) as shown in the image below and find an email from the sender (In my case, search emails from me):

Step 2: Now, simply using your mouse, drag one of the emails from the sender into your Primary Tab (If you don't want to miss out my emails, do this step using any one email from me).
Step 3: As soon as you move the email into the Primary tab, Gmail will display a message like this:

When this message comes, click on 'Yes'. That's all and hence forth, all the messages from this sender (in this case my emails) will be delivered into your Primary inbox.
Over To You, Answer This Question For Me
What do you think of this new Gmail Redesign? Do you think it is a smart to let a set of algorithms decide what is important for you and what is not? Or do you like the way it was before?
Please share your thoughts in the comments by clicking here.
Also, will you share this with others?
I believe, the only way to maintain tight communication with people who matter to us and to those for whom we matter is to educate them of what is happening. When we have control over our inboxes, we have better control on our communication with others.
If you run a blog and you have subscribers who love reading your emails, (or know someone that runs an email newsletter), will you share this post with them and help them (and yourself) with this alert?
Thank you kindly!