Understanding Twitter is a challenge that many struggle with (I know I did for a long time). Many entrepreneurs fail to understand Twitter, fumble for some time trying to get followers and then fade away.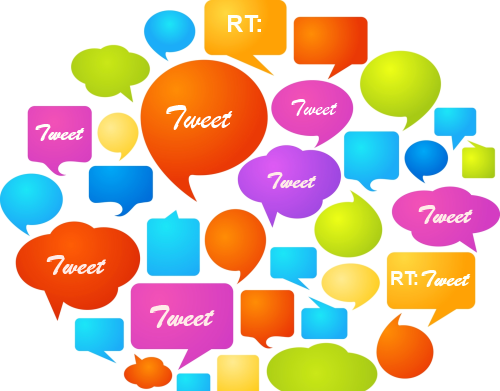 I meet people everyday who wonder if Twitter is really worth their time and they can't figure out why this thing is so popular when it is so hard for them. At the same time, I also see many others who are on Twitter wasting their time all day long.
If you fall in any of these two categories, you need to go through this post. My goal today is to help you learn some Twitter basics and the best practices.
Twitter Is Like An Open Networking Forum
Twitter is a social media platform and it is a popular one. That much you and I both know. Twitter allows you to write your updates within 140 characters and we call it a "tweet". We also know that.

However, the problem is, everyone seems to be tweeting while nobody seems to pay any attention to what other people are saying and that is a very frustrating experience for many. If you feel that way, you are not alone.
The way I like to explain it is to think of Twitter like an open networking event. Imagine you walk into a room full of people (thousands of them). Then you notice that everybody is saying something very loud at the same time and nobody is paying any attention to what others have to say. Most people on Twitter, do the exact same thing. Most people come to Twitter to tweet something (even worse, automatically schedule tweets every few minutes) and never bother to respond to anybody or pay attention to anybody else's tweet.
Needless to say, in such a messy situation, if you are the one who takes time to pay attention to somebody you want to connect with, you will be much appreciated. And when you are appreciated, everybody else gets to know you because remember, you are still in the open networking forum where everybody is shouting.
When you understand that scenario, you will go to Twitter to pay attention and say hello to somebody, respond to somebody, appreciate somebody and build relationships. When you use Twitter for that purpose, you will win every day.
How To Gain More Followers & More Business
There are many schools of thought as to what should be done and what should not be done to be effective on Twitter. Every strategy has its merits and demerits.
However, Twitter is just a social media platform with its own features and limitations. So, as a general rule of thumb, you shouldn't do anything on Twitter which you wouldn't be comfortable doing in public. You shouldn't tweet something which you wouldn't say in public places because everything you say on Twitter is public information.
Twitter is a great conversation forum. You can start a dialogue with anybody and truly that is the power for which Twitter is known. And the more conversations you can start and engage in, the more popularity you receive and in return the more following you begin to garner.
Let's some of the basic best practices of Twitter you can employ to enjoy your Twitter experience, engage others in conversation, gain more followers and grow your business.
1. Don't Look For Shortcuts And Tricks
It isn't a good idea to use some kind of automated tool or apply tricks to have a bloated follower count. First of all, Twitter knows about those tricks and they are constantly removing fake users, fake followers and they may even block your account if you are caught doing it. I am sure you understand it is their system and you and I can't possibly keep messing with their system for a long time.
When you are genuinely interested in what other genuine and credible people on Twitter are saying, you will have opportunity to engage with them. When you engage with them, you get noticed and then you begin to get following. That is a much better approach then trying to fake followers.
2. Don't SPAM People With Your Offers
Learning twitter basics isn't that difficult. You just have to remember not to do things online that you wouldn't do in real life in public places.
Essentially, you should refrain from tweeting excessively with your business offers or capture pages. You should also refrain from sending direct messages to others with your offers. If you do not pay attention to these things, you will be considered a spammer and it will only damage your credibility.
3. Create Valuable Content And Tweet
The best Twitter basics are to study the top influencers in your subject area. Follow them, listen to what they are saying. Watch their way of engaging with their audience. You will learn a lot by just observing them tweet.
The influential people on Twitter send out only valuable content with an intention to help their followers with something. If you want to attract followers, tweet value. When you tweet valuable content, you become valuable and soon you will begin to garner a following.
Tweeting your blog posts, videos, podcasts and newsletters directed to your target audience on Twitter can help you attract more hungry individuals to your Twitter stream. People love quotes as well. So, you should match and mix a few quotes in your daily tweets. These activities will not just get you following but it will also help your blog's SEO because social signals are very important to your website ranking these days.
4. Favorite And Reply To Tweets From Others
Engagement is the key to having a great Twitter experience. Yet, most people don't take time to engage with others on Twitter. I've seen bloggers, social media experts and many marketing gurus keep tweeting all day long but they don't even take time to respond to anybody else. Some of them tweet a question and if you respond to them, they don't even say, "Thank you."
Tweeting your blog posts and other content that you create is great. But it will be also very helpful to your branding and engagement when you respond to helpful posts from other individuals on Twitter who fall within your niche. There is also a feature where you can mark a tweet from somebody as "Favorite" (similar to a Facebook LIKE). You should use these tools to engage with people on Twitter.
When you engage with people from your niche on Twitter, you truly begin to leverage your Twitter presence. This is how you begin to make friends on Twitter. Many will publicly appreciate your kindness and will return the favor which, indeed, expands your Twitter outreach even further.
5. Engage Many Others Through Retweets (RT)
A retweet is just like a Facebook Share when another twitter user tweets your post to their followings. Retweeting is simply one of the best ways to show your kindness on Twitter. When you retweet somebody, you not only show your appreciation for his/her tweet, you are also helping your network to expand further.
Retweeting is the best way to prove that you are human and you are listening to other people's tweets. Retweeting means you are engaging with your friends and new followers. When you do this for other people consistently, you naturally stand out from the average Joe who is busy all day long 'tweeting' his content.
6. Stay Human – Speak Your Mind
Some people think that they should only tweet about their business or their industry related topics. Well, they may be right. But that goes against the rule of thumb of not doing online what you wouldn't do in public in your real world life.
I don't think there is anybody who can be at public places (while shopping, while in a movie theater, while in a restaurant etc.) and only say things related to their industry. That will be insane, won't it?
Therefore, to be human, and to have a meaningful conversations with other people on Twitter, your Twitter strategy should include tweeting things in which you believe. You may like a quote or two – tweet them. You may have liked your lunch at a restaurant, tweet about it. The more natural you seem online, the more genuine following you will attract.
Don't be paranoid. Just enjoy your presence on Twitter and you will find your way to get more business as you get more confident and experienced.
7. Do Not Send Automatic Welcome Messages On Follow
Greeting new followers with an auto Direct Messages (DMs) is spamming. Do not do it even though many social media tools provide that feature. People have misused this feature so much that sending DM on Twitter to your new followers automatically reduces your credibility.
Having said that, I don't mean to say that you never send a DM. But, if you don't know the person's first name, you shouldn't bother sending a DM. On the other hand, if you personally want to send a DM to one of your followers, do it by all means. They will be happy to hear from you as long as they know the message is not automatic.
8. Stay Active – Tweet Regularly
This is a no brainer. If you use any social networking website, you should know that you don't have any leverage if you are not active. Twitter is no exception. If you don't even tweet once a day, probably you aren't going to achieve much on Twitter.
Your Twitter stream is like the Facebook news feed. It is moving pretty quickly and if you aren't tweeting regularly, people will not notice you. When people don't notice you, your follower count will not increase.
Stay in the Twitter stream to get noticed and increase the chances of gaining followers and establishing your personal brand image. Whether you tweet fresh content or retweet somebody else's valuable tweet – do something, but keep yourself in the stream on a regular basis.
You can also stay in the Twitter stream by tweeting content using automation tools such as Hootsuite or Buffer. These are great social media management tools available for free use. Of course, there are some premium features they offer to their paid customers. But features available for free are good enough for most people. You can use these tools to send out content at predetermined times.
9. Participate In Twitter Conversations
First of all, if you already know a few of your Twitter followers, it is a great idea to start a conversation with them. Starting a conversation around an interesting topic on Twitter will not only keep you in the Twitter stream, it will prompt others to participate as well. It is a great way to gain new followers.
Then, you should look for other conversations already going among the people you follow. If there is a topic where you can add your thoughts to, you should start participating in that conversation and that will help you too.
Bottom line – whether you start a new conversation or you participate in an ongoing conversation, you should be intentional about being in conversation with others on Twitter. When you do this, you gain followers consistently.
10. Use Hashtags In Your Tweets
Hashtags are a great way to get discovered on Twitter. Hashtag symbol (#) is used before a relevant keyword or phrase (no spaces between # and the keyword) in within a tweet to categorize all tweets with that keyword. This helps those tweets to show up more easily in Twitter Search. When those tweets show up in search results, your Twitter handle gets more visibility and thus you get the opportunity to gain even more followers.
Hashtags are not limited only to Twitter anymore. If you are on Facebook or Google+, perhaps you already know about hashtags and you are using them already. If so, just extend hashtags to Twitter and you will be amazed how helpful your hashtags become in gaining new followers and even getting traffic to your website.
Twitter Heavily Influences Your Website's SEO
If you have a website of your own and you aren't using Twitter, you are losing a huge opportunity to strengthen your website's SEO. Search engines look for social signals to see how popular your content is on social media websites. The Twitter stream plays an important role in that.
If you are on Twitter, you should regularly share your blog posts on Twitter and encourage others to do the same. The more shares you get on Twitter, the better it is for the SEO of your website. As a website owner, Twitter is such an important platform for you. I don't think you can afford to ignore Twitter if you are serious about getting search engine traffic to your website.
Is it only Twitter that influences SEO? Not really. But if Twitter plays an important role, why should you ignore it? Why not to capitalize on this social media platform when it is available and it is free?
Over To You – Share Your Thoughts
What do you use Twitter for? How many of these Twitter basics do you practice and how has your experience been?
Please share your thoughts in the comments section now. Thank you kindly!