If it wasn't for the fear of rejection, most people would love to be in business for themselves. It is the fear of rejection that stops many people from even starting their own business, while many others give up early on when they are faced with a few rejections.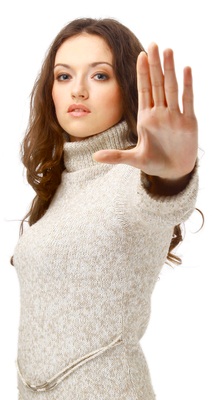 Even though I have been pretty confident (my mother thought I was overconfident) from my childhood, I have been intimidated by rejections very much in the early days of my career as an entrepreneur. It was unacceptable to me that somebody would actually reject my offer.
In fact, it was because of the fear of rejection that I never went for 'Walk-In' job interviews. I never applied for a job by myself. I uploaded my resumes on job websites and waited for the calls to come. To my serendipity, I did receive interview calls and I always (I mean always) got selected.
Well, that didn't help me much overcoming my fear of rejection, although it helped me with my self-confidence about my skills.
I kept avoiding any circumstances where I would have to face rejection, until I decided to start my first business because of a friend who introduced me to business opportunity in partnership. He was already successful at it and offered his help and support until I caught up. Sounded like a great deal based on common sense and so, I decided to give it a shot.
And guess what?
The first thing I had to face, after the initial setup, was to learn to face rejections. I needed to convince myself that 'No' is an acceptable answer (against my nature). It was the most difficult learning curve of my career.
Why Do We Fear Rejection?
Your reasons for fearing rejection could be many, such as you see it as humiliation, or you see a rejection as a sign of struggle, or you think rejections mean you are failing, etc.
But my reason was low self-esteem, and so, I just wanted everybody to approve of whatever I proposed. My fear of failure was caused by my own low self-esteem!
I didn't understand that in the beginning. However, I had to choose between quitting or fighting my fear of rejection. I decided to give it a good fight, even if I didn't succeed and I chose to learn to deal with rejections.
Through the process I understood the real reason why I feared rejection. Similarly, it is very important that you understand why you fear rejection. You need to know your real fear. Is it really the rejection that you fear or there is something else?
When you begin to understand your real reason, you can then actually do something about it and become the champion you desire to become.
Rejection Is The Price Of Success You Must Pay
Success in any craft is tough. You must pay the price for the success you desire. Entrepreneur or not, if you desire to be successful in your endeavor, you need to be tough. That means, you need to have the stomach to accept a "No". You need to have the courage to face a rejection and then move ahead and say, "Next".
As I started my first business, I quickly realized why most people don't dare to start their own business, and even if they do, what stops them from succeeding. It is the rejection that causes the weak to fade away or not even begin the journey.
If you aspire to be an entrepreneur, or if you already are an entrepreneur going through the phase of rejections, you need to remember that rejection is not a temporary situation. Whether or not you are successful, you will face rejection as long as you are pursuing your dream.
Yes, Bill Gates and Warren Buffet face rejections at different levels than you and me. However, they still have to face rejections everyday. If they can face rejections and move ahead, what is so special about you and me that we can't get over it?
The wise let those rejections come, and use it to move to the next level. If success needs you to face rejections, you should really get excited when you face a rejection.
Why? That's because every rejection is the price you are paying and that means you are getting one more step closer to your success! Here are some of the things I do to motivate myself when I am faced with a rejection while building my business, while looking for new clients or closing a sale.
Reconnect With Your Dream
It is easy to be excited about your dream when everything is going the way you want. Those are the times you don't need to be reminded of your dream.
However, when you begin to face rejections, one after another, it is also very easy to lose sight of your dream. When disappointments begin to surface, it is easy for negative emotions to take control and make you think that you probably can never make it. Those are the times you need to be intentional about your dream, your vision. Those are the times you need your dreams to save you from losing yourself to the fear and hopelessness.
One of the best things you can do is to never lose the sight of your dreams. You can call it your goal/purpose/vision/mission as it suits you.
Have a visual reminder of your dream. One thing I do is, I remind myself of my dream first thing each morning after I write my gratitude journal. I also remind myself of my dream each time I face a rejection. It keeps me motivated to get up one more time and do what is needed to turn my dreams into reality.
Take Rejection As A Challenge
I have always had an attitude of doing everything possible to prove my critics wrong. You tell me I can't do something and I will make a point that you live the day to see that you were wrong. This trait alone has saved me from sinking into negativity many times when normally I would have given up.
Using rejection to motivate you to prove your opponents wrong can give you a powerful jolt to growing your business. Eventually I realized, this is not just me, but a popular way of thinking among entrepreneurs with high self-image.
Some People Have It Built-In
For me that response is subconsciously generated like an instinct. Initially, it was not an acceptable answer. However, now it's an acceptable answer which challenges me to find even better opportunity and get the results I am looking for.
I also met many other extremely successful entrepreneurs to whom "No" is a challenge to prove one more time that they have what it takes to get the job done. Rejections do not dictate their dreams, they do. They're like the bulldogs in their industry.
Others Need To Develop It
You may not have this response to a rejection built within. That's alright. With practice, you can still can intentionally develop this response.
Well, first of all you need to know that this response comes from knowing why you are doing what you are doing. Then you have to be passionate about your dream. Just like Napoleon Hill said in Think And Grow Rich, you need to have a burning desire to succeed in your dream. You need to be completely obsessed with what you do.
If you can't get yourself obsessed about your dream, you will have a tough time building your business because when rejection will knock you down, you will end up giving up.
Once you have developed the passion for your dream, the next step is to simply surround yourself with like-minded people. Associating with the right people, who are in the zone making it happen (just like you), will propel you in the direction of your dreams much faster than you can imagine otherwise. The power of association will uplift you and challenge you to get up one more time and face that rejection with tenacity.
Remember The 80/20 Rule
We all tend to count the rejections. But when you don't know the 80/20 rule, it can get you depressed. However, if you know how this rule is always in effect, you get excited while counting rejections.
According to this proven and widely accepted rule, on an average, every ten rejections gets you about 2 wins. People who know this rule and do not lose enthusiasm from rejection to rejection, they keep winning and become legendary winners.
This is not just true to business building efforts. The rule of average works in every industry, every field. It is true in sports, jobs, politics, sales…in every aspect of life.
You will win if you persevere and just don't quit trying. The rule always works!
Disassociate Yourself From Rejection
As I shared about my relationship with rejection, I always wanted to be accepted. Rejection was an insult to me. That happened because I had a misconception that rejecting my offer was same as rejecting me.
I took some time to understand the fact that most of the time when you are faced with a rejection, it is your offer that is getting rejected, not you.
For example, the clerk helping you with money withdraw at your local bank may ask you if you will be interested in a new credit card or a new fixed deposit offer the bank is running. If you reject the offer, the clerk will not be offended. Why? You just rejected the offer, you did not rejected that person. Isn't that true?
Similarly, if somebody declined to purchase your product, your service or the opportunity you are offering, it is just that the person isn't interested in your offer at the moment. You need to understand that and calm yourself down.
Sometimes, it is the wrong timing that causes people to reject your offers. Sometimes, people have a lot of things on their plates and they aren't in a position to accept your offer at the time when you proposed. Well, just respect their response and see if you can do a follow-up at a later time and book your calendar. It's okay.
Learn From Every Rejection
We learn wisdom from failure much more than from success. We often discover what will do, by finding out what will not do; and probably he who never made a mistake never made a discovery. ~ Samuel Smiles
This is absolutely true. Failure can provide us a learning experience that we probably can never learn otherwise. In fact, the only way to succeed is to learn from every failure.
The 80/20 rule works. But the average gets better and better for those who learn from the rejections. People who analyze the cause of rejections; they face and improve their approach the next time, keep learning, keep growing and therefore, keep succeeding.
On the other hand, there are people who just rely on the 80/20 rule. They keep doing the same thing over and over without analyzing anything. Therefore, they also keep getting the same type of rejections over and over and nothing seems to change for them.
The best thing I would like to recommend you is to take a pause after each rejection and see what you can learn from it. What was the cause of this latest rejection? Could you have made your proposal in any different way that would have produced a different outcome? Think about it. This analysis will help you learn and fine tune your approach as you proceed with the next prospect or customer.
Some Rejections Can Still Hurt. Deal With It.
All these above methods to deal with rejections work very well. However, in my experience, here are a couple of situations when these methods don't come to the rescue. Rejection from certain people hurts and, if you can, you should accept such rejections as a challenge to prove yourself right. For example:
When somebody close to you such as a family member, a good friend who you care about, or someone you respect rejects your proposition, it hurts. The more emotionally involved you are with the person, the more the pain of rejection.
To me, rejections from these people was extremely painful and therefore I took their rejection as a challenge to prove that they made a mistake by declining my offer. It gave me the fuel to move further with my pursuit and to this day, their rejection motivates me.
Over To You – Share Your Thoughts
Has the fear of rejection ever stopped you from doing something you really wanted to do? How do you manage to keep yourself motivated when faced with rejections? Please share some of the techniques you use to deal with rejections and add value to this post. Thank you kindly!