If you are using an Autoresponder service like Aweber or GetResponse, are you making sure you keep your mailing list clean? I ask because, sometimes, not cleaning your list may cost you money.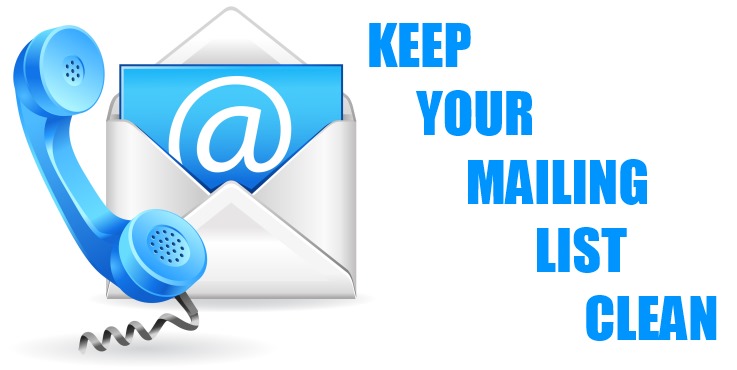 Those who know me personally, know that I don't pay much attention to fine prints. I don't like to do house cleaning activities very often either.
Just by fluke I happened to see consistent emails from Aweber (which I store in a separate folder in my Gmail account) month after month this year so far saying they were able to charge my credit card successfully.
That got my attention pretty quick (who likes to see their money go away!) because I remember I pay them once a year and I didn't expect any monthly charge from them.
I realized that they were charging for the next level because my account had outgrown my current subscription package according to them. But, I knew that my list wasn't that big yet and I was thinking that I will be good with my current package for at least a few more months.
So, I called Aweber to find out what's going on. And here is what I found out.
Unsubscribers Still Remain In Your Mailing List
This was an eye opener for me because this happened because of Snigdha's (my wife) mailing list which she had stopped building at least 2 years ago.
As a background, my wife was very actively blogging until 2012. When our family situation and a unique situation with our other businesses demanded that she put her website on the back burner, she did that. Only now she is gearing up to re-boot her website with a renewed passion.
Her website, SnigdhaKrishna.com is under construction currently because our development team is re-energizing the website to make it ready for the launch soon.
So, while Snigdha wasn't very active with her blog, she lost a lot of subscribers over those two years and also kept on getting new subscribers. That means, she had a few hundred people unsubscribed.
On the other hand, both my list and number of subscribers has also consistently grown.
The real problem is the way Aweber calculates what they should charge you for. So, here is the formula:
Gross Subscribers = People Subscribed + People Unsubscribed
And they bill you based on Gross Subscribers. Now, I had in total a few hundred people who were not engaging with me and polluting my account. Plus, even worse, I was paying for them as well.
Remove Unsubscribers Regularly From Your Mailing List
Aweber was kind enough to reverse some of the charges when they realized that it was because of my ignorance that I had been paying.
However, the lessons learnt is, just like we do cleaning up with broken links on our web pages to keep Google happy, it is a good idea to keep a housekeeping schedule to clean up your mailing list and keep your bank account happy.
You should definitely do this if you are on Aweber unless you are doing some kind of business intelligence on the unsubscriber's data to fine tune your marketing strategy. But, I am not into slicing and dicing on that data. To me, once somebody has unsubscribed, I am done!
If you are like me, the best thing to do is to go to "Manage Subscribers" menu option, find the list of people who have unsubscribed and delete them all.
This can save you a few hundred dollars a year. Not a bad saving, isn't it?
Is It Only Unique Situation To Aweber?
If you are using any other service, I would like to know how does your Autoresponder service provider treat your unsubscribers?
Do you need to clean your list manually? Do they also start charging you if you didn't delete your unsubscribers manually?
I would love to know how other companies deal with this situation. Please share your experience and add value through your comments. Thank you kindly!